What is free cash flow?
There is no universally accepted definition of free cash flow because some analysts quibble over some of the numbers involved but most are broadly similar. There are two measures of free cash flow that you need to be familiar with:
In SharePad, we use the terms FCF and FCFf so I'll use these terms for the rest of this chapter..
Free cash flow to the firm (FCFf)
This is the amount of cash left over after a company has paid the taxman and paid for the purchases of fixed assets (capex). For a UK company, free cash flow to the firm (FCFf) is calculated as follows:
FCFf = operating cash flow - tax - capital expenditure
For Tesco in 2014, this figure was £800 million (4316-635-2881). This is the amount of money available to pay all providers of finance in a business - interest on debt and dividends to shareholders.
Tesco's FCFf has been on a downwards trend - it has fallen by more than two thirds since 2010. You need to go and find out why this is happening. By looking back at the cash flow statement we can see that:
Operating profit is much lower
Operating cash flow is much lower
Tax paid is a little bit higher
Capex is slightly lower
It's normal to expect a company's free cash flow to move around from year to year. This is mainly due to the fact that investment in the business (capex) tends to be a bit lumpy depending on the company's plans for expansion and how many existing assets need replacing.
In Tesco's case, the decline in its FCFf looks to be almost entirely attributable to its fall in profits - not a good sign.
Hang on a minute. You are probably interested in buying the shares (the equity) of a company. Why on earth don't we just look at free cash flow to equity (FCF) instead?
We will in a minute. But FCFf is very useful too. That's because it ignores the way a company is financed as interest paid on debts is not deducted. This makes FCFf a good measure for comparing different companies with different mixes of debt and equity finance. It shows you the surplus cash generated by the business as a whole.
I bang on about gearing and debt a lot in this book. Not only is it a key risk to shareholders if there is too much of it (see Chapter 4 for more on this) but it has the potential to confuse investors and think that something may be better or cheaper than it really is. I'll say more on this later on too.
Free cash flow to Equity (FCF)
This is a number that good professional investors spend a lot of time looking at. As I say above, it's the amount of cash left over after a company has paid the interest on borrowings, taxes, capital expenditure and preferred shareholders (who get paid before ordinary shareholders do). It's the cash that is ultimately needed to pay you a dividend on your shares.
SharePad calculates FCF as follows:
FCF = Operating cash flow - interest - tax - capex - preference dividends
This is the same as:
FCF = FCFf - interest - preference dividends
Tesco's FCF in 2014 was £304m (4,316 - 496 - 635- 2,881). As with FCFf, Tesco's FCF has been on a downwards trend.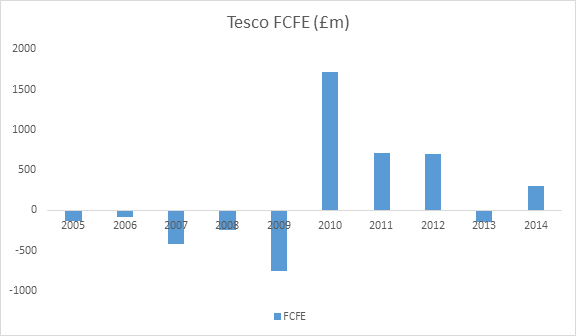 This confirms the trend shown when we looked at the company's FCFf - falling profits are leading to falling free cash flow. The only difference between the two figures is that we take away interest payments to get to FCF. These are nearly £200m lower in 2014 than they were in 2014 and yet Tesco's FCF is very low considering that it generated £4.3bn of cash flow from trading (operating cash flow).
Free cash flow calculations for US companies
If you use the same definition of free cash flow then it should give you the same number regardless of its accounts. That's the beauty of looking at cash. It's either there or it isn't.
That said, the way US companies present their cash flow statements does complicate matters a little bit. Companies don't always disclose the cash amounts of interest and tax paid. This doesn't affect the calculation of FCF but does create an issue when calculating FCFf.
For US companies:
FCF = Net cash from operations - capex
FCFf = FCF + interest paid (we take this number from the income statement)
Calculating FCF is not a problem. That's because net cash flow from operations is stated after the deduction of interest and tax paid. To get FCFf we just add back interest paid to FCF. This is done automatically in SharePad.
How to use free cash flow numbers
Hopefully you will understand a bit more about what free cash flow actually is in practice. The real use of free cash flow to an investor comes from when they use the numbers to dig deep into the company's finances.
In the next section, I'm going to show you how you can use free cash flow to check on:
The quality of a company's profits
The safety of its dividend payout
All the numbers you need to do this are already calculated for you in SharePad.