Case study: FirstGroup
Let's take a look at FirstGroup.
What I am going to do here is use some of the important ratios that we've covered in the previous chapters. I am also going to show you some other features of SharePad that can help you to research a company.
FirstGroup makes its money from running buses and trains in the UK as well as school buses and other public transport in America. In 2014, its profits were fairly evenly spread across five different businesses. At the time of writing, its share price is just over 100p - 1% above its one year low.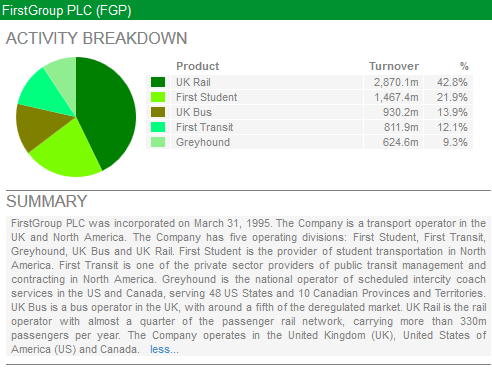 Its shares have had a rough time having fallen by 28.4% during the last year. However, the price to net asset value of 0.9 times interests you as it looks quite cheap. You decide to dig a little deeper. What should you be looking at?
We can use SharePad to help us by looking at the company's financial history and trying to get some insight into its future. Let's start by looking at some key numbers. If you want to understand a company's future then it is usually very helpful to understand its past. I'd suggest looking back at least five years, preferably ten.
Sales
Sales are the lifeblood of any business. If a company cannot grow its sales then it may not be able to grow its profits in the future. Let's have a look at what's been happening to FirstGroup's sales.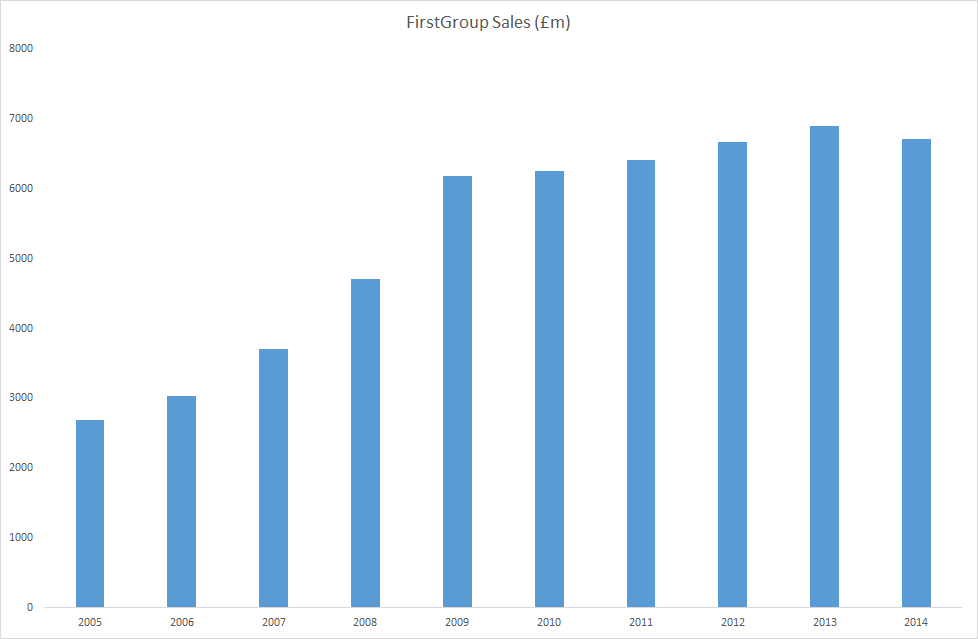 This chart above shows FirstGroup's sales for the last ten years taken from SharePad. As you can see the company has grown dramatically over the last decade with sales growing from £2.7bn in 2005 to £6.7bn in 2014. However, sales fell in 2014 after a few years of growth and this needs investigating as it may be a sign of a deteriorating business. I'll tell you how to go about finding out about this shortly.
EBIT and EBIT margins
The next item to look at is profit. I'm going to focus on EBIT (earnings before interest and tax) as this is arguably the best measure of profit. It is not distorted by changes in tax rates or interest rates. It's the profit from selling things.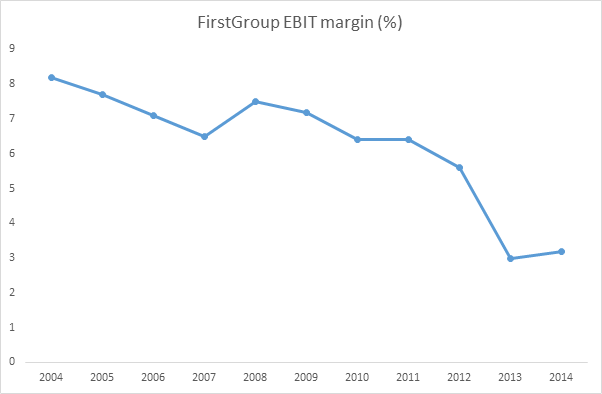 What we can see is that the trend is not good. EBIT margin has almost halved since 2012. EBIT margins (the percentage of sales turned into EBIT) were 8.2% back in 2004, but just 3.2% in 2014. Declining profitability and profit margins are not encouraging signs.
ROCE
ROCE is the benchmark of whether a company is any good or not. Ten years ago, FirstGroup looked to be a very decent company with a ROCE of nearly 18%. ROCE was just 6.6% in 2014, although this was an improvement on 2013. Ideally, you want to be looking for a company that has or is capable of generating a ROCE of at least 10%. FirstGroup looks a long way from this based on its latest performance.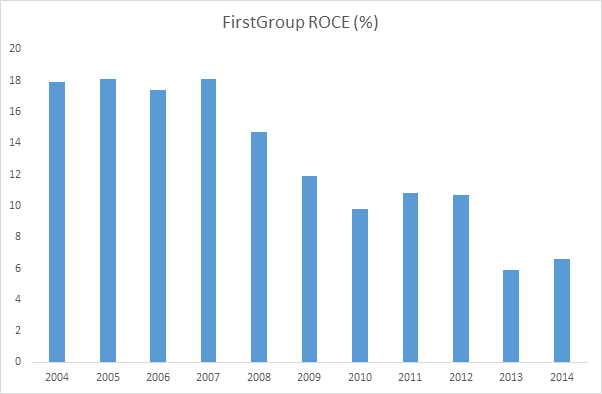 Debt and interest cover
Debt is the enemy of the value investor. It makes it more difficult for companies to survive difficult trading environments. If we look at FirstGroup's gross gearing (total borrowings as a percentage of shareholders' equity) you can see it has always operated with a lot of debt. Gross gearing was nearly 350% in 2013 and has been brought down to a still too high 161% after shareholders stumped up more cash by buying new shares in a rights issue in 2013.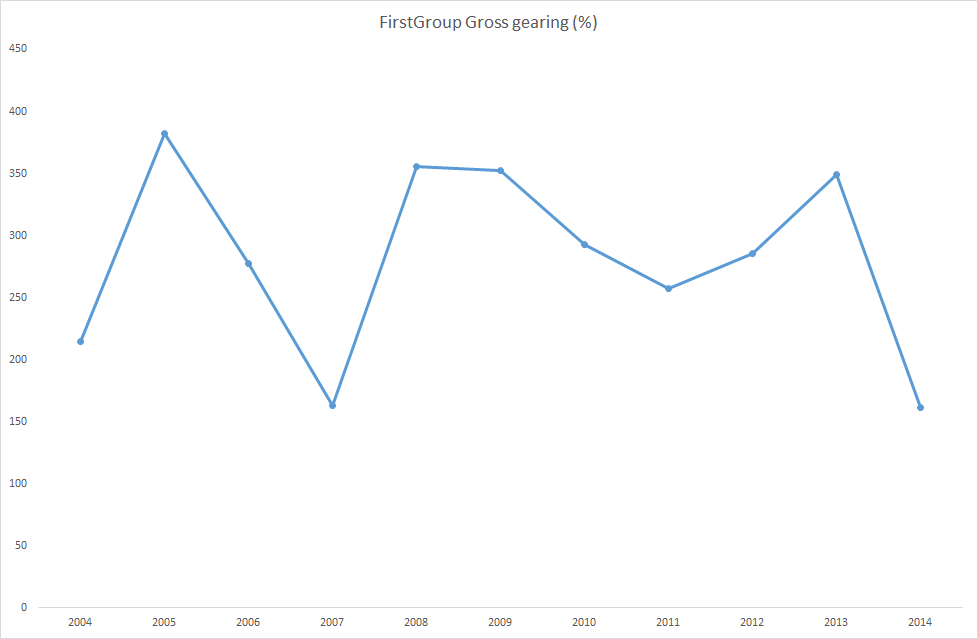 FirstGroup looks like it still has too much debt for comfort. The ability of its profits (EBIT) to pay the interest on its debt (interest cover) is still looking stretched. Interest cover was just 1.4 times in 2014. Should the company's profits come under pressure, then it might struggle to pay the interest bill. This looks a frightening prospect if you are a shareholder and are last in the queue to get paid.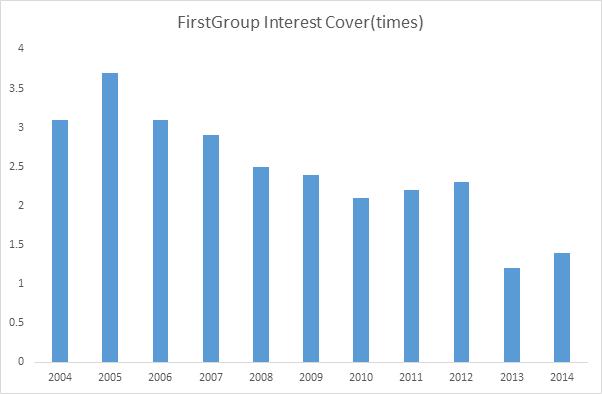 Free cash flow conversion
Between 2010 and 2013, FirstGroup converted more than 100% of its earnings per share into free cash flow. As a potential investor, this is the kind of trend that you want to see. However, free cash flow was negative in 2014.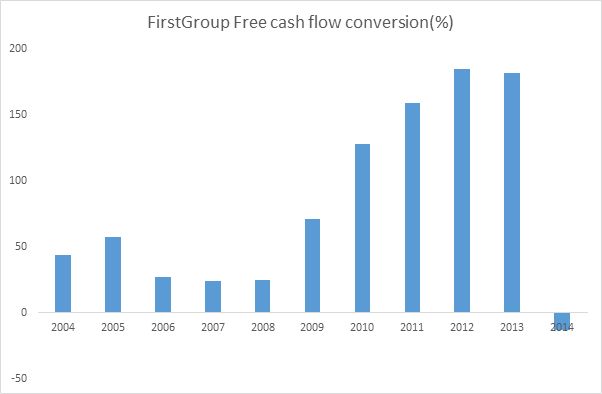 A closer look at FirstGroup's free cash flow gives us a clue as to why its free cash flow looked so good between 2010 and 2013. Back in the chapter on cash flow, we discussed that the ratio of spending on new assets (known as capex) to depreciation (a proxy for how much a company needs to spend on keeping its assets up to date) was a key driver of free cash flow. Spending more than depreciation will usually depress free cash flow, but spending less will boost it.
What we can see from FirstGroup is that it appears to have been spending a lot less on depreciation on new assets and this has boosted its free cash flow. This is something that cannot continue indefinitely in a business. Buses do wear out and need replacing.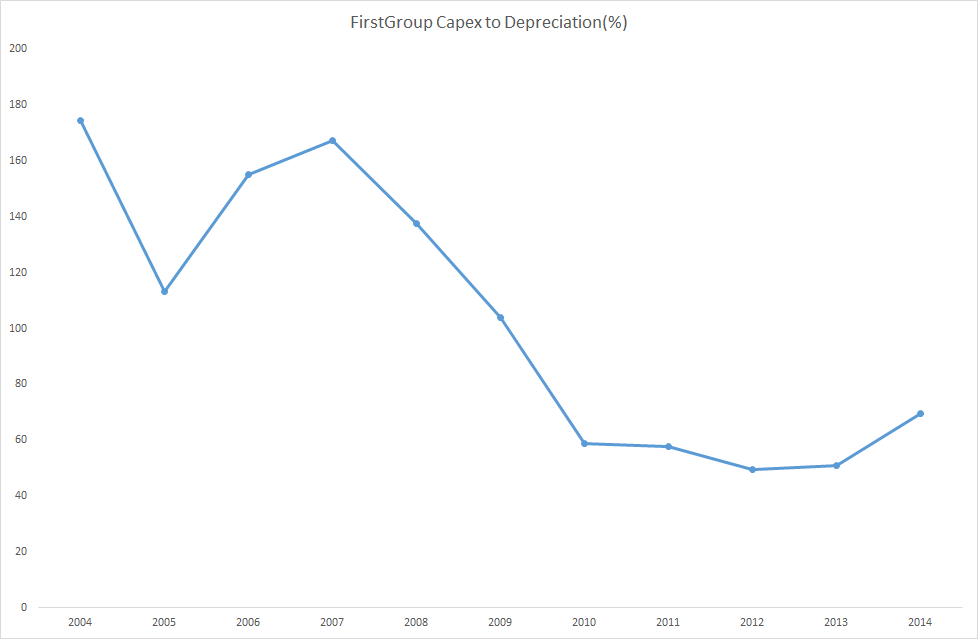 Are the shares really cheap?
FirstGroup looked like it may have been a possible share to buy because it was trading at less than the value of its net assets. What you need to do now is check out those net assets.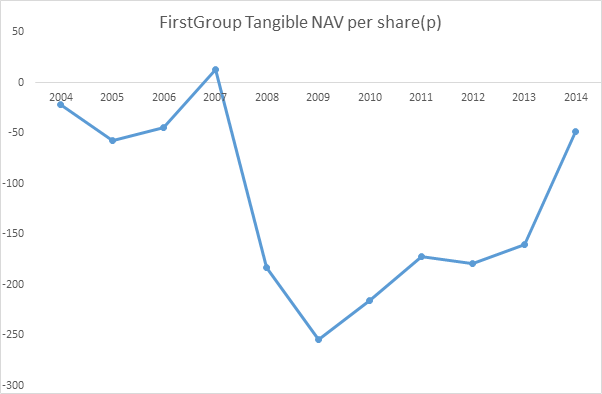 The first thing that is worth pointing out is that most of FirstGroup's net assets are intangible ones such as goodwill - £1.7bn in total. In fact, once you take these away, FirstGroup doesn't have any tangible net assets. Tangible net asset value per share in 2014 was minus 48.7p! This might suggest that there is no real asset value support for the shares if the goodwill attached to the businesses it has bought in the past isn't worth anything. If the intangible assets are worth £1.7billion, then FirstGroup shares had a net asset value per share of 114.4p at the end of March 2014 - not much more than the current share price.
If we look at other measures of value such as EBIT yield (EBIT divided by enterprise value) a figure of 8.4% based on 2014 EBIT is not that appealing. Ideally, for a share to be cheap the EBIT yield should be comfortably over 10% based on a sustainable level of profits.
So based on recent trends and its finances, FirstGroup doesn't look that appealing. However, we have been looking at information that has been based on past events. What's more important is to have a look and see what might happen in the future. Again, SharePad has some features that can help with this.
Analyst forecasts
Whether you should rely on the forecasts of professional analysts when making investment decisions is debatable as they are often wrong. However, they do give you an insight of what the market is expecting from a company and whether the future is expected to be much different from the past.
SharePad will provide you with analyst forecasts where they are available. You will find them in the income tab under "per share values" and "normalised" headings.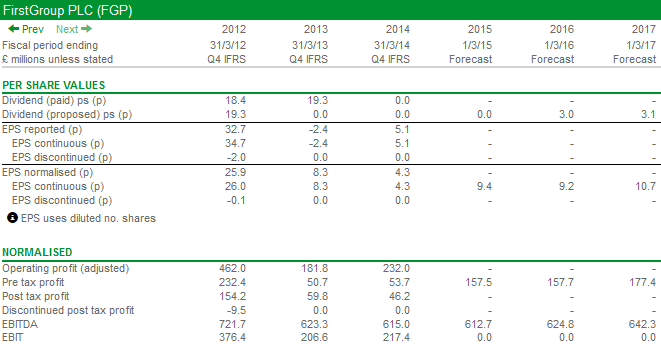 As you can see, analysts are expected a big pick up in profits in 2015. Normalised pre-tax profit is expected to increase substantially from £53.7m in 2014 to £157.5m in 2015 but not grow much afterwards. EPS is expected to increase from 4.3p to 9.4p.
At a share price of 100p this would put the shares on a prospective PE ratio of 10.6 times (100/9.4). That's not a very expensive rating but neither is it exceedingly cheap for a business that doesn't look like growing much. For the shares to be a real bargain, I'd be looking to pay no more than 6-7 times earnings.
We can also see that no dividend is expected to be paid in 2015 but one of 3p per share is in 2016. That gives a 3% yield on the shares in 2016 if this forecast turns out to be accurate. That's probably not enough to excite many value investors.
Recent news
One of the really useful things about SharePad is that it gives you access to important news from the company. The most important bits of news come from the Regulatory News Service (or RNS) for short. A company must inform the stock exchange via RNS of any important information such as company results, trading statements, takeovers and directors' share dealing. All this news is at your fingertips in SharePad along with bits of market chatter from Dow Jones newswires. This makes it a lot easier to keep up to date with what's going on.
By clicking on the News tab in SharePad you get the news feed. Click on the "Current share" button to see news for the selected company. You can see the news for FirtstGroup below. One piece of news that looks particularly interesting is the trading statement on 21 January 2015.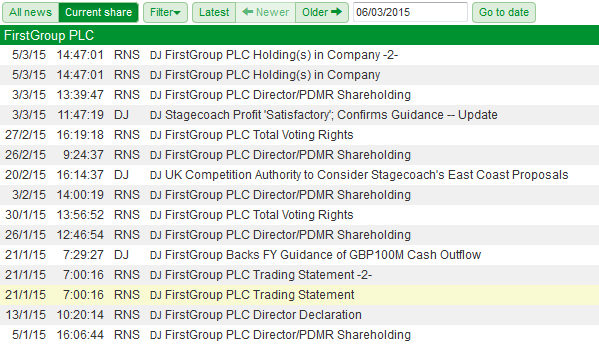 These statements are a must read as they can contain very valuable information. They are scrutinised closely for comments that suggests that profits may be higher or lower than current forecasts which could move the share price. The chief executive usually provides a useful summary as shown below:
Commenting, Chief Executive Tim O'Toole said:
Overall trading for the Group is in line with our expectations. Our First Student and UK Bus transformation plans are on track and both divisions are delivering the expected improvements in financial performance. Demand for Greyhound services over the important holiday period was adversely affected by the significant and rapid reduction in fuel prices, which makes car travel more affordable and competitive with our services. This was offset by good performances in First Transit and our UK Rail operations, which are both achieving growth towards the top of our expectations with robust margins. Overall we are on course to meet our full year expectations for the Group, and we are confident that our multi-year plans will deliver improved cash generation and create sustainable value over the medium term.
If I was a professional analyst, I probably wouldn't change my profit forecasts on the back of this statement. It seems that nothing unexpected has happened.
SharePad can provide you with a lot of useful news. However, it makes sense to read the latest annual report and visit the investor relations section on the company's website to find out more information. I'll have more to say on how to use annual reports in a later chapter.
Are directors buying or selling shares?
The directors know the business of the company better than any outside investors. If they are buying shares with a meaningful amount of money that is usually a good sign that the company is doing well and that they may think the shares are good value.
When you are looking to buy a share you really want to see directors buying shares as well as having a meaningful amount of money invested in the company. I'd always be wary of companies where the chief executive doesn't have a large chunk of their own money invested. You want the management to look after your best interests by owning shares as well.
SharePad provides you with detailed information on this often overlooked aspect of stock analysis.
Clicking on the "DD" tab in SharePad will bring up a screen that will show the major shareholders, the amount of shares that the directors own and whether they've been buying or selling recently.
We can see that the chief executive (ceo) owns 771,000 shares but hasn't been buying more recently. The chairman bought 11,141 shares recently which is a reasonably encouraging sign. However, to get really excited about director purchases you need to see significant amounts of money beings spent - at least £50,000 or more. Instances of directors selling shares need to be investigated. They may be selling to pay a tax bill on shares they have been paid with or to fund a divorce settlement. Otherwise big sales of shares are hardly a glowing endorsement of the company's prospects at the current share price and can be enough to stop some people investing in a company.