Profit margins
Profit margin tells you the amount of profit earned per £1 of sales expressed as a percentage.
Profit margin = Profits/Turnover x 100%
Now, as you will have seen in the previous chapter there are lots of different measures of profit: gross profit, operating profit, EBITDA, EBIT, pre-tax profit and post-tax profit. Profit margins are commonly calculated for the first four of these:
Gross profit margin
Operating profit margin
EBITDA margin
EBIT margin
Gross profit margin
This shows the amount of gross profit earned as percentage of turnover expressed as a percentage
Gross profit margin = gross profit/turnover x 100%
In the case of Tesco in 2014, its gross margin was 6.3%. This means that it made 6.3p of gross profit for every £1 of sales made. The most important thing to consider is the trend in the gross profit margin. Back in 2010 it was making 8.5p of gross profit for each £1 of sales. You need to start investigating why this has happened. That's the great thing about ratios, they get you to ask questions about the company you are analysing and this can only help to make you a better investor.
Just a quick point on gross profit margins. It may or may not be a useful ratio to calculate. Why do I say this?
As I said in the previous chapter, it all depends on how a company decides to calculate its gross profit which is all down to what it classifies as the cost of goods sold. Different companies will have different approaches which comparisons between companies difficult.
Operating and EBIT margins
This shows the amount of operating/trading profit or EBIT a company has made as a percentage of turnover.
Operating margin = Operating profit/Turnover x 100%
EBIT margin = EBIT/Turnover x 100%
I'll concentrate on EBIT margins here as this is the measure that most professional investors will tend to pay the closest attention to and is therefore probably the most relevant to you. In 2014 Tesco's EBIT margin was 5.0% down from 6.4% in 2012. Always look at the trend and you can see if the EBIT or operating margin has been on a downwards or upwards trend. Find out why this has been happening.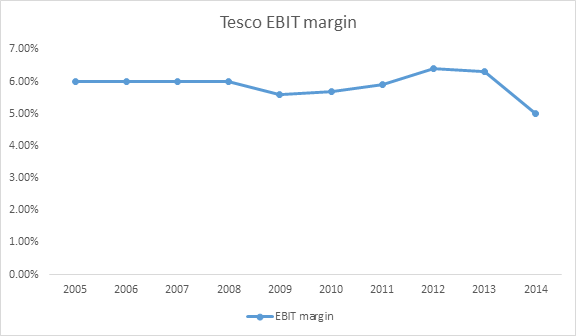 Operating and EBIT margins are a much more useful ratio to compare companies with than gross margins. That's because operating costs are likely to be calculated in the same way.
What do profit margins tell us?
Crunching numbers is all well and good but they have to be meaningful and increase our understanding of a company. You need to start thinking why the numbers are what they are.
You might think that high profit margins (turning a large chunk of turnover into profit) is a good sign. Often it can be. However it might not always be the case.
High profit margins may be a sign that a company is overcharging its customers. It may lose customers or attract new competition which will result in the company making less money in the future.
Having said that, if you can find a company that has been earning consistently high profit margins for a long period of time (I'm talking ten years or more here) then you may have come across a very good company. It could be that the company has something - such as a brand or patent or cost advantage - that stops others competing with it. These are the types of company that legendary investor Warren Buffett likes to buy.
On the other hand, you might think that low profit margins are a bad sign. Again, this might be the right conclusion to make but something else might be going on. For example, a company may be trying to break into a market by keeping its prices low and looking to make money by selling lots of goods (Amazon is a good example of this). Or a company may be spending a lot of money developing a new product but hasn't started selling it yet. Another possibility is that profits are temporarily depressed and could be about to recover.
The bottom line here is that numbers can tell you a lot but they don't tell you the whole story. As well as crunching numbers in SharePad it's probably a good idea to pay close attention to what the company's management has said about the financial performance. You can find most of what you are looking for by searching for news items in SharePad under the "news" tab.
What you'll find is that different companies in different industries will have different profit margins. Comparing the profit margins of a food retailer with an engineering company will tell you something but may not be a meaningful comparison. It is best to compare companies in the same line of business.