Know what you are buying
Before you do anything else, you need to spend a reasonable amount of time learning about what you are potentially buying into. In these days of the internet and online broking accounts it's very easy to get sucked into thinking that you are trading numbers on a computer screen.
If you are a proper, long-term investor you will not be doing this. Instead, you will be looking at buying a small chunk of a real business. Understanding what makes this business tick is key. The more you understand about how it makes money now and in the future, the more you will concentrate on this and stop worrying about the daily ups and downs of share prices and the masses of unimportant market chatter.
You can come across an investment idea in many ways. For example, you may be a customer and like what the business sells. Or you might have found it by screening for it in SharePad. Either way, you probably need to try and understand it better.
Let's take the example of JD Sports.
The first thing you can do is click on the 'Financials' button then the 'Company' tab in SharePad. The activity breakdown will tell you where and from what businesses a company makes its money from. You can set this breakdown to tell you this in terms of sales or profit (using the 'Breakdown by' button at the bottom of the display.
Here we can see that JD Sports makes around 80% of its sales from its Sport retail division and gets the bulk of its sales from the UK.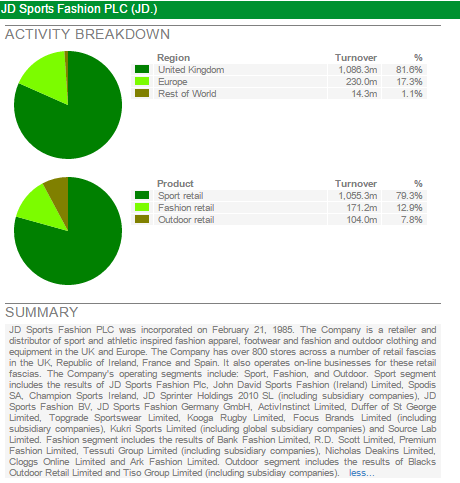 Below the activity breakdown is a brief summary of the company telling me a bit more about what it does. In this instance, I can learn about some of the products, brands it sells and what countries it sells them in. It owns over 800 stores, trades under lots of different retail formats (known as fascias) and has been expanding its business into Europe.
If I then scroll a bit further down, I can see more information on the directors and the company including a handy link to the company's website so that I can find out more about the company.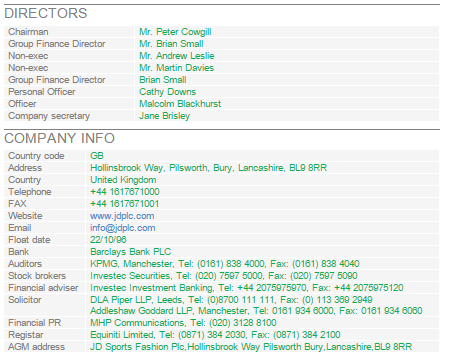 The other thing that I tend do when researching a company is look at who owns it as this can sometimes reveal some interesting facts. Click on the 'DD' button in SharePad to do this.

The first thing that leaps out is that fact that Pentland Group owns 57.5% of the business. Large, dominant shareholders can be a blessing and a curse to the private investor. Sometimes they can be too conservative and lock a company into a bad strategy or fail to react to competition. But they can also be a force for good. Either way, it can be helpful to try and find out a bit about them.
Who are Pentland Group? Well, a quick search on the internet tells me that it is a family owned, private company that owns a lot of well known sports clothing brands such as Berghaus, Ellesse, Hunter (famous for its posh wellington boots), Kickers, Mitre and Speedo. It used to own the Reebok shoe brand before selling it for a nice profit. It has owned its stake in JD Sports since 2005 and seems intent on remaining a long-term shareholder. This is reassuring, as the last thing you want as a private investor is big shareholders constantly selling down its stake and depressing the share price.
It is clear that Pentland Group sees JD Sports as key to selling more of its branded goods. This is also potentially good news for JD Sports and its shareholders as these brands help differentiate the company from the competition (more on this in just a minute). My opinion is that these stable of brands from Pentland Group may help to position JD Sports at the quality end of the sports fashion market away from the more commoditised end which is more about selling big brand trainers and replica football kits. This should allow it to earn higher profit margins than selling Nike trainers - of which it sells a lot.
You can also see that Sports Direct - a major competitor known for its aggressive selling tactics - owns nearly 12% of the company. What does this mean? Pentland's 57.5% all but blocks a takeover bid and any significant influence. However, given Sports Direct's owner Mike Ashley's eye for making money it might not be too unreasonable to think that he sees JD Sports as a decent investment.
What's also encouraging is that the chairman and group finance director own a reasonable stake in the company. In the words of Warren Buffett it seems that they 'eat their own cooking'.