Liquidity ratios
Liquidity isn't a word that most people will use or think about during their everyday lives. If you are new to investing you may even find the word rather confusing. So what does liquidity mean when we are talking about investing in companies?
You might be familiar with the term asset rich and cash poor. This might be used to refer to an old aged pensioner who has lived in a house for years which has become very valuable but they don't have a lot of income and therefore money to pay the day-to-day bills. You could say that the OAP has a liquidity problem.
Companies can find themselves in a similar position. They can be profitable, have no debts and look financially sound but if they have to pay a bill before their customers pay them then they can get into financial difficulties very quickly. This is is what liquidity ratios were designed for - to spot companies that might find it difficult to pay their bills. These are the kind of companies you also might want to avoid investing in.
We are going to look at the following liquidity ratios:
Current ratio
This ratio look at a company's current assets (assets that can be turned into cash within one year) and compares them with its current liabilities (payments that are due within one year). It is asking: Are the current assets sufficient to pay the current liabilities? Is the current ratio greater than 1? If not, then the company may have a liquidity problem and could be heading for trouble.
Current ratio = Current Assets/Current Liabilities
Normally, a current ratio below 1 does spell trouble ahead. However, Tesco is a good example as to why such a conclusion might not always be the right one.
As you can see from the table above, Tesco's current ratio is a lot less than 1. It was 0.78 in the last financial year - and has consistently been so for years. Is this a sign that Tesco is heading for financial trouble? In a word, no. I will explain why shortly.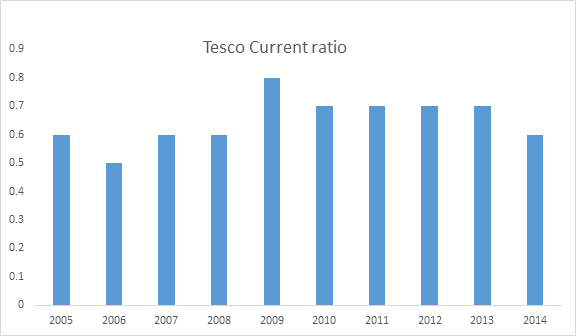 When you are calculating any ratio, it is important to try and understand the potential drawbacks of it. The current ratio has a few that are worth mentioning.
Stock is in the current asset number and is assumed that this can be turned into cash within one year. This might not be true. Some of it could take a lot longer to sell depending on the type of goods involved. For example, a product that goes out of fashion could be very difficult to sell, and its price might have to be slashed in order to turn it into cash.
Bank overdrafts are in current liabilities and whilst they are effectively repayable whenever the bank demands, in practice they can roll on for years.
The current ratio ignores the timing of when things get turned into cash and when payments are due. For example, current assets could be much greater than current liabilities but all the liabilities could be due now and all the assets can't be turned into cash for almost a year. I'll show you a way to deal with this shortly.
So a current ratio can be useful but must be treated with caution. You'll have to dig deeper than this to really get to grips with a company's liquidity.
Quick ratio (or acid test)
To get round the problem of stock being turned into cash, the quick ratio modifies the current ratio slightly.
Quick ratio = (current assets - stock)/current liabilities.
As with the current ratio, if the number is less than 1 - as it is for Tesco - it may not be a sign of trouble, it all depends on the type of business you are looking at.
Working capital
This is very similar to the current ratio, except current liabilities are taken away from current assets rather than being divided into them. But what do we mean by working capital?
Working capital = Current assets - Current liabilities
Working capital is the money that a company needs to operate on a day-to-day basis. Some companies need more of it than others. That's because they might need to hold lots of stock, pay for things in advance and sell goods to customers on credit. All this can be a drain on a company's cash resources, so it might need to invest cash in the business so that it can pay its daily running costs. This cash is known as working capital.
As you can see, Tesco in 2014 had a negative working capital balance to the tune of minus £5.8bn on its balance sheet date. This is the extent to which its current liabilities exceed its current assets. The current ratio above suggests this is a sign of possible trouble. So why has Tesco been able to exist with finances like this for years?
In a bizarre way, a current ratio less than 1 and negative working capital might be a sign of strength. That's because Tesco doesn't need to invest extra cash to finance some of its day-to-day expenses. It relies on somebody else to do this instead. To explain why we are going to look at something known as the working capital cycle.
Going beyond the current ratio - The working capital cycle
This addresses some of the weaknesses with the current and quick ratios. It does so by looking at the speed of cash around the working capital cycle. It looks at three main things:
How long it takes to turn stock into cash
How long it takes for trade debtors to settle their bills
How long the company takes to pay its suppliers
It is calculated as follows:
Working capital cycle = Stock days + debtor days - creditor days
Stock days or stock turnover
This shows how quickly a company is selling its stock.
Stock days = (Stock/Cost of sales) x 365
The slight problem here is that companies include different expenses in their cost of sales figures or sometimes don't disclose it. In this case, turnover can be substituted for cost of sales. This is what I will do in the case of Tesco.
For Tesco in 2014 its stock days were:
(3576/63557) x 365 = 20.5 days
Alternatively you can ignore the adjustment into days and just calculate stocks as a percentage of turnover. In Tesco's case in 2014, this was 5.6% which should be seen as a low number. This was unchanged from the year before but slightly higher than it was a few years previously.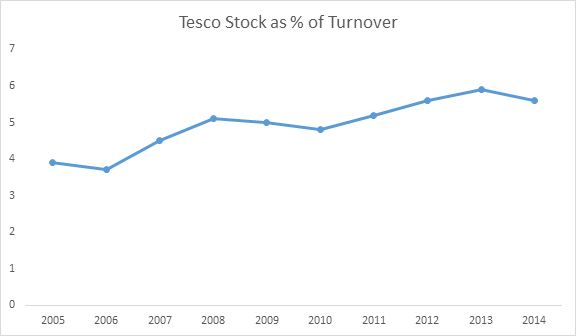 Supermarkets will be able to turn stocks of food and drink into cash very quickly. A whisky distiller whose stocks have to mature in casks for years would obviously take a very long time to do so.
One thing to bear in mind here is that calculations such as stock days will never be entirely accurate. That's because we are comparing a number at one point in time (stock) with a number based on something throughout a year (cost of sales or turnover). The same points apply to debtor days and creditor days.
Debtor days
Debtor days = (trade debtors/Turnover) x 365
This gives you an idea of how fast a company is turning its debtors into cash - how fast customers are paying their bills. For Tesco in 2014 it was:
(2190/63557) x 365 = 12.6 days
Again, it is probably easier to look at debtors as a percentage of turnover. The lower the number the better. In 2014, this was 3.4% for Tesco.
Supermarkets don't tend to make sales on credit but may have other activities where they do. The overall proportion of sales on credit should be very low. A business selling furniture on the other hand might sell a large proportion of its products on credit.
Sometimes, companies don't disclose trade debtors in their annual accounts. If that's the case then SharePad won't give you the trade debtors as a percentage of sales ratio. Instead it will give you the total debtors as a percentage of sales ratio. This is not quite the same but can give you a flavour of what's going on in a company.
Creditor days
This ratio shows how long on average a company takes to pay its suppliers.
Creditor days = (trade creditors/cost of sales) x 365
Again, I have used turnover instead of cost of sales for Tesco in 2014.
(5831/63557) x 365 = 33.5 days
Alternatively, you can see that trade creditors were 9.2% of turnover. This is the number that SharePad will give you.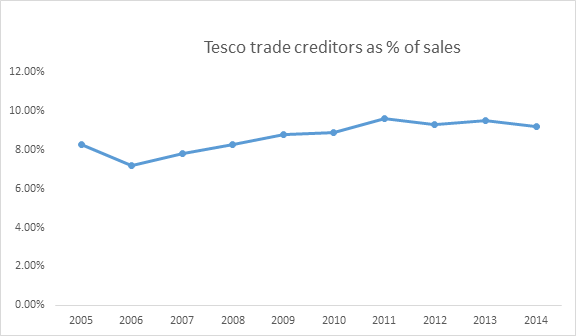 Some companies try to wait as long as possible before they pay their suppliers. This doesn't always lead to a harmonious business relationship and can cause the supplier a lot of financial hardship. What a long creditor days is effectively showing is how a supplier is effectively financing the customer's business.
This supplier financing means that a company produces generates more cash than if it had paid its suppliers earlier. One question you should probably ask yourself is this: Can this situation continue in the future?
If suppliers demand better treatment and want paying earlier then Tesco's will not be able to produce as much cash and will need more working capital to operate day-to day and its borrowing levels will go up.
Putting it all together
If we add all the three ratios together we can calculate the speed of cash around the working capital cycle.
Working capital cycle = Stock days + trade debtor days - trade creditor days
For Tesco in 2014 this was:
20.5 + 12.6 - 33.5 = -0.4 days
SharePad will provide you with a similar answer by looking at the issue on a percentage of turnover basis:
Working capital cycle =
Stock as % turnover + Trade debtors as % of turnover - trade creditors as % of turnover
For Tesco in 2014 this was:
5.6% + 3.4% - 9.2% = -0.2%
Tesco was able to turn its sell its stock and collect its debtors before it had to pay its suppliers. This is a nice position to be in for Tesco but not very nice for the suppliers. Tesco therefore doesn't look as it has a liquidity problem at all. A supplier to it might have though. If it is having to wait 33.5 days to get paid it is going to have to make sure it extends its payments terms for as long as it can or else it might find itself short of cash when it needs to settle some of its bills.
Other companies aren't as lucky as Tesco. Take engineering company Fenner as an example. It has to build stocks of its goods and hold supplies of raw materials and spare parts. It then sells some its product on credit to customers and pays suppliers. It has a much bigger need for working capital than Tesco. Fenner cannot turn its stocks and debtors into cash faster than the time it has to pay its suppliers. This is shown in the chart below: