What's the right value for housebuilder shares?
I mentioned earlier that many professional analysts value the shares of housebuilders using multiples of price to NAV per share (P/NAV). But how do you work out what is the right multiple?
I'll explain how you can try and work this out for yourself. This is a little more advanced but stay with me on this and hopefully you'll understand what I am going on about.
As you can see from the chart below, there is a relationship between a company's return on equity (ROE) and its share price. Share prices tend to rise when ROEs are rising and vice versa.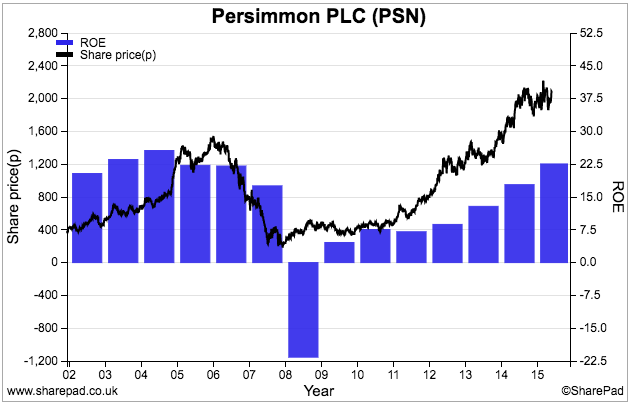 The rising share price also results in a higher P/NAV - i.e. the gap between the share price and NAV per share tends to get bigger. This is shown in the chart below: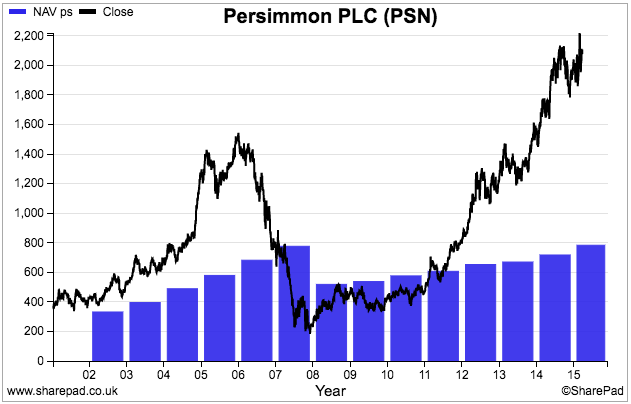 This makes sense. Just like a savings account with a higher rate of interest, a company with a higher ROE is likely to grow in value faster than one with a lower ROE or interest rate. It stands to reason that it should have a higher valuation and higher P/NAV multiple.
Professional investors try and determine the right P/NAV multiple for a share by estimating a company's sustainable return on equity and comparing it with the returns required by shareholders to invest in the company - known as the cost of equity (COE).
This cost of equity is one of the most hotly debated topics in finance. There's no right answer to what number it should be. I'm not going to get into this topic right now but most professional investors assume that it is around 8%.
Getting back to the P/NAV multiple, the logic here is that a share is only worth its NAV per share if the company can produce an ROE that is equal to or more than the cost of equity. So if the sustainable ROE is 8% then the estimated P/NAV is worked out by dividing the ROE by the COE:
P/NAV = ROE/COE = 8%/8% = 1.0
If the sustainable ROE was 16% the P/NAV would be:
16%/8% = 2.0
If the sustainable ROE was only 4% then it would be:
4%/8% = 0.5
So we now have some simple rules:
ROE > COE then P/NAV > 1.0
ROE = COE then P/NAV = 1.0
ROE < COE then P/NAV < 1.0
So if you were looking at a share with a sustainable ROE of 12%, a cost of equity of 8% and a NAV per share of 100p, this is how you would work out a value for the share:
Implied P/NAV = 12%/8% = 1.5
Value per share = NAVps x P/NAV = 100p x 1.5 = 150p
You get a value by multiplying the NAV per share by the estimated P/NAV.
This approach contains an important lesson for investors. A share with a P/NAV of less than 1 is sometimes seen as being cheap. It might not be if it cannot make a sustainably high ROE. Bargains do exist when ROE is temporarily depressed and can recover from a low to sustainably higher average levels in the future.
So how do we go about valuing housebuilders using this method. This is not easy because of the up and down nature of the sector with periodic boom and bust. Estimating a sustainable ROE is not easy. So I've looked at three different scenarios assuming a required return or cost of equity of 8% throughout.