1. Calculate the interest rate on average total borrowings
This approach doesn't always work but one possible sign is when a company's estimated interest rate on its average borrowings is very high - much higher than the general level of interest rates. You can estimate this figure by dividing the interest paid from the cash flow statement by the average level of total borrowings. SharePad can do this for you and you can add the results as a column to a list of shares or a portfolio.

Companies can be locked into long-term borrowing at very high historic interest rates but in today's world of low interest rates I'd be very surprised if most FTSE 350 companies were paying more than 5-6% to borrow money during the last 7 years.
The other main issue to be aware of is if a company repays a large amount of debt close to a year end. It will have most of the interest cost for a year of borrowing but the year end debt figure will have fallen significantly. This will make the average interest rate look high for the year but this would not be a trend that would continue into the following year.
Take a look at the table below. It shows two companies with very high average interest rates (I haven't converted them to percentages). Do they have higher average net borrowing or lower net cash balances or is there a simple explanation?
Let's take a look at Barratt Developments first. The company had net cash of £183.9m (shown as a negative net borrowing in SharePad) made up of total borrowings of £176.5m and cash balances of £360.4m.
SharePad can calculate the average borrowing for the year by taking the average of last year's and this year's total borrowing figure - £188.3m. The cash flow statement shows a cash interest expense of £28.1m. Using the Combine item feature in SharePad's Add column dialog, I can get an estimate of the interest rate on the average level of borrowings.
This gives an answer of -0.14923 (because the cash interest paid is a negative number) or 14.92%. Is Barratt Developments really paying nearly 15% to borrow money in this low interest rate world?
Let's have a closer look to see if we can find out what's going on here. You will find most of the answers to your questions from reading the company's annual report.

Above we can see the makeup of the company's borrowings. Below we can see the average interest rates paid on those borrowings. There's nothing to suggest that it is paying nearly 15% to borrow money.

The next step is to look at the company's interest costs in more detail. You will find this information in a note to income statement.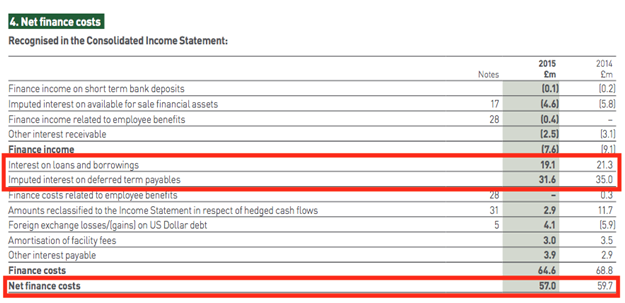 Here we can see an interest cost on loans and borrowings of £19.1m. There is also a significant non-cash interest charge of £31.4m related to the imputed interest on deferred term payables. What does this mean? Barratt buys land but often doesn't pay for it until planning permission is granted. The amounts of money owed are treated as trade creditors. The payment profile is shown in the chart below. The non-cash interest expense is the accounting treatment to match the cost of these creditors against the liability. No cash interest is paid. The seller of the land is effectively part financing Barratt's business with interest free credit.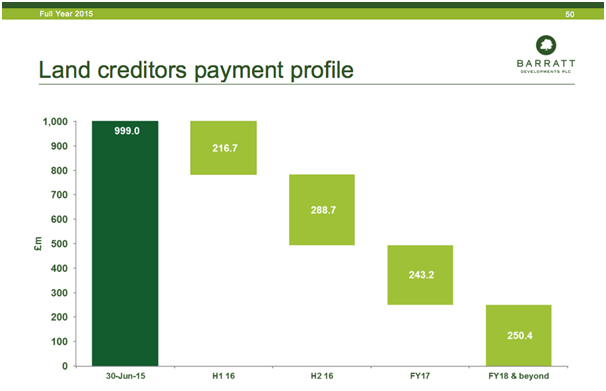 So, apart from some expensive fees, there's nothing to suggest that average borrowing levels are higher throughout the year. But what about cash levels?