A strategy for buying and selling cyclical shares
So what does this tell us in terms of buying and selling the shares of cyclical companies such as Fenner?
To answer this question we have to take into account the valuation of the shares. As I will show you, valuing cyclical shares is not an easy thing to do.
Cyclical shares need to be treated differently when you are interpreting the valuation of them. I'll explain why by discussing the chart below which plots Fenner's profit margins against its trailing PE ratio (share price divided by the last reported year's EPS) as a measure of valuation.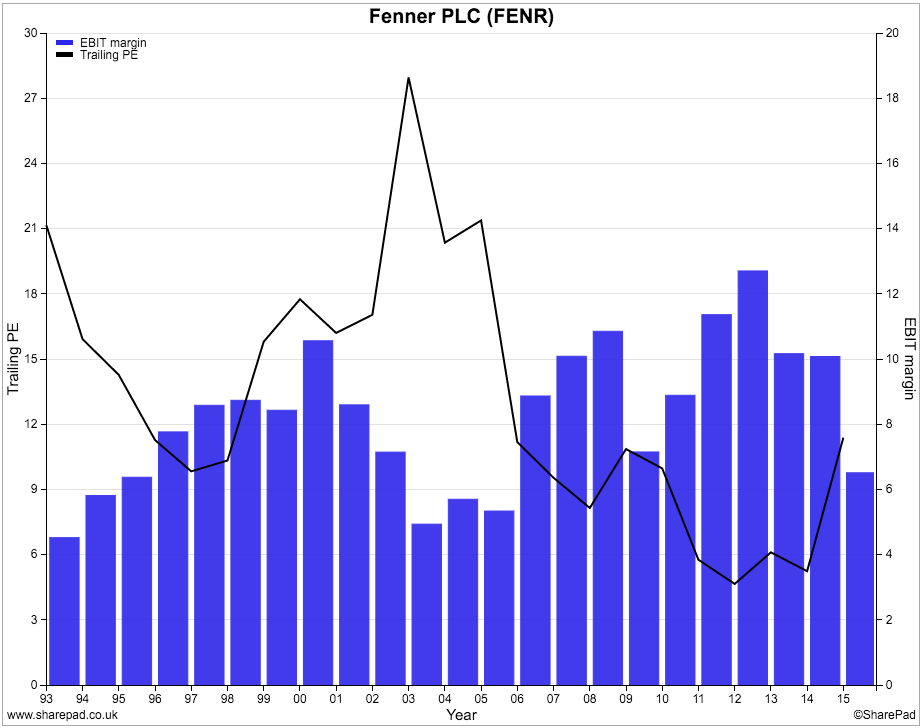 If you look at the bars on the chart you can see four cyclical troughs in Fenner's profit margin:
In each instance, these cyclical troughs in profit margins match quite closely the cyclical peaks in valuation - the trailing PE ratio. In other words, cyclical shares tend to look most expensive when their profits are depressed.
The trailing PE ratio also tends to be near a cyclical low when profit margins are at their highest. The shares look cheaper when profits are booming. There are four peaks in profit margins since 1993:
This is the opposite scenario to what you would expect to find with most shares. It tells you that the stock market is not stupid when it comes to cyclical companies. High PE ratios tend to indicate high rates of expected profits growth - the kind of profits growth you might see from a recovering cyclical company. Low PE ratios indicate low growth or falling profits ahead.
Does this mean that investors can have some simple rules to buy and sell cyclical shares which can allow them to make profits and protect themselves from losses?
For example:
Buying when the trailing PE ratio reaches a cyclical peak - when they look expensive.
Selling when the trailing PE ratio reaches a cyclical trough - when the look cheap.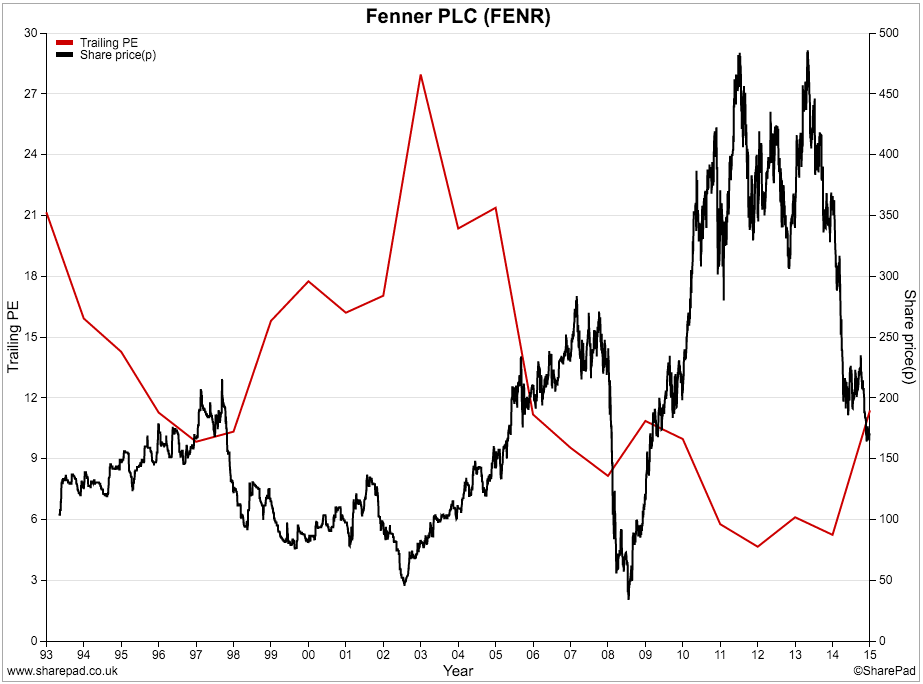 A quick glance at the chart above suggests that this would have worked quite well apart from 2008 when you would have been selling after a lot of losses had been inflicted. Perhaps profit margin is a better guide than the trailing PE?
Let's look at the chart of profit margins and the share price again.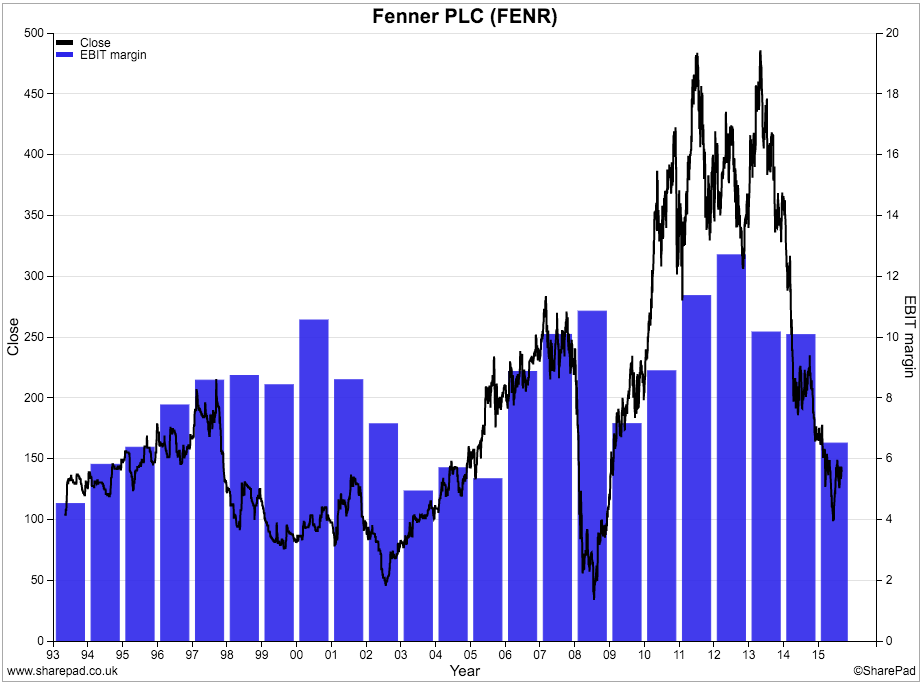 It's all very well being wise with hindsight but maybe margins have been a better indicator with Fenner at keeping investors in and out of the shares at the right time. For example by buying when margins reach a low point and selling when they reach a cyclical high such as:
Buy 1993, Sell in 1998
Buy in 2003, Sell in 2008
Buy in 2009, Sell in 2012
However, the main drawback with this approach is that the investor at the time does not know whether profit margins have peaked or troughed. They know the level of profit margins compared with history but not whether the current trend has ended.
So is there is a better way of weighing up the value of a cyclical share?
A common suggestion is to use a multiple of average profits over a period of 7 or 10 years. A slight problem with this approach is that when profits have grown significantly in recent years, average profits may not be the same as sustainable profits.
I prefer to work out an estimate of average profits using 10 year (or however long you think a profit cycle is) average profit margins as shown below.

What I have done here is to work out the 10 year average trading profit (EBIT) by multiplying the 10 year average profit margin by the turnover for the year. I have then divided this profit number by Fenner's enterprise value to see what EBIT yield is on offer. The reasoning here is that a high EBIT yield based on average profits which take into account the cyclical nature of the business might indicate a cheap share.
SharePad has EBIT margin data on Fenner going back to 1986. It also allows me to calculate the 10 year average EBIT margin for each year and - using the Combine item feature - calculate an average profit figure. All these figures were put into a custom financial table in SharePad. The only figure I couldn't get SharePad to work out for me was the average EBIT yield (not yet anyway) but because I can easily export my data to a spreadsheet this wasn't a problem.
What you can see is that up until 2015, Fenner's shares have not looked particularly attractive on an EBIT yield. I would consider an EBIT yield of at least 10% as an absolute minimum to even consider buying a cyclical share on this basis and probably nearer 15% given the risks involved.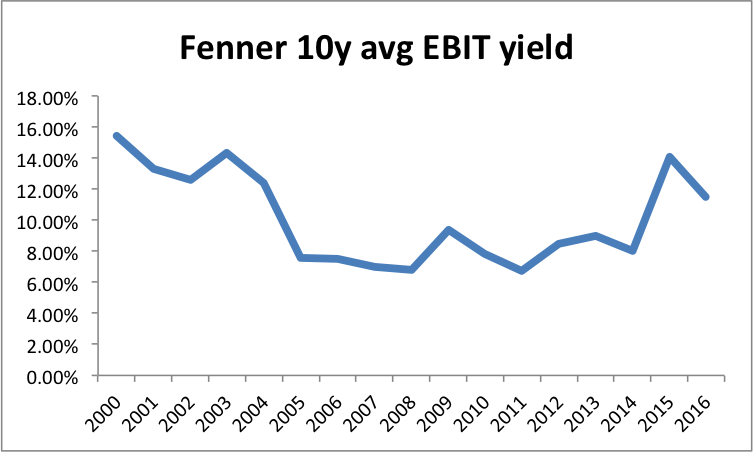 As you can see, Fenner shares have rarely looked cheap on this measure. They were between August 2000 (Fenner has an August year end) and August 2004 when the shares basically went sideways and would have kept you out of the shares for the next ten years which with hindsight might not have been a bad thing.
I like this measure but it doesn't seem to work well with Fenner. In terms of timing buying and selling points as cyclical shares it hasn't told us much. On a long term view though it would have kept you out of the shares which would have saved you money and a lot of stress.
One measure that does seem to be better for timing buying and selling points is price to net asset value (P/NAV). Buying the shares when they are below the NAV per share and selling them when they reach a peak profit margin and high P/NAV could have worked well in the past as the chart below shows. For example:
Buy 1993 and sell 1997
Buy 2002 and sell 2007
Buy 2008 and sell 2011/12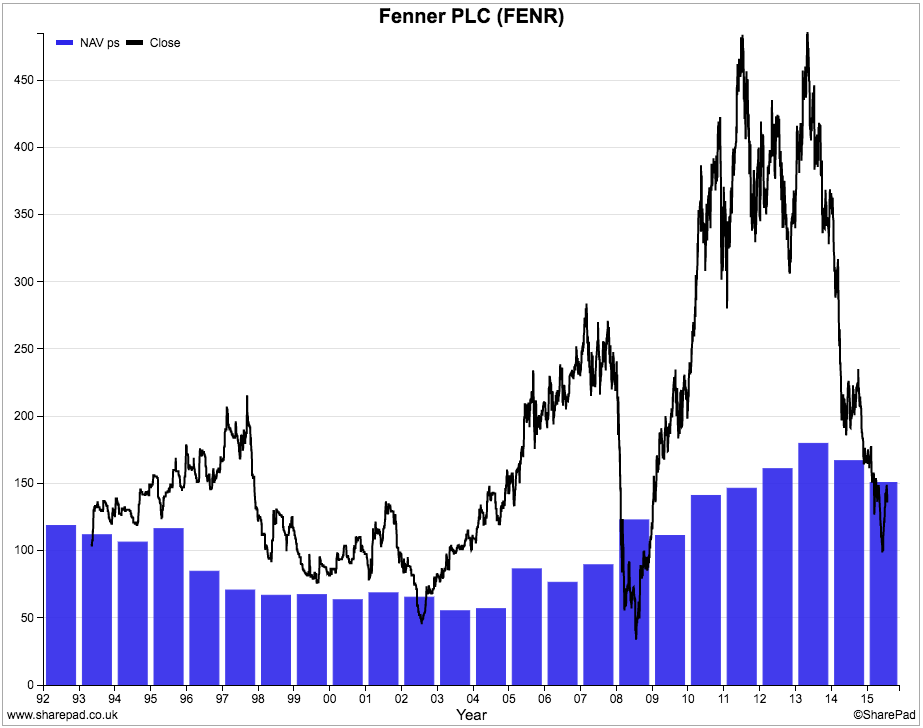 This raises the obvious question: are Fenner shares a buy now?
I'll leave you to work this one out for yourselves. But here are a few things to think about when considering a purchase of a cyclical share:
Is the company experiencing a normal downturn or is something else happening? For example, has the industry changed which means that future demand for its products will not follow the same patterns as the past? For Fenner, you might consider how long oil prices will stay low or whether shale gas has destroyed the prospects of its major coal customers in the US.
Is the company in financial difficulties? Can it weather a downturn in profits? Here you need to check whether key financial ratios such as interest cover and fixed charge cover are healthy and whether the company is generating enough cash flow.
Is the problem company-specific or are similar companies experiencing similar problems? A company-specific problem might lead you to steer clear of the shares.