Do low bond yields justify higher share valuations?
Gilt yields - the interest rate the UK government has to pay to borrow money - have collapsed. The UK government can now borrow money for ten years at a rate of just over 1%.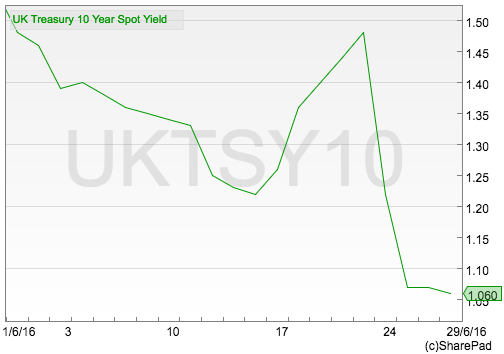 Gilts are seen as very safe investments. As the UK can print its own money it is very unlikely that an investor will not get their money back at the end of ten years. What that money will buy then is another matter.
Government bond yields elsewhere across the world have gone to 0% and in some cases are even negative. Why on earth would you want to invest in them? You might as well put your money under a mattress. I guess nervous investors just want to hang on to the money they have got and sleep well at night.
For others looking for a source of income to live on or who have liabilities to meet in the future (such as pension funds) then the stock market might be the only place they can invest their money.
It is this view that there are few alternative sources of income that may continue to prop up the stock market and even push it higher. It is the reason why high quality companies with strong brands, dependable cash flows and high returns on investment can command higher stock market valuations. On the other hand, it could also be a big warning sign that shares have become too expensive and too risky.
To understand this, consider some reasonably straightforward stock market maths.
To me, investing is all about interest rates. I like to buy the shares of companies that earn a high rate of interest on the money they invest - a high return on capital employed (ROCE) or free cash flow return on investment (CROCI). The key to making money from these shares is not paying too much money for them. In other words I need to buy at a share price which gives me a reasonable rate of interest for starters. This can be measured by a share's earnings yield (EPS/Price) or free cash flow yield (FCFps/Price).
So how do you go about working out how much you should pay for a share?
The first thing you should do is work out what a company's cash profits are.
Basically, you take post-tax profit add depreciation & amortisation back on and then subtract stay-in-business capex (click here to read more about this).
Then you can work out the maximum share price you should pay for those cash profits. This is how people like Warren Buffett and Terry Smith go about valuing shares.
Here's my take on this approach below.
The straightforward approach is to divide your estimate of cash profits per share by the yield on government bonds. So profits of 10p per share would give a valuation of 1000p or £10 (10p/1%).
Hold on a minute. This would mean the shares would have a profit multiple of 100 times (1000/10). Surely that's ridiculous?
It is.
There is a good case for arguing that bond yields are being kept artificially low in order to stimulate the economy. In other words, bonds are overvalued. So using overvalued bond yields is going to give you overvalued share yields or profit multiples. (I've written more on this subject in this article).
To get around this problem you need to adjust the bond yield. Over the last thirty years, UK 10 year government bond yields have been around 3% higher than inflation. With current RPI inflation (May 2016) of 1.4% this would imply a minimum interest rate of 4.4%. If bond yields were 5% then no adjustment would be needed as they would be 3% more than inflation and would be more sensibly valued.
| | | |
| --- | --- | --- |
| 10 year gilt yield or Inflation rate (A) | 1.40% | 5% |
| Add on: Inflation buffer (B) | 3% | 0% |
| Minimum interest rate needed C = A+B | 4.40% | 5% |
| Implied maximum profit/cash flow multiple D = 1/C | 22.7 | 20 |
Low bond yields are often seen as a sign of low inflation ahead. But the point is this: if ten year bonds only offer a return of 1%, high quality shares offering a yield of 4.4% or a price multiple of 22.7 might be reasonable investments if profits can keep growing. In other words, low bond yields can justify high share prices.
The key issue here is growth. If profit growth stalls or even falls then paying these kinds of profit multiples is not going to make you much richer. Instead you are likely to lose a lot of money.
The other thing you might want to bear in mind is what the devaluation of the pound will do to inflation. If inflation goes up because of higher prices of imported goods then the minimum interest rate will rise and the maximum price multiple will fall. This would not be good news for share prices in general.