Housebuilding shares
In my recent article about the housebuilding sector (click here to read this), I showed you how you could use SharePad to model certain scenarios. I used return on equity (ROE) to work out what P/NAV multiple the shares might be worth.
In short, the right P/NAV is based on a relationship between the sustainable returns on equity and the returns that shareholders require to own the shares (known as the cost of equity). So if the sustainable ROE was 8% and investors require an 8% return to own the shares then the P/NAV should equal 1.0 (8% dividend by 8%). If returns are higher/lower than 8% then the P/NAV should be higher/lower than 1.0.
My analysis suggested that the stock market was pricing in a very optimistic future for housebuilders. It was suggesting that the current high profits and returns on equity (ROE) were sustainable forever, and that there would never be another housing market slump again.
Now it seems that some people think that there might be and the share prices of housebuilders have been decimated.
Let's have a look at how they are valued now.

For many of the shares in the sector, their forecast dividend yields are similar or higher than their forecast PE ratios. This is either a sign of impending disaster with markedly lower profits ahead and dividend cuts or a possible over-reaction by the stock market.
Bovis Homes (LSE:BVS) can now be bought on the stock market for less than its tangible net asset value.
Just over a month ago, using the five year average ROE to calculate the P/NAV for each share, the sector looked expensive. In the table below you can see that most of the housebuilders were priced well above their implied price using this model.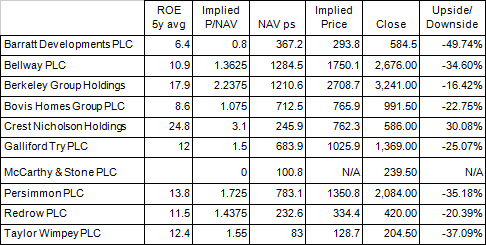 Now many of them are priced below their implied price.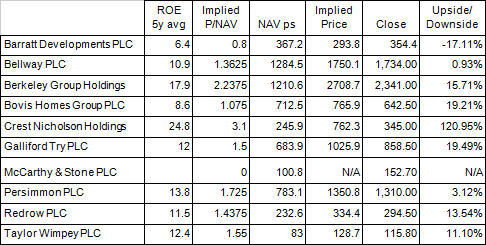 In other words, if you think the sector can maintain its five year average ROE, then the share prices of most Housebuilders offer some upside.
If you think the ten year average ROE, which takes in the last bear market, is likely to be a better guide to profitability in the coming years, the table below suggests that the sector still isn't cheap.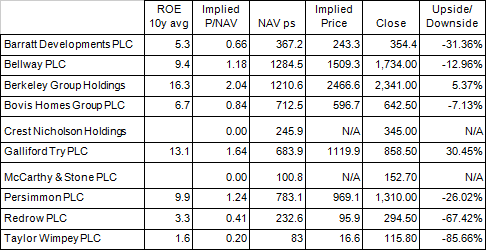 Housebuilder profits and valuations are very sensitive to changes in house prices. House prices are very difficult to predict. Sharp falls tend to happen quickly. Many commentators believe UK house prices are overvalued whilst others argue that affordability is still good - even more so if interest rates are cut in the future.
If you are looking at housebuilder shares as a possible investment then you need to try and work out what future profit outlook is implied in current share prices. As I showed in my previous article on the subject, share prices tend to follow current rates of profitability. You need to ask yourself whether the market has overreacted here or indeed whether there may be bigger falls to come.