Pension Fund Assets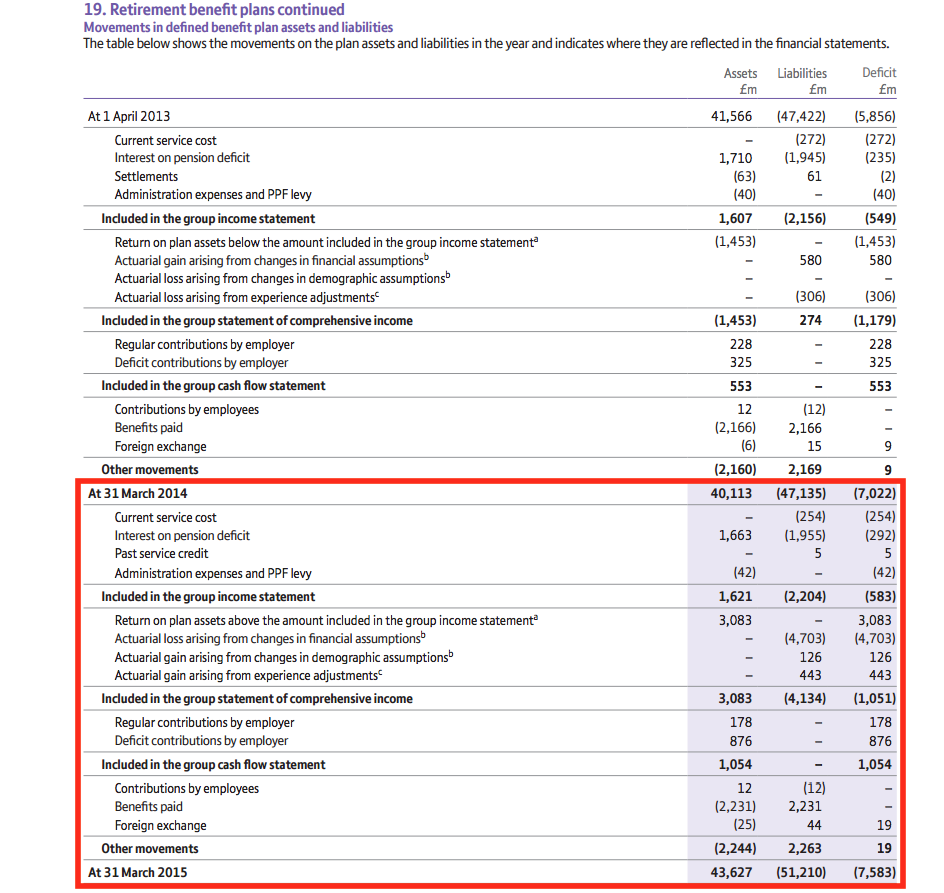 Above is a screenshot from BT's 2015 annual report. It shows how the assets and the liabilities of a final salary pension scheme are made up and how they change during a year. Let's start by looking at the assets first.
The assets of the pension fund are made up of the value of different investments such as shares, bonds, property and cash. The value of these investments have to be shown at their fair value. This is often the market value for investments such as shares and bonds. If there isn't a market valuation available, the actuary will estimate a value. At the end of March 2014, the value of the fund's assets was £40.1bn.
The actuary will then estimate the annual investment return on those assets - price changes plus any income received such as dividends. Rather obscurely this is called interest on pension deficit in BT's accounts above. The annual investment return was assumed to be £1663m for the year to March 2015. £1663m divided by the starting asset value of £40113 tells us that the estimated return was 4.14% - a similar assumption to 2014 of 4.11%. This return is added to the fund's asset value and is also treated as interest income in BT's income statement (more on this later).
An administrative expense of £42m was paid which reduces the asset value.
We then have an addition of £3083m. This represents the extra amount of money earned from investment returns above the amount assumed by the actuary (£1663m). What this is telling us is that the fund produced total investment returns of £4746m (£3083m + £1663m) during the year.
Then we have the amount of £1054 that BT paid into the fund. This is made up of regular contributions of £178m and top up payments of £876m to reduce the deficit. This is a cash outflow and a large one at that. This is a key number for investors to pay attention to as it has the biggest impact on how big their dividends might be.
Next comes the contribution of £12m paid by employees which adds to assets.
The biggest reduction in assets comes from the amount of money actually used to pay pensions - £2244m. After this has been paid, the fund ends the year with assets of £43.6bn or £2.5bn more than it started with.
This is encouraging but is only half the story. You have to take into account what has happened to the liabilities as well.