Finding quality companies at the right price
So we return to the holy grail of investing: buying good companies at good prices.
With a bit of legwork and knowing what to look for it is possible for the private investor to identify quality companies. What's less easy is finding them and having the discipline to buy them at the right price.
What is the right price for a quality company?
There is no right answer to this question but I have been doing a lot of thinking about this recently. You are unlikely to find really good quality companies at bargain basement prices. You are going to have to pay up in most cases.
The trouble is that low interest rates on savings accounts and government bonds have pushed up the price of shares and the shares of many high-quality blue chips in particular such as branded consumer goods companies.
Buffett has a very simple approach to valuation. He calculates a company's owner earnings or cash profits (for more on this click here) and divides it by the current yield to maturity (gross redemption yield) on government bonds. So if he calculates a company has cash profits of 10p per share and bond yield are 5% the minimum value of the share is 200p (10p/5%) - a PE or price to free cash flow multiple of twenty times.
Buffett doesn't ask for any extra yield on top (known as an equity risk premium) because he thinks that the quality of the business reduces risk and that the cash profits in the future - and the value of the share - will be materially higher in ten years time.
The problem with this approach at the moment is that bond yields have been pushed lower and lower in recent years and are close to zero in some countries. The current ten year gilt yield is just 1.5%. I'm not sure that there are many shares out there - no matter the quality of the businesses behind them - that are worth multiples of cash profits of 66.6 times (1/1.5%).
Below is a chart of the yield on ten year UK government bonds (gilts) compared with the rate of inflation since 1984. As you can see, there has often been a big gap between gilt yields and inflation i.e. there was a real after-inflation return on gilts.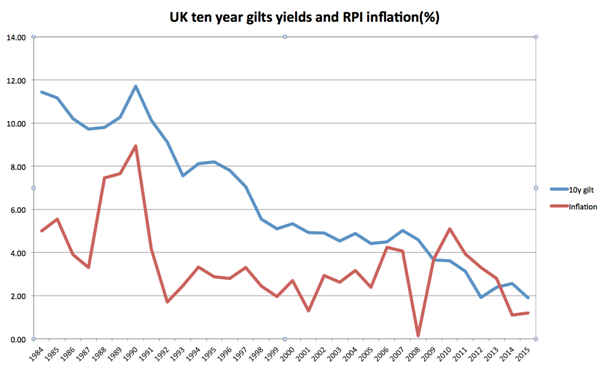 Since 2008, this gap has become smaller and has even turned negative (bond yields have been less than the rate of inflation).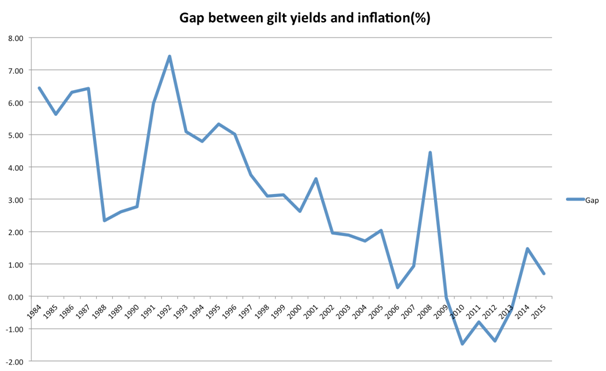 If you are going to use the Buffett approach you need to make an adjustment to the current low rates of interest so that you don't end up paying silly prices for quality companies.
You could look at the average gilt yield over the last thirty years of 6.4% and set a price limit on cash earnings at that yield or a multiple of 15.6 times (one divided by 6.4%). The thing is you won't find many shares to buy at this price limit.
Another alternative is to add something extra to the current gilt yield instead. Over the last thirty years the average gap between gilt yields and inflation has been 2.93%. Adding 3% to the current ten year gilt yield of 1.5% would give a minimum yield of 4.5% or maximum multiple of 22.2 times (one dividend by 4.5%).
These may look like very rich valuations to many investors and they are. However, if interest rates stay low - and possibly go lower - then it is a possibility that many shares of quality companies could have these kind of valuations attached to them as some already do. The one caveat here is that to command these valuations these companies need to be able to keep on growing their profits and cash flows.