Is Home Retail Group a good business?
When I begin analysing any company I start by looking for hallmarks of a quality business. My first port of call is to look at the trends in its return on capital employed (ROCE) which tells me how much profit a company is getting back as the percentage of the money it has put in. The higher this percentage, the better.
Like many people, I find it easier to understand a picture rather than wading through years of data. SharePad makes this easy by allowing you to chart loads of financial ratios over time periods of twenty years or more.
Below you can see a chart of Home Retail's ROCE over the last ten years.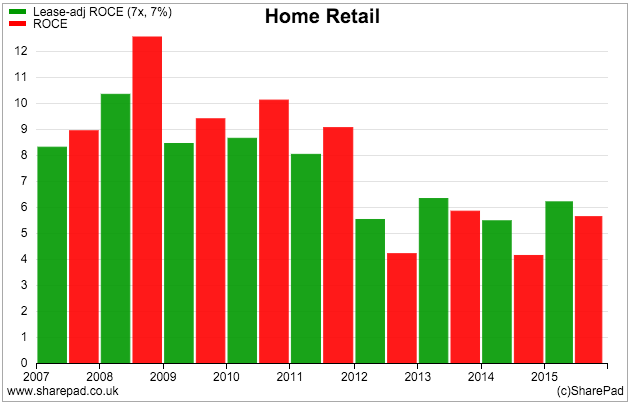 I have calculated two versions of ROCE. The red bars show a standard calculation of ROCE. As you can see, this has fallen significantly from over 12% in 2009 to under 6% in 2015. This shows that Home Retail has not been a very profitable business and that its profitability is now at a very low level.
However, Home Retail is like lots of retailers in that they rent rather than own their stores. These rents (or leases as they tend to be known as) are long-term agreements and a form of hidden debt not disclosed on a company's balance sheet. This means that capital employed tends to be understated and ROCE overstated.
SharePad allows you to get round this problem by estimating the value of this hidden debt and an adjusted version of ROCE (for more on this subject click here). Whilst interest rates do change over time, I have chosen to capitalise Home Retail's rental payments (to get an estimate of the off-balance sheet debt) by multiplying them by 7 (credit rating agencies typically use a range of 6-8) and assuming an interest rate on the rents of 7%. The lease-adjusted ROCE is shown by the green bars on the chart and for most of the time has been lower than the standard version of ROCE. It is actually higher during the last three years because the interest on the leases of 7% is higher than the underlying ROCE of 6%.
All in all, whatever way you care to look at things, Home Retails ROCE is not telling me that there is a great business here - at least not at the moment.
What about its ability to turn profits into free cash flow?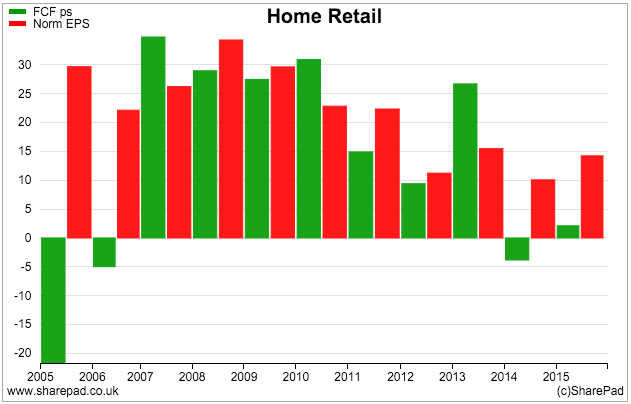 During the last couple of years Home Retail's free cash flow per share has been significantly less than its earnings per share (EPS). In previous years, the company's ability to turn its profits into cash has been much better, so what's changed?
The first thing I usually look at when I come across a company with poor free cash flow is how much it has been spending on new assets (capital expenditure or capex) and compare that with its depreciation charge (an estimate of how much is needed to maintain the value of a company's existing assets). Big increases in capex reduce free cash flow.
As we can see below, Home Retail's capex spending has been going up recently and is now running at about 130% of depreciation having been below 100% back in 2013. If you go and read the company's financial reports you will learn how the company explains this rise in capex. It has been spending quite a lot of money opening up new Argos stores and converting existing stores to help with its push into internet shopping.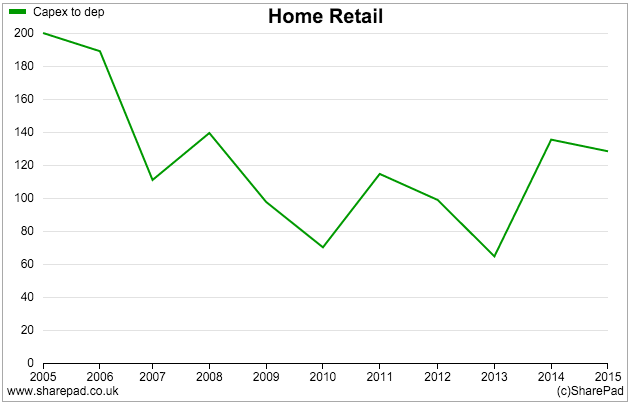 But is there anything else going on? On closer inspection it seems that there is.
When you are looking at a retailing company it is a good idea to pay attention to what's going on with its working capital position as it can be a big contributor to a company's free cash flow performance.
Working capital is the cash needed to run a company's day-to-day activities. Careful control of debtors, creditors and stock levels enables a company to manage the amount of working capital it requires.
Retailers need to invest cash in stock, potentially sell goods on credit (which means that sales take time to turn into cash) and have enough cash to pay suppliers (trade creditors).
One useful ratio you can calculate is working capital as a percentage of turnover as shown in the chart below. What you can see is that Home Retail needs to invest a lot more cash into working capital than it did a few years ago and this means it cannot produce as much free cash flow.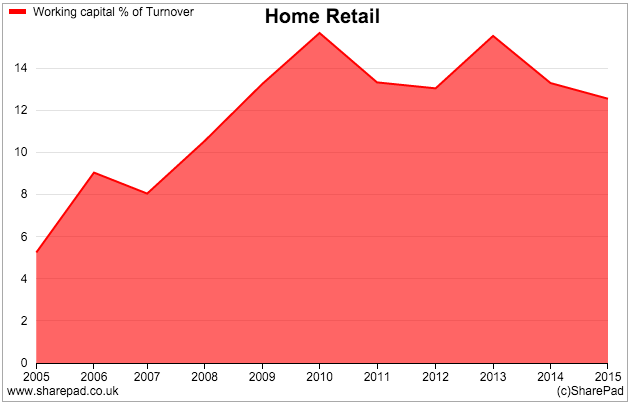 Let's take a closer look at Home Retail's cash flow statement in SharePad.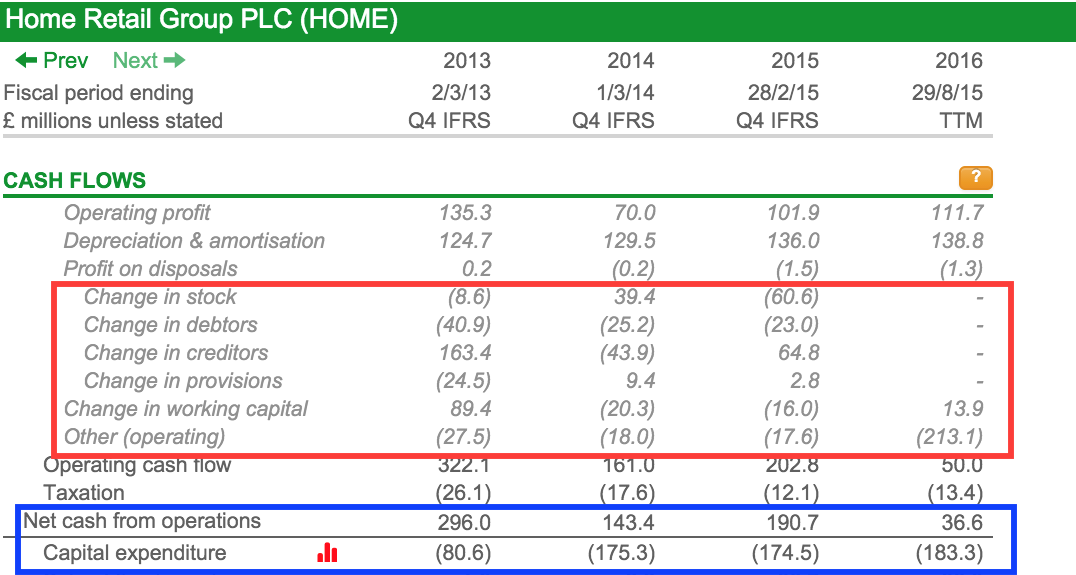 If you look inside the red box you can see how Home Retail's working capital has changed during the last three years. Back in 2013 it was getting £89.4m of cash inflow from managing its working capital which contributed to £296m of net cash from operations (trading cash flow).
In 2015, a big inflow had turned to an outflow of £16m and trading cash flow had fallen by over £100m to £190.7m. Argos has been building up its stocks of extra products in order to compete more effectively with the likes of Amazon in internet retailing. This has put a big drain on the company's trading cash flow.
If we look at the company's trailing twelve month (TTM) cash flow then it seems that things are continuing to get worse. Home Retail has produced just £36m of trading cash flow during the last year. Yet it has spent £183m on new assets (capex). The combination of building up stocks and spending on new Argos stores is eating up a lot of cash. The company doesn't have any debt but its cash balance has gone down by £140m during the last year from £333m to £193.1m. Based on what the company said in its recent half year report, this trend looks set to continue for a while yet.
So on the basis of ROCE and free cash flow, Home Retail is not looking too good at the moment.