The quality of Whitbread's profits growth
One of the key things to check out when you are studying a company's financial history is the quality of its profits. Companies can grow their profits in many different ways (to read more about this click here) and you need to make sure that the company you are looking at has good quality profits growth rather than bad.
A good starting point is to look at the trend of trading profits (EBIT) with the trend in return on capital (ROCE). You are ideally looking for growing profits with a rising ROCE. Whitbread passes this test as shown in the chart below.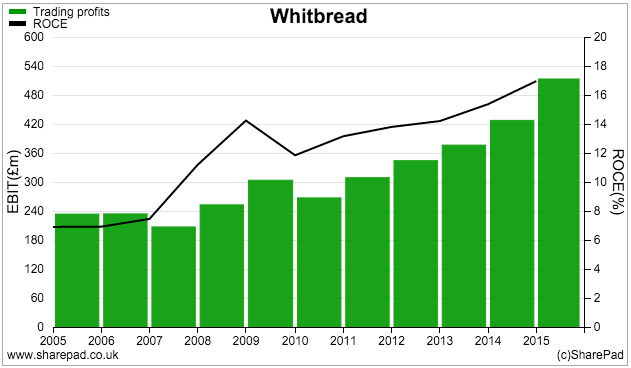 The next thing to do is see if its profits are being turned into free cash flow. The most common way to do this is to compare a company's normalised earnings per share (EPS) - a number investors pay a lot of attention to - with free cash flow per share.
If profits aren't being turned into free cash flow you need to find out why. It could be a sign of poor quality profits or bad accounting.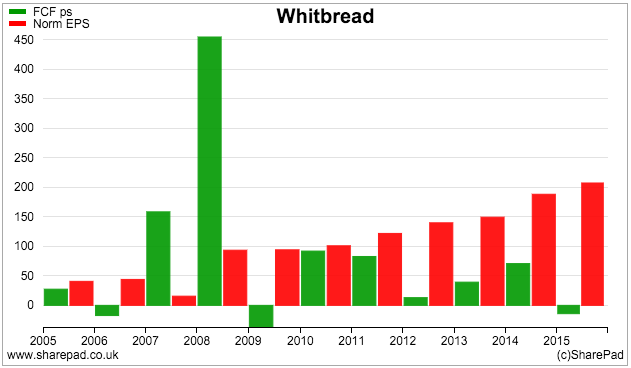 Whitbread's ability to turn EPS into free cash flow has been poor during the last five years. That doesn't necessarily mean something bad is going on, but we need to take a closer look at why this has been happening.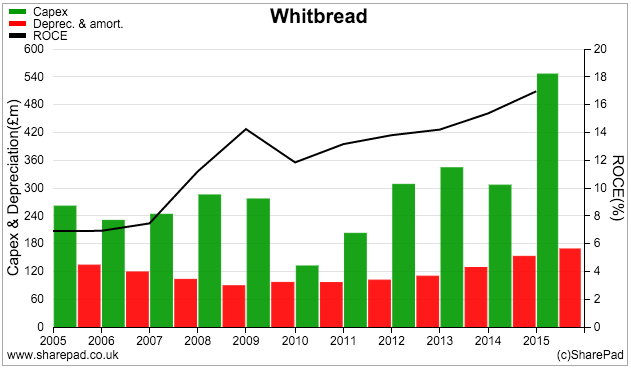 Quite often a company will have low or negative free cash flow because it is investing heavily for future growth. We can see from the chart above that Whitbread has been ploughing a lot of money back into its business with spending on new assets (capex) much higher than depreciation. We already know that this spending has led to higher profits and ROCE so there seems little to worry about here.
One thing to watch out for when a company is investing and growing as much as Whitbread is whether its finances are being stretched too much. You need to pay attention to what has been happening to its debts and also look to see if it has been expanding with off-balance sheet debt.
Total borrowing has been very stable in recent years as has the ratio of debt to capital (assets). This suggests that all is well in this respect and that the company doesn't have too much debt - at least on its balance sheet.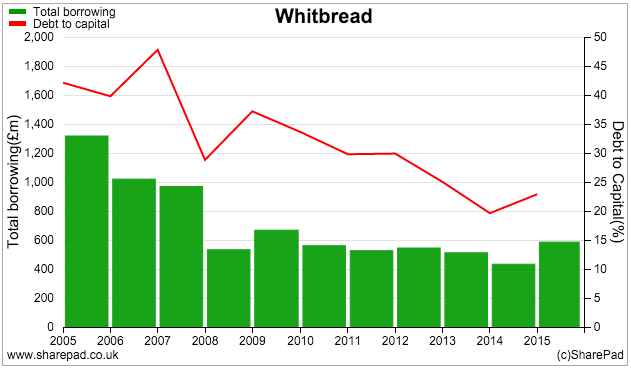 But what about debt that is hidden and off the balance sheet? Lots of companies in the retail and leisure sectors have chosen to expand by renting rather than buying properties. They do this because it doesn't involve a huge initial outlay of cash. Instead they often enter into long-term rental agreements with property companies. The agreements to pay rent in the future are a real liability that is not shown on a company's balance sheet. They are a form of hidden debt.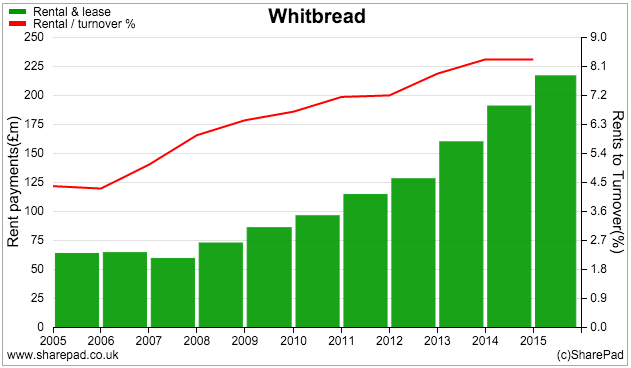 The chart above shows that Whitbread's annual rent payments have increased significantly in recent years to over £200m. This suggests that the company may have around £1.5bn of off balance sheet debt (credit rating agencies tend to multiply rent payments by 6-8 times to get an estimate of this).
What is also of interest is that rent payments have been eating up more of Whitbread's revenue as well. Rents as a percentage of turnover was around 4.5% in 2012, it is now over 8%. This trend needs to be watched carefully.
The ratio of rents to turnover may be increasing because Whitbread has opened up lots of Premier Inns and Costa Coffee shops in recent years. These hotels and shops may not have reached their potential turnover levels yet but are still paying rents.
That said, a rising rent bill increases Whitbread's fixed costs and makes the company's profits vulnerable to sharp falls if turnover starts falling in the future. This is an increasing risk for Whitbread's shareholders by the look of things.
At the moment, Whitbread has sufficient profits to comfortably pay the interest on its debts and its rents as shown by a fixed charge cover ratio of over 3 times.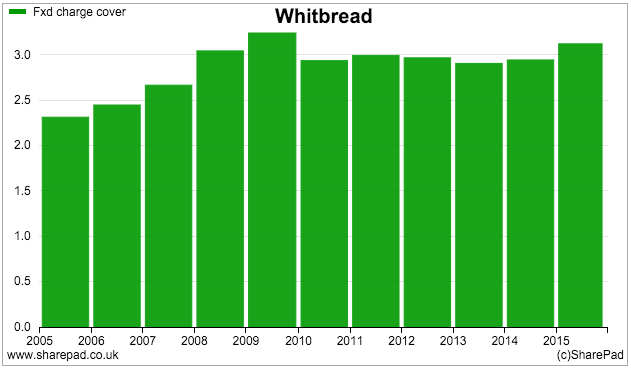 Whitbread also had a significant pension fund black hole to fill of over £500m as of March 2015. This can also be seen as a form of debt that has to be made good. The company will have to make top-up payments into the pension fund which ultimately means less cash to pay dividends.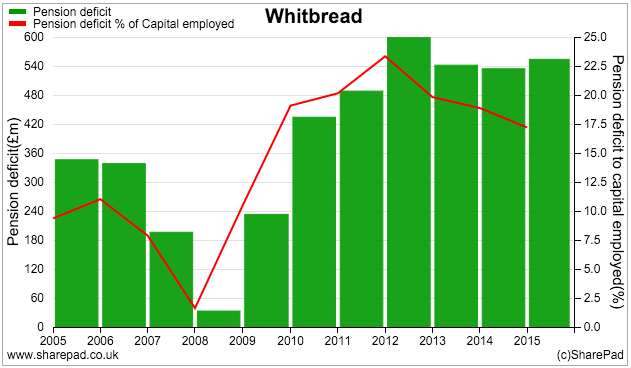 So we have found out that Whitbread has been growing rapidly and that ROCE and profits have been going up. This is a good sign.
Less encouraging is the growth in off-balance sheet debt and the stubborn pension fund deficit.
Now I am going to dig a lot deeper into Whitbread's two businesses. Whitbread's company accounts provide a lot of really useful information which can allow the diligent investor to learn a great deal about the company.
You do this by reading the commentary in the accounts and analysing the segmental company data. In my experience, not a lot of private investors - or even many professionals - do this and so taking the trouble to do so can give you an edge. When I was a professional analyst I used to spend a lot of my working days doing this.