Debt ratios in SharePad
SharePad has lots of different debt ratios which can help you weigh up a company's debt position. It gives you lots of options when calculating the ratios so that you can dig deeper into a company's finances.
As the pension fund deficit is effectively a form of debt, SharePad gives you the option to add it to borrowings when calculating debt ratios.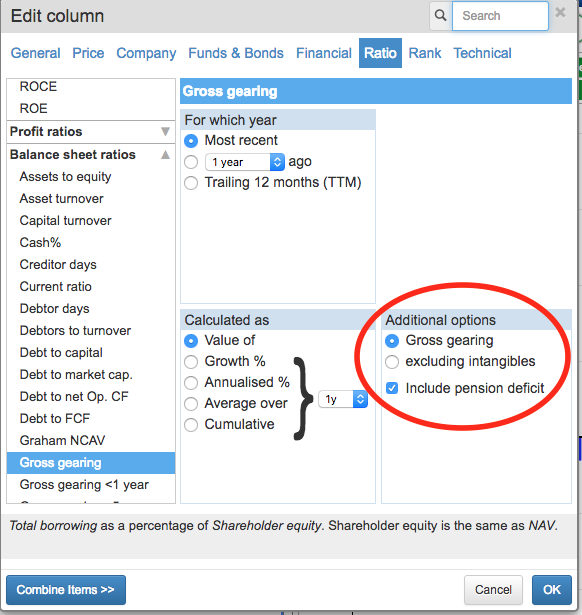 All these ratios are useful and some of them are telling you broadly the same thing. Later in the article, I'll tell you which I prefer.
Gross Gearing
This ratio tells you the size of a company's borrowings relative to the amount of money (equity) invested by shareholders - its equity finance. As a rule of thumb, the bigger the total borrowings relative to equity, the more potential risk the shareholders are exposed to.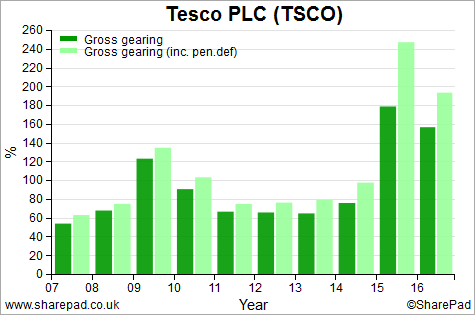 Tesco's gearing has increased significantly since 2014, especially when the pension fund deficit is taken into account.
Net gearing
This is similar to gross gearing with the exception that cash balances are taken away from total borrowings to compare net borrowings with equity. Again, the higher the ratio the more potential risk shareholders are exposed to.
As with the gross gearing ratio, it shows that the financial risks to Tesco shareholders has increased since 2014.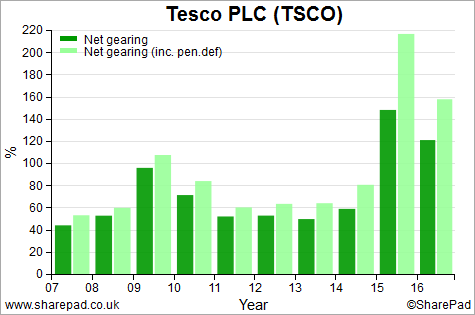 Debt to net operating cash flow
This is another measure of how well-placed a company is to deal with its debts. It tells you how long it would take for a company to repay its debts from its net operating cash flow (its after-tax trading cash flow). This ratio is used a lot by credit rating agencies. The bigger the ratio, the more indebted a company is.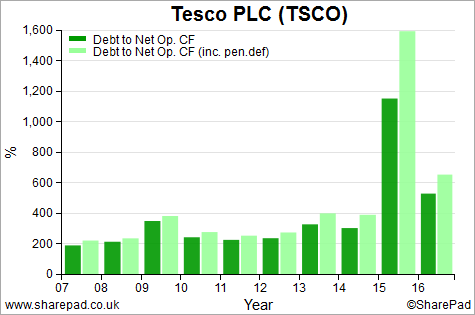 In effect this ratio looks at a company's ability to repay its debts if it cut back its capital expenditure to zero - which can't be done for long - and gives you a feel for how fast debt could come down if it needed to.
The ratio can change for two reasons. Either debt is going up or cash flow is falling. Both happening at the same time could be very uncomfortable.
This is what happened with Tesco in 2015. In 2016, net operating cash flow recovered, but it would still take over 6 years (i.e. the debt to net operating cash flow is over 600%) to repay all its debt and pension fund deficit.
Debt to Free cash flow
A much more prudent measure of a company's debt-paying ability is to compare total debts to free cash flow. Free cash flow is the cash that is left over after a company has paid all its essential bills such as tax, interest on debts, pension fund payments and investment in new assets (capex).
The company is free to do whatever it wishes with this cash. For example, it could pay it to shareholders in the form of a dividend, reinvest it in the business or it could reduce its borrowings. The Debt to free cash flow ratio tells you how many years it would take a company to repay its debts based on its most recent free cash flow.
Tesco has not looked good on this measure for a number of years as it was not generating much free cash flow. Based on its most recent free cash flow it would take almost fifteen years to pay off all its debts and pension fund deficit.
Note this ratio can be a negative number if free cash flow is negative.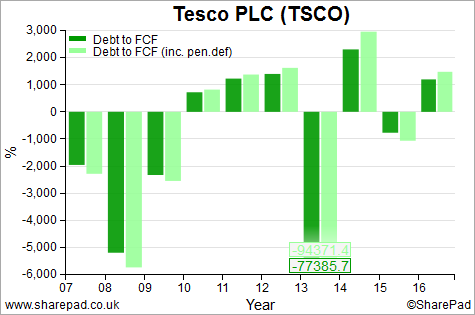 Debt to Market Capitalisation
This ratio compares the total borrowings of a company with its market capitalisation (the number of shares in issue times the share price).
A ratio above 100% shows that the value of debt is bigger than the current face value of the company's shares and may be a sign of a company with a weakening or distressed financial position.
Tesco's financial position has been deteriorating in recent years. Including its pension deficit, Tesco's Debt to Market cap. is currently over 100% (October 2016).
Debt to Enterprise Value
Comparing the level of debt to EV is a better measure of financial risk than debt to market cap.
Enterprise value (EV) is a more prudent or realistic measure of the market value of a company. SharePad calculates EV by adding the value of net debt, pension deficit/surplus and minority interests to market capitalisation. All these 'debts' would be a cost to a prospective buyer.
Essentially:
Enterprise value = Market capitalisation + debts
Enterprise values in SharePad include pension fund deficits as standard. As an option, you can also include rental/lease commitments (hidden debts).
If a company's trading profits fall, or are expected to fall, then its EV is likely to fall. As the debt part of EV is fixed in the short term, it is the market capitalisation (and therefore the share price) that has to fall.
The higher the proportion of debt to EV, the more the effect on market capitalisation is magnified and the greater the risk to shareholders. I explain how in the box below.
Let me show you how this plays out in practice. However, before I do let me explain something which I consider to be quite basic but very important.
The accounting value of a company's equity is the value of its assets less its liabilities. This is clearly shown on every company balance sheet.
The market value of a company's assets is its enterprise value.
To get a market value of equity - a market capitalisation - we need to take away the value of borrowings and pension fund deficit from enterprise value.
Other big liabilities such as trade creditors and accruals are ignored as they have been expensed against revenues and are therefore included in the calculation of profits (and a company's assets).
Just like the equity value in your house is determined by the house's value (its asset or enterprise value) less the value of your mortgage, the same principle applies to the equity value of companies. It is the residual asset value - what is left over - after debt has been taken away from the total asset value.
So let's see what happens to a company's equity value when its enterprise value falls.
Company A and Company B have identical trading profits (EBIT) of £100m. The EV for both companies is £1bn or 10 times EBIT.
Company A has £700m of debt-like liabilities giving a debt to EV of 70%. It's market capitalisation is therefore £300m.
Company B has £200m of debt giving a debt to EV of 20%. Its market capitalisation is £800m.
Both companies see profits fall 10% to £90m but the market value is still 10 times profits (£900m) - also a 10% fall. In the table below you can see what happens to the respective EVs and market capitalisations of both companies.
Company A
Company B
Before
After
%change
Before
After
% change
EV
1000
900
-10%
1000
900
-10%
Debt
-700
-700
0%
-200
-200
0%
Market Cap
300
200
-33%
800
700
-13%
Debt/EV
70%
78%
20%
22%
Company A with a higher debt to EV ratio sees a 33% fall in its market cap compared to just 13% for the far less indebted Company B. This is why companies with high debt to EVs are more risky.
Tesco's rising debt to EV ratio can be clearly shown in the chart below: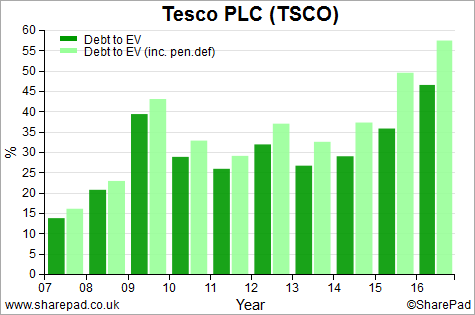 Pension fund deficit as % of market cap
The pension fund deficit as a percentage of market capitalisation can be split out on its own so that you can identify companies where the pension fund deficit has the potential to cause a lot of problems. Tesco's ratio has been increasing.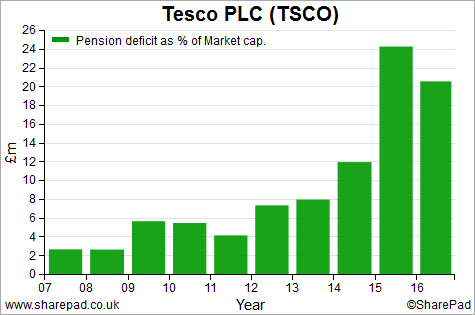 At over 100% of market capitalisation, Trinity Mirror's pension fund is a big problem.