How to estimate hidden debt
Good professional analysts and credit rating agencies view large future rent obligations as a form of debt. There are two ways to estimate what the value of this hidden debt might be.
The first way is to discount the future lease commitments to their present value using an interest rate similar to the interest rate paid on existing borrowings (for more on the fairly simple maths used to discount future values to present values click here). A quicker way used by the credit rating agencies has been to multiply the current annual rental expense by eight. These two approaches are referred to as capitalising operating leases. In other words, you are working out what the total amount of the liability might be in today's money.
Here's an estimate of hidden debt or capitalised operating leases for B&M derived by discounting future leases at an interest rate of 5%.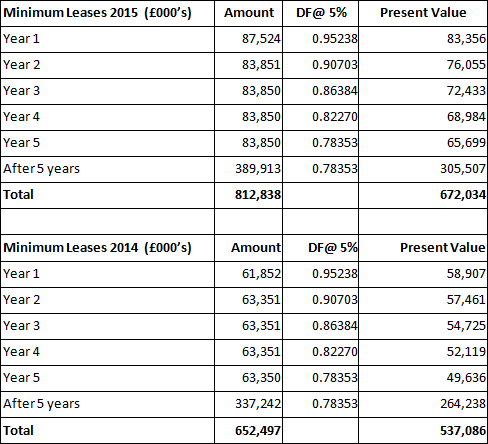 I am using the future operating lease commitments from B&M's annual accounts shown earlier. For years two to five I've taken the total number and divided by four to get an estimate for each individual year (For 2015, this was £335,401m/4 = £83.85m). The amount outstanding after five years has been discounted back to a present value as a single number.
This approach is telling me that B&M's hidden debt could be around £672m up from £537m in 2014.
The estimates are slightly lower using the eight times annual rental expenses approach as shown below:

These calculations are all well and good but how are they useful to an investor?
The best use of these numbers in my opinion is to calculate an adjusted return on capital employed (ROCE) figure. To do this you need to make a couple of adjustments to your existing calculation.
ROCE is calculated by dividing EBIT by average capital employed (CE). Capital employed is all sources of finance - equity and debt. We therefore need to compare it with the profits available to shareholders and lenders - EBIT.
Now, remember, we want to try and get an idea of what the profits (EBIT) would be if the company had built these assets using finance.
If this were the case then depreciation of the assets would have been taken off before EBIT but the interest payments on the debt would come off after (to give pre-tax profits).
A company's rental payments are also based on interest and depreciation of the asset. We can work out the value of each.
Rental payments are deducted before EBIT whereas we only want the depreciation component to be deducted. That is, we need to add back the interest component.
Using the discounting method above, I have calculated the value of B&M's capitalised leases to be £537m in 2014 and £672m in 2015. This gives an average value of £604.6m. Multiply by an interest rate of 5% (an estimate of what the company could borrow money for) and we get lease interest of £30.2m. Based on the annual rent bill of £74.4m we can infer that the remainder of £44.2m is mainly depreciation which should not be added back.
Add the average capitalised leases of £604.6m to average capital employed to get an adjusted average capital employed figure.
You can now calculate an adjusted ROCE. The SharePad and ShareScope ROCE figure for B&M for 2015 is 14%. Its calculation is shown below:

Here's the adjusted version: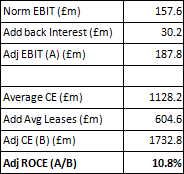 So ROCE falls from 14% to 10.8% on an adjusted basis. This might change your opinion of B&M's ROCE from reasonably good to modest. I'll let you decide. What is hopefully clear is that the existence of large rent commitments can change the way you perceive a company.
In SharePad, you can easily find out what a company's annual rent expense is - you'll find it in the Other Details section at the bottom of the Income Statement tab. You can then get a rough and ready estimate of what the hidden debt might be by multiplying it by eight. If you set up a portfolio in SharePad, you can export some really useful data to a spreadsheet and increase your understanding of companies.
Let me show you what you can do.
First of all, you can create a portfolio of shares in SharePad. Then add the following data columns and export it to a spreadsheet software program. I've done this for a selection of shares below:

You can now start adjusting this data for capitalised leases.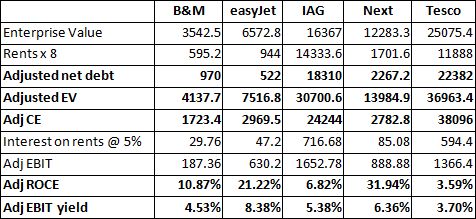 The differences in debt levels can be huge. For example, Tesco's net debt is not £10bn but over £22bn. International Consolidated Airlines has over £18bn of total adjusted debt. These are big numbers.
For every company except Tesco (because the assumed lease interest of 5% is higher than its unadjusted ROCE), the ROCE comes down. In the case of Next, the fall is quite substantial although the overall figure is still impressive.
The extra debt can also be added to enterprise value to get a lease-adjusted figure. This can then be compared with the lease-adjusted EBIT to see the adjusted EBIT yield.
However, in this case there is little change to the valuation of the five businesses on this measure compared with the unadjusted figure.