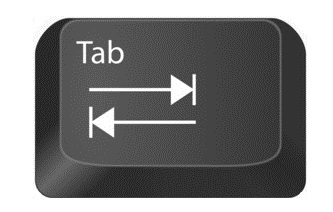 As a shortcut to New Highs and Lows, use the tab key on your keyboard. Press once for New Highs, press again for New Lows and press a third time to return to the full list.

You can also add New Highs and New Lows as buttons to one of your toolbars.

These can be added to your toolbar via the Customise Toolbars menu. More information about how to do this can be found in Tutorial 11 - Make ShareScope your own.
As mentioned, the default time period used is 250 trading days. You may, however, prefer to use a shorter or longer time period. To change the time period used, right click in the list to display the context menu. Go to New Highs/Lows and click on Highs & Lows Settings (Global).
The following dialog will be displayed:
This allows you to change the look back period:
The All history option uses the full price history that ShareScope has for each share.
You can specify the preferred number of trading days - or use calendar days instead.
Selecting Since 1st Jan (up to 1st April) looks for a new high/low since the beginning of the year. However, up until the 1st April ShareScope will measure from the beginning of the previous year due to the small amount of data available for the current year. Once April 1st is reached, ShareScope will automatically start measuring from the beginning of the current year.
Alternatively, use the Since option to enter a specific date from which to measure. If you have added the toolbar buttons for New Highs and New Lows, press the Shift key and left click either button to access the Highs & Lows Settings (Global) dialog.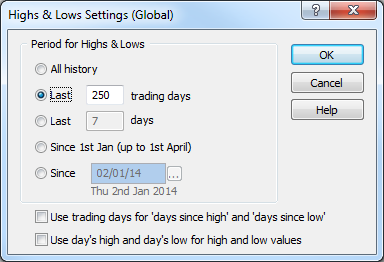 By default the New Highs and Lows options looks at Closing prices to determine if a share has made a new high or low. However, the Use day's high and day's low for high and low values option used the High and Low prices instead of the Close. Use trading days for 'days since high' and 'days since low' is used when you select Add Price High/Low Column or when you data-mine for Highs and Lows. If you tick this option then the program returns a value in trading days rather than calendar days for the number of days since a High or Low was reached.