Free cash flow performance
The good news for investors is that Restaurant Group has been able to produce reasonable amounts of free cash flow year in, year out. It has also been increasing during the last couple of years.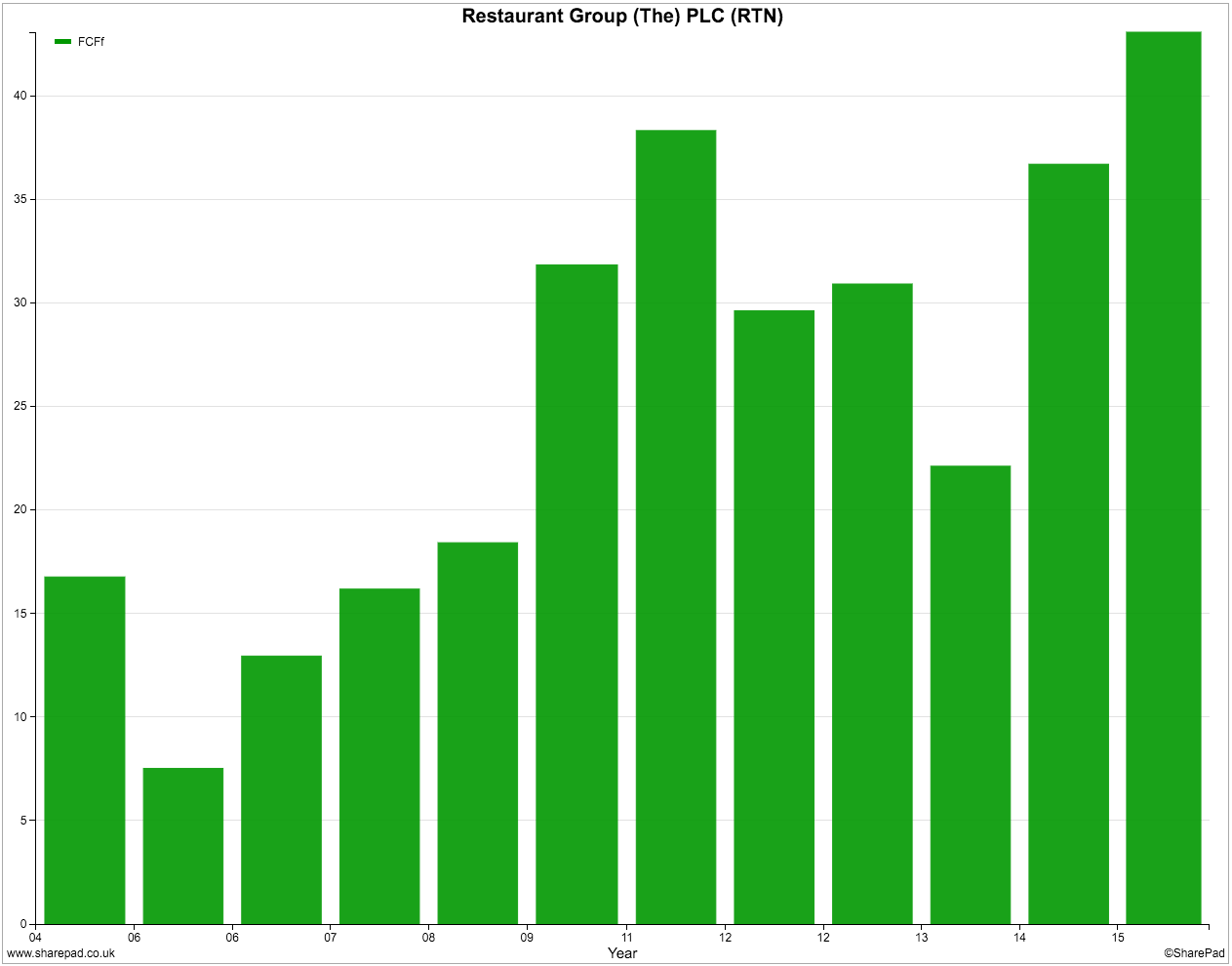 It would be worrying if this business was not producing free cash flow. This is because it is renting properties when it opens up new restaurants rather than buying more expensive freehold properties. If it was doing that then giving the rate it is opening new restaurants, my guess would be that the company might not be generating any free cash at all and might even have negative free cash flow.
This characteristic is true of many high street retailers. What you need to bear in mind when you come across companies like this which are expanding is that the annual rent bill will be increasing and with it the amount of hidden, off-balance sheet debt.
As you can see in the charts below, the company has been investing heavily. Capex (spending on new restaurant assets) as a percentage of operating cash flow has been pretty high.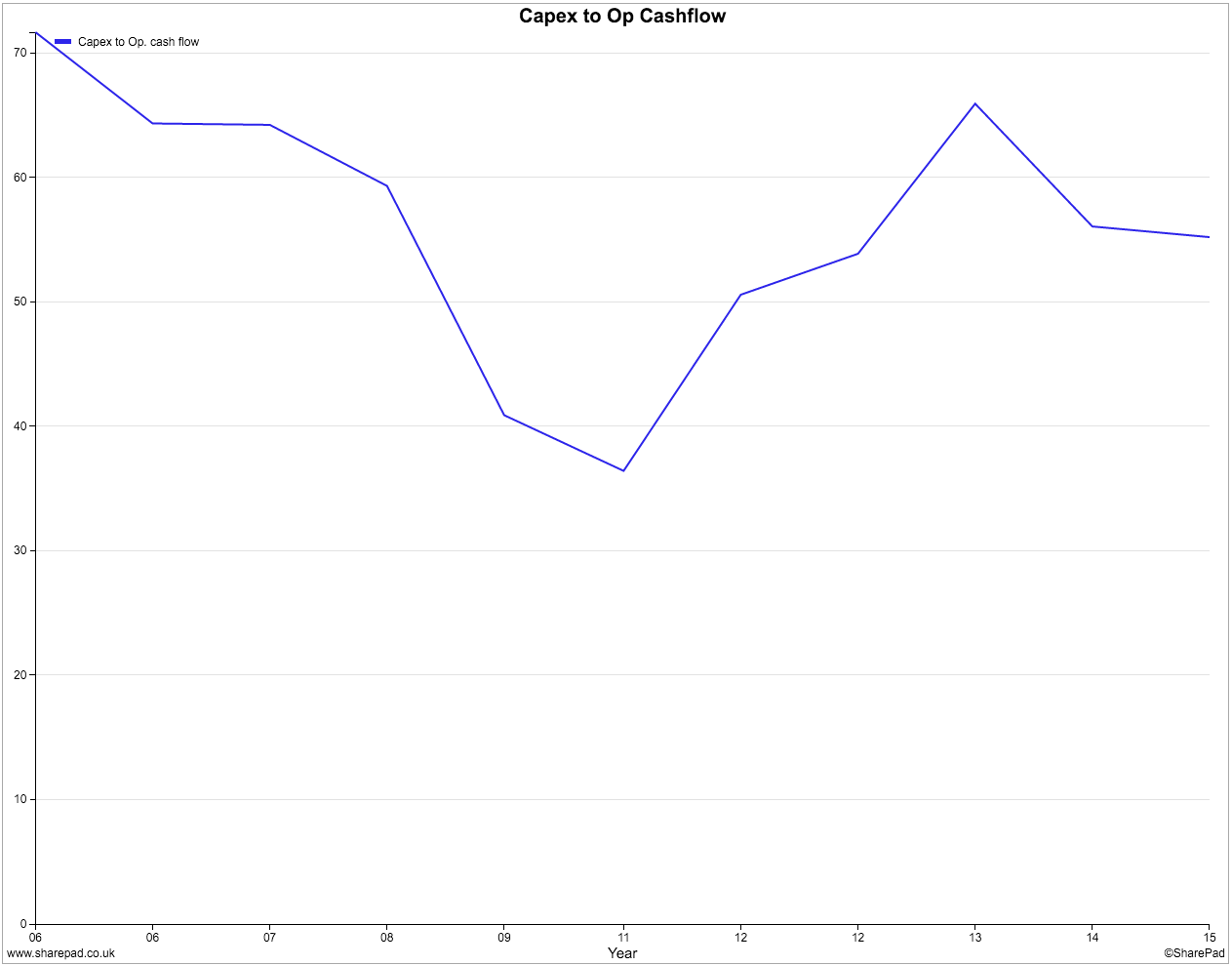 The black line in the chart below looks at the ratio of capex to depreciation. A ratio of over 100% is usually a sign that a company is expanding its asset base (provided that depreciation is an accurate reflection of the money needed to maintain existing assets - it isn't always).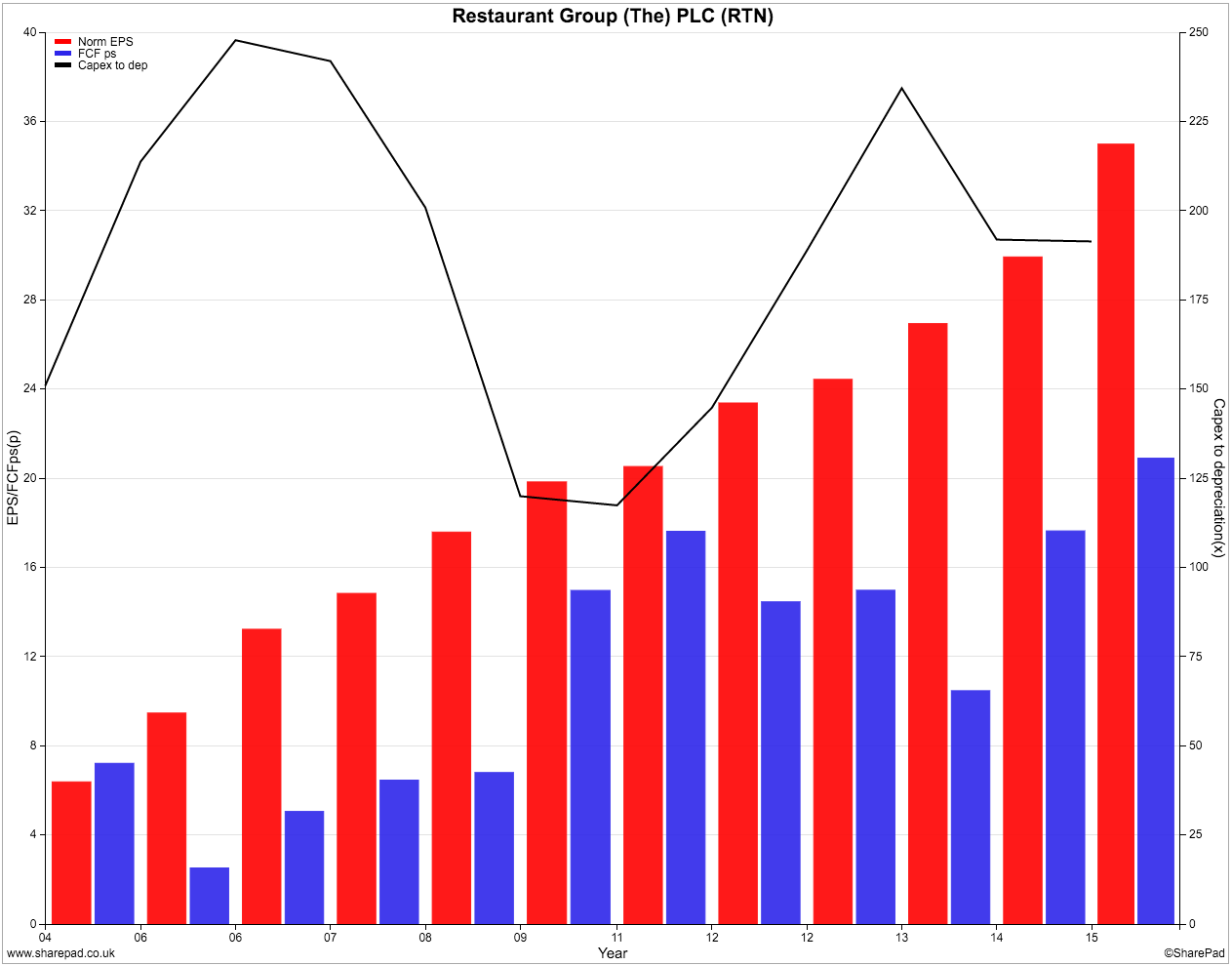 You can clearly see that Restaurant Group's investment levels have been much higher than depreciation as it has continued to open new restaurants. This has seen free cash flow per share (the second or blue bar) lag earnings per share (the first or red bar) by a significant margin. I don't see this as anything to worry about as looking at the trends in ROCE above tells us that all the extra money spent has been producing good returns for investors.
The cash generation of the business has been able to fund a growing dividend payout to shareholders. The chart below shows that the rate of dividend growth has been quite impressive in recent years.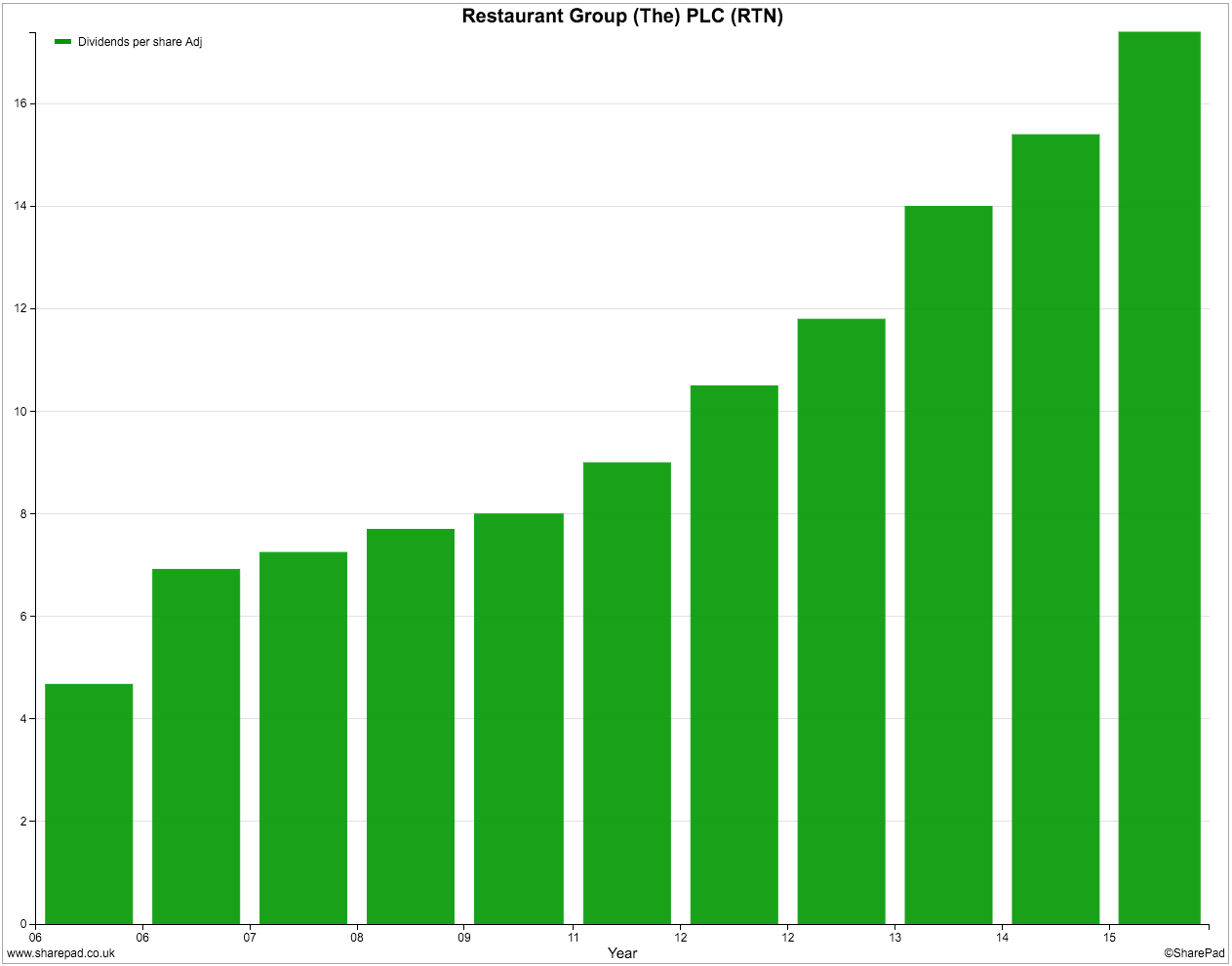 More important is that the dividend has been comfortably funded out of free cash flow as the chart below shows.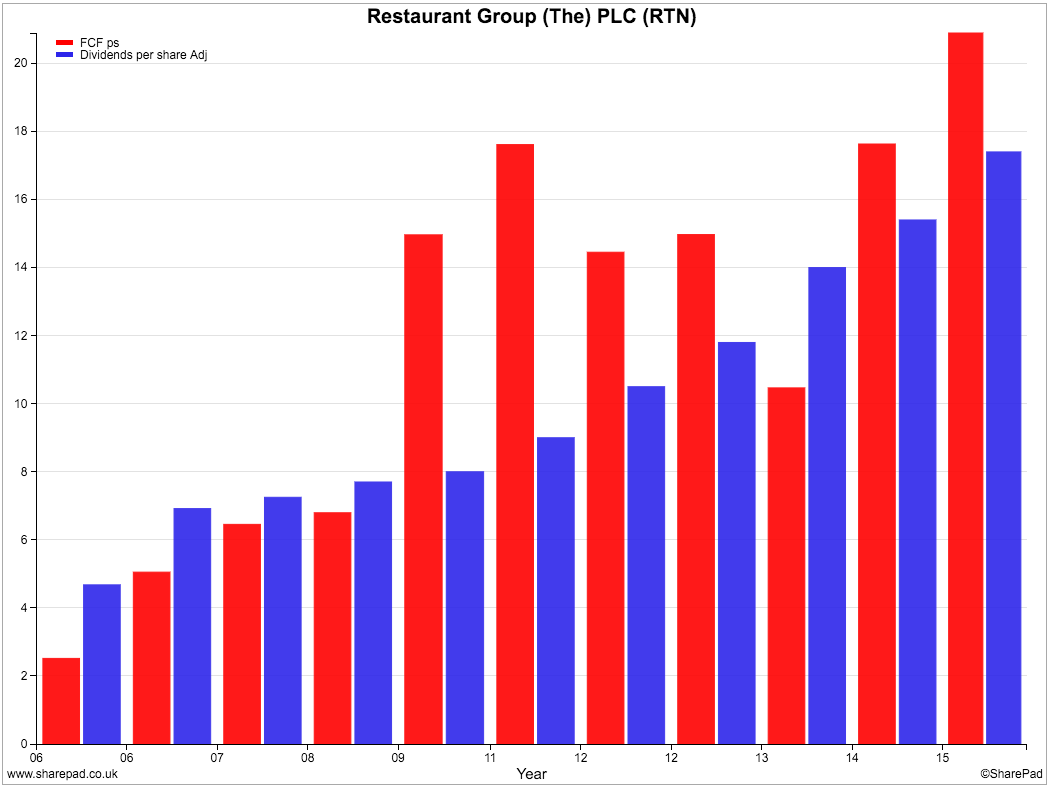 So Restaurant Group's free cash flow performance looks reasonable given the amount it has been investing. However, when reading through some of its past annual results* in SharePad I came across some interesting information.
Have a look at the table below:
| Year | MCapex | Depreciation | Sales | MCapex to Depreciation | MCapex to Sales |
| --- | --- | --- | --- | --- | --- |
| 2015 | 19.7 | 39.1 | 685.4 | 50.38% | 2.87% |
| 2014 | 20 | 36.5 | 635.2 | 54.79% | 3.15% |
| 2013 | 20.9 | 32.9 | 579.6 | 63.53% | 3.61% |
| 2012 | 15.8 | 29.1 | 532.5 | 54.30% | 2.97% |
| 2011 | 14.4 | 28.5 | 487.1 | 50.53% | 2.96% |
| 2010 | 11.3 | 26.8 | 465.7 | 42.16% | 2.43% |
| 2009 | 11.4 | 26.3 | 435.7 | 43.35% | 2.62% |
| 2008 | 10.8 | 23.3 | 416.5 | 46.35% | 2.59% |
Restaurant Group very helpfully tells investors how much money it spends on maintaining and refurbishing its existing restaurants - its maintenance or stay-in-business capex. In 2015 it said that the amount it spent was £19.7m compared with a depreciation and amortisation expense of £39.1m.
As you can see, its maintenance capex has been around 50% of depreciation and 2.5%-3% of sales since 2008. This raises two interesting possibilities. The company could be skimping on keeping its existing restaurants looking nice for customers by under-investing and not replacing worn out assets. Or its depreciation expense is very conservative and its true cash profits (or owner earnings as Warren Buffett calls them) are higher than its reported net profits and EPS.
If the company was under-investing then you would expect to see this reflected in its sales performance as customers decided to eat in nicer surroundings at rival restaurants. This doesn't seem to have been the case.
So if its maintenance capex is adequate to keep existing restaurants in reasonable conditions its owner earnings would be:
Net income (£68.9m) + Depreciation (£39.1m) - maintenance capex (£19.7m) = £88.3m
In other words, owner earnings might be 28% higher than reported earnings. Take this in the context of the current 366p share price at the time of writing and Restaurant Group's market capitalisation of £735.6m. This gives is a trailing PE ratio of 10.7 times on reported profits (735.6/68.9) or 8.3 times based on the owner earnings above (735.6/88.3).
I don't know whether my owner earnings estimate is right but if I was looking at investing in Restaurant Group this is where I would be spending a lot of my research time.
* By the way, the extensive news archive is one of the many really useful features of SharePad. You can go back and read past years of annual results without having to go elsewhere. With Restaurant Group I was able to read its 2005 annual results statement which saved me loads of time surfing the internet or downloading annual reports.