Spotting changes with DuPont analysis
The thing I really like about DuPont analysis is that it can be very helpful in spotting changes in a company's fortunes both good and bad. Let's have a look at a few examples.
Aggreko went through a purple patch with rising profit margins and ROCE. However, when ROCE peaked at nearly 30% in 2010, capital turnover had started to fall.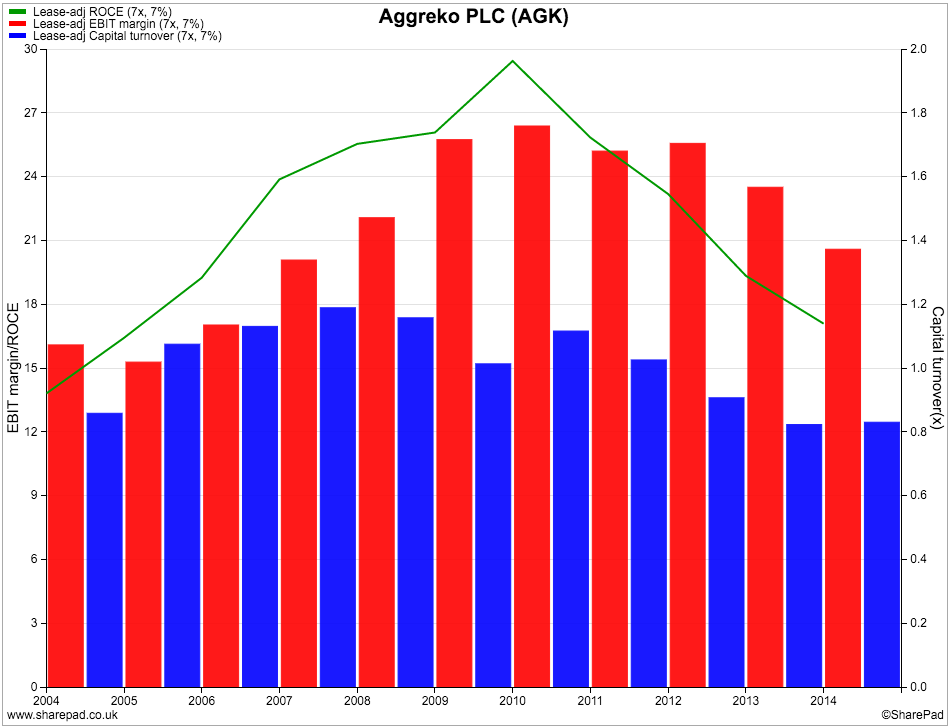 When you see a company that has seen ROCE driven primarily by rising and high profit margins a falling capital turnover ratio can be a sign of trouble if profit margins subsequently take a tumble as well. If this happens then ROCE can collapse.
This is what happened with Aggreko. Capital turnover fell from 1.1 to 0.8 between 2010 and 2013. When margins fell sharply in 2014 and again in 2015, ROCE followed suit and is less than half of its peak levels.

The example of InterContinental Hotels shows a company where its fortunes were turning up.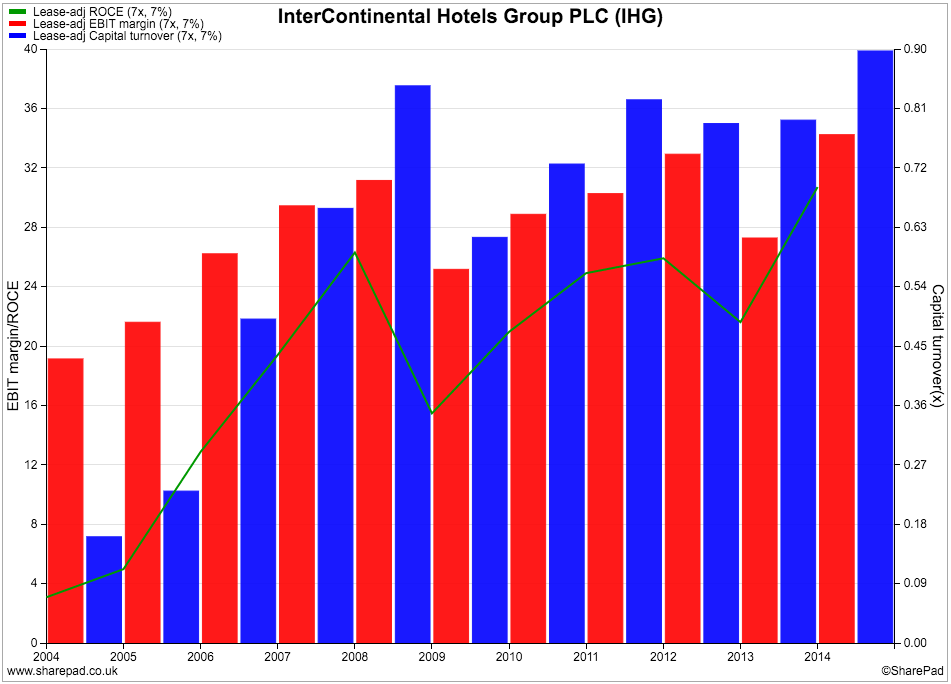 IHG used to own lots of expensive large hotels. Even though profit margins were high, capital turnover ratios were very low back in 2006. The company then decided to sell many of these big hotels and turn into a franchisor. Profit margins stayed high but capital turnover and ROCE moved sharply higher.

Since the end of the last recession in 2009, capital turnover and margins have moved higher and the company is earning a very high ROCE.
Tesco's problems have been well documented but could investors have spotted trouble ahead? Yes, they could. Whilst many people focused on profit margins, they ignored what was happening to Tesco's capital turnover.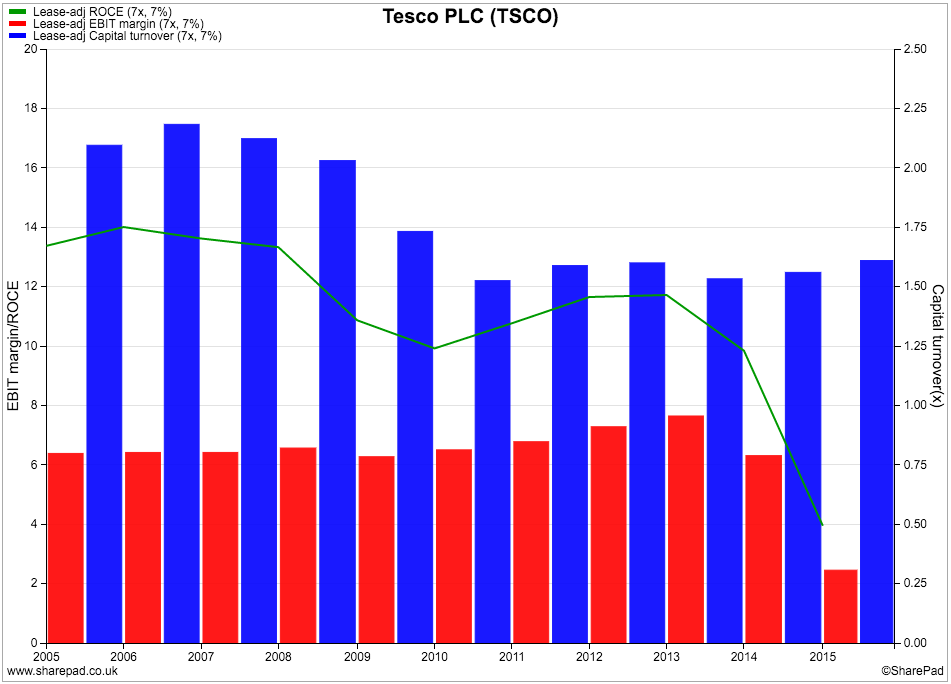 The company used to comfortably generate more than £2 of sales per £1 of capital invested. However, a spending spree across the world and the selling and renting back of supermarkets (which would have been missed in non-lease-adjusted studies) has seen this fall to £1.60. When profits were misstated and competition increased, profit margins and ROCE collapsed.

DuPont analysis clearly shows the risks of investing in economically sensitive companies such as miner Anglo American.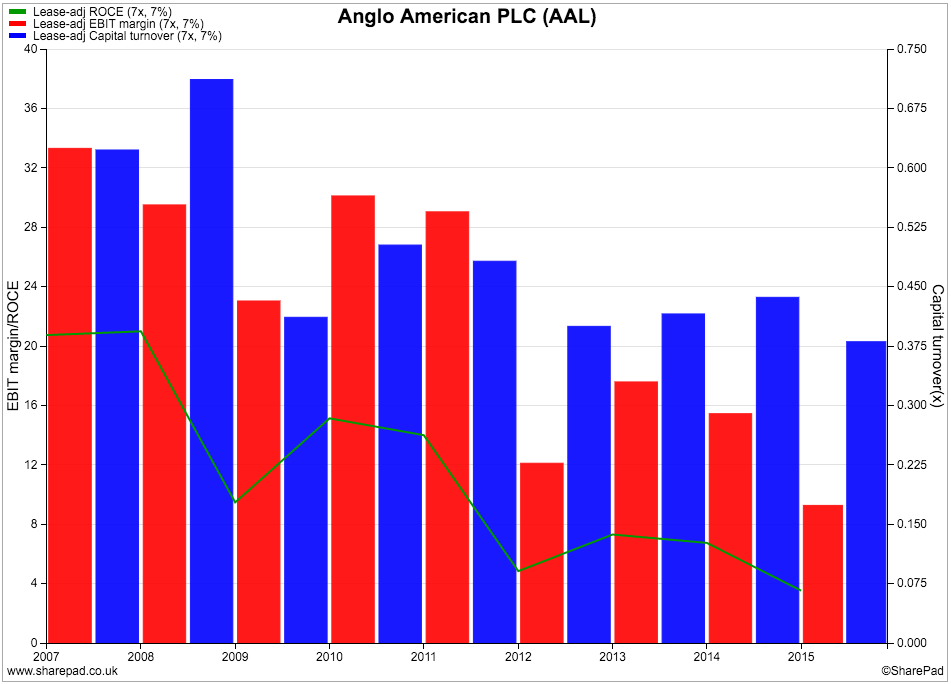 The profit margins of miners are heavily influenced by commodity prices. At the same time they are heavy investors in assets and have a low capital turnover ratio. They can only seem to earn an acceptable ROCE when profit margins are high. When they are not, they struggle to make attractive returns for investors.