Valuation and future prospects
Connect Group shares are currently trading on very low multiples of profits and cash flow whilst offering a very chunky dividend yield. An EBIT yield of 9.5% is also quite high and is at a level which suggests that the stock market thinks that future profits growth will be hard to come by.

This is confirmed by a closer look at analysts' forecasts in the table below.

So how is the company going to grow its profits?
As you can see below, the News Distribution business has barely grown its profits at all during the last five years. People are buying less newspapers and magazines and this trend is expected to continue. Connect gets paid a percentage of the cover price of the newspaper or magazine and these have been rising but not by enough to stop sales falling.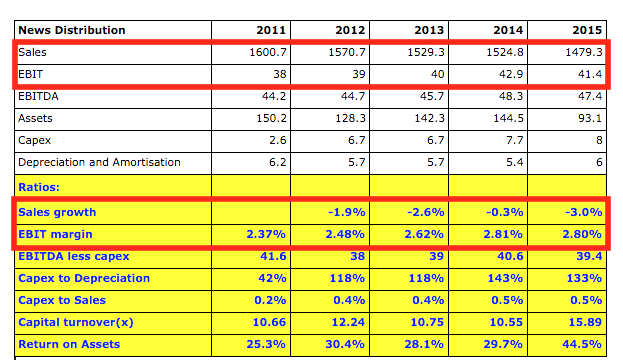 The company expects sales to keep falling by 3-5% per year over the next few years.
In order to stop profits falling sharply the business will have to become more efficient - something the company has been very good at for a long time. It has taken £20m of costs out of the business during the last three years and expects to take out a further £5m in 2016 and 2017. It is able to do this because 85% of its revenues have been contracted until at least 2019. This high level of certainty of its future income means it is able to target cost savings more easily.
Essentially though this business is running hard to stand still. That said, it is trying to sell its expertise in deliveries to other sectors so that it can make more money out of its distribution assets. There have been some encouraging developments in this area.
Connect is trying to make itself a major player in the "click and collect" deliveries and returns business as the growth in internet retailing continues. It has won contracts from Amazon and Asos which could see this business become a decent source of new growth.
Connect has a network of 3,000 parcel shops - local stores - where customers can collect and return orders from Amazon and Asos. During the next three years it wants to increase its network size up to 6,000 shops.
The Books delivery business is struggling to make any meaningful money at the moment and has even thinner profit margins than the News Distribution business. The independent bookstore sector is having a hard time and demand for new books from libraries has been shrinking.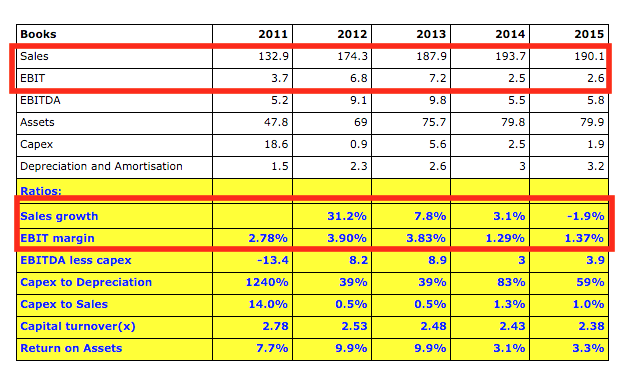 The company is putting a lot of faith in its own online book store Wordery.com which is growing sales rapidly. Sales from Wordery are currently around 20% of the books delivery business's total sales but it looks as if profits growth will be hard to come by here.
The Education & Care business makes reasonable profit margins but has barely grown for the last three years.