How are BT's main businesses doing?
BT's business is split up into four main trading divisions. Let's take a look at them in more detail.
BT Retail
This is the business that most people are familiar with. It sells home phone, mobile phone, broadband and TV to households. It also sells telephone and broadband services to businesses as well.
Up until quite recently, this division has seen declining sales as more households went elsewhere for their phone and broadband internet services. BT was able to keep profits relatively stable by cutting lots of costs and becoming more efficient.
Things changed in 2012 when BT changed its strategy. It realised that it had to stop companies such as Sky taking its profitable broadband customers. So it made a successful bid to enter the TV sport business by buying the rights to Premier League football and a host of other sporting rights. In 2013 it agree to pay nearly £900m over three years for the rights to show Champions' League football by outbidding Sky in the process.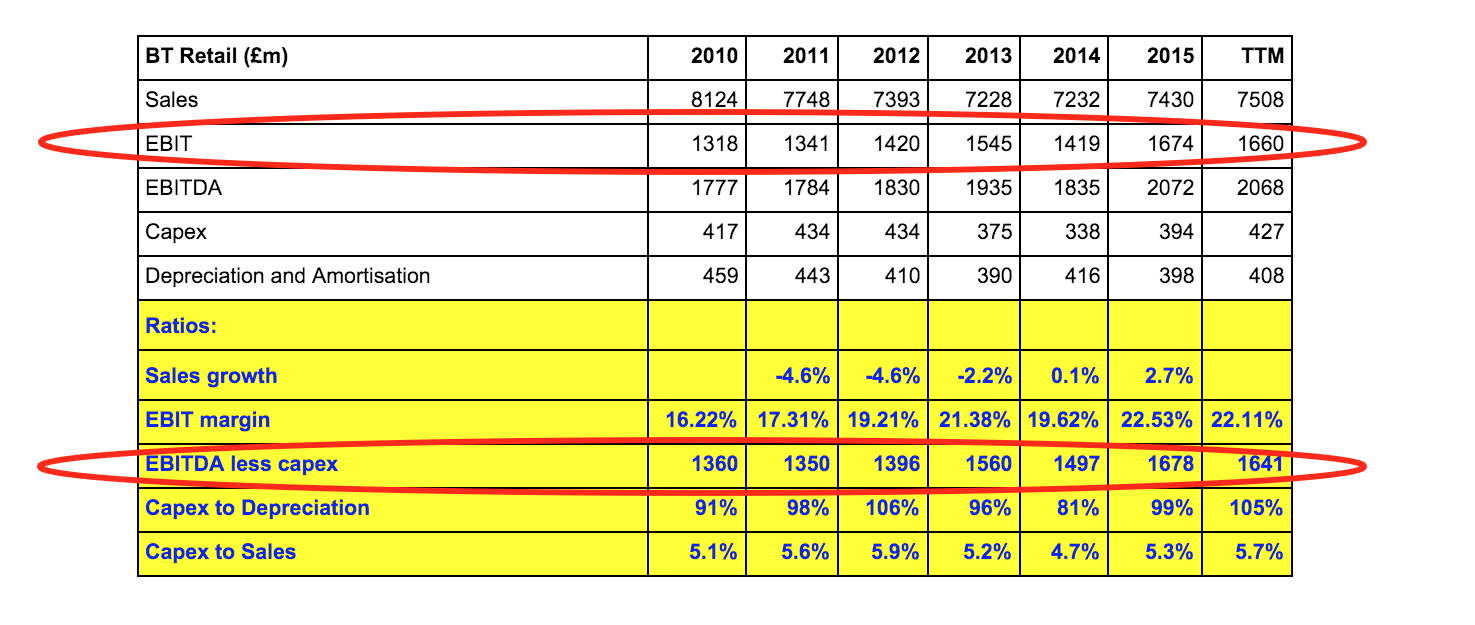 Source: BT annual and interim accounts
This strategy seems to have paid off - at least in the short-term anyway. BT Retail's turnover and profits saw a decent increase in 2015 as more people bought its fibre-optic broadband and TV packages.
Source: BT annual and interim accounts
BT now breaks out its Retail business to show the consumer side of it separately. You can see the healthy increase in profits in 2015. If you look at EBITDA less capex - an approximation of free cash flow - you can also see that this business is a good generator of cash flow for BT as a whole.
But if we look at the current trailing twelve month performance we can see that whilst sales are still going up, profits have stopped growing. BT's costs are going up as it has to start paying for Champions' League football rights and its new drama channel called AMC. So far, it seems that it hasn't been able to get enough extra customers on board to pay for it.
Can BT's consumer business get its profits growing again?
Yes, because it looks as if it is just about to get its hands on EE - the UK's biggest mobile phone company with over 24 million customers. Just under a year ago, BT agreed to buy this business for £12.5bn and should get the green light to take control fairly soon.
Those of you with long memories will remember how the mobile phone mania of the late 1990s and early 2000s wreaked havoc with BT's finances back then. Is it making the same mistake again?
It seems that BT has learned from its mistakes. Instead of loading itself up with lots of debt to buy EE, BT is paying for a large chunk of it by issuing new shares to EE's owners - Deutsche Telecom and Orange.
Existing shareholders don't usually like to hear about lots of new shares being issued to new shareholders. It means that their ownership stake in the business goes down. This is not necessarily a problem as long as BT can make a good return on its purchase price.
Let's see how the acquisition of EE stacks up.
It's relatively easy to work out if an acquisition is a good thing or not, providing the company concerned gives you enough information. The best way is to work out the return on investment and see if it is high enough.
With EE, we are in luck. This is what BT has told us in a presentation on its website (click here to see the presentation) that will allow us to calculate the potential return on investment of the deal:
Purchase price of £12.5bn
2014 EBITDA of £1.6bn
2015 capex of £0.6bn
2014 EBITDA less capex (cash operating profit) of £1.0bn.
Cost savings worth £3.0bn in today's money (their net present value or NPV).
| BT's Purchase of EE | £bn |
| --- | --- |
| EBITDA less Capex (A) | 1 |
| Purchase price (B) | 12.5 |
| Return on Investment C= A/B | 8% |
| Value of cost savings (D) | 3 |
| Purchase price less cost savings (E) | 9 |
| Possible return on investment F = A/E | 11.10% |
So if BT can save a lot of costs then the pre-tax return on investment from buying EE looks alright but not sensational. However, this ignores the potential extra profits that can come from selling BT's broadband and pay tv products to EE's existing 24 million customers. There is also the potential to sell more products that work seamlessly between mobile and fixed line networks.
BT calls these "revenue synergies" and reckons that they could be worth up to £1.6bn on top of the cost savings. It seems that EE might end up being quite a good deal for BT.
BT has said that it expects EE to boost its free cash flow per share in the first year of ownership.
BT Openreach - BT's cash cow
Openreach looks after the last mile of wires and cables between the local telephone exchange and people's houses or businesses. It is often referred to as the "last mile" or "local loop".
It sells telephone and broadband services to BT and other telecom providers such as Sky, Vodadone and Talk Talk. Although it is part of BT, Openreach is separated from the rest of BT.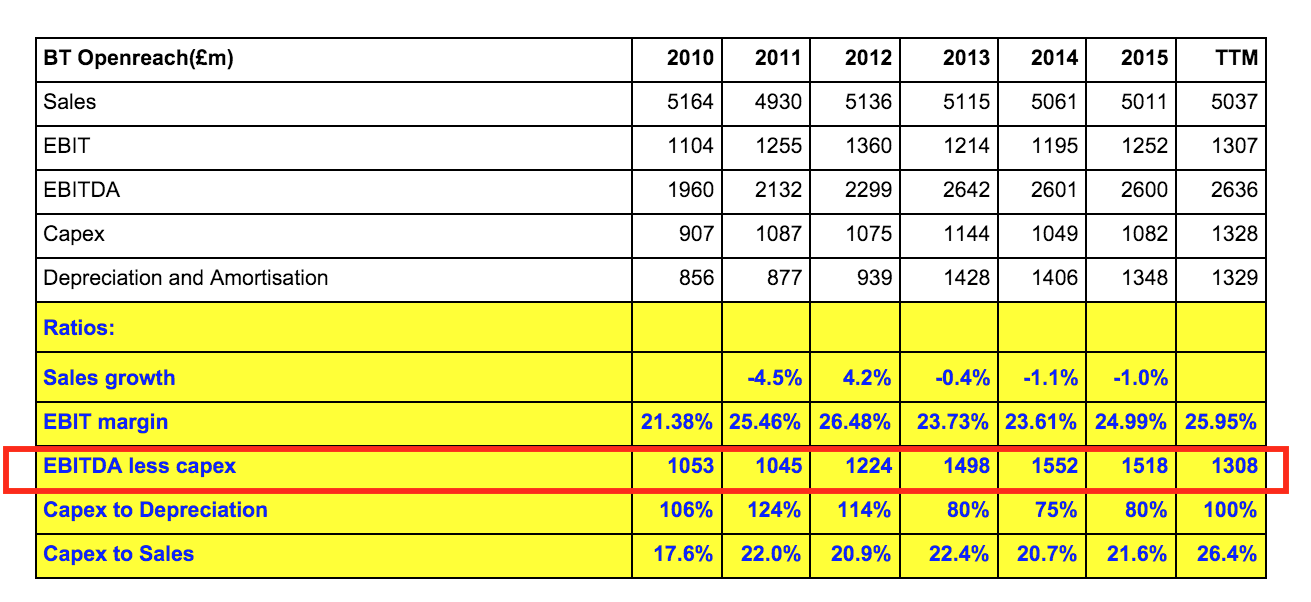 Source: BT annual and interim accounts
Profits haven't grown that much in recent years, but the EBITDA less capex line highlighted in red above shows that this business throws off a lot of cash flow for BT. Compared with other utility-type businesses such as National Grid or water companies, Openreach is positively swimming in cash. Without this cash flow, BT would probably not be able to pay as big a dividend as it currently does.
Sky and Talk Talk think that BT's ownership of Openreach is a problem. They think it isn't investing enough in new broadband connections and favours BT over them.
Between 2013 and 2015, BT invested around £1bn per year (80% of its depreciation charge) which could be a sign of under investment. Certainly, during the last twelve months (TTM) BT has increased spending to £1.3bn, perhaps as a way of keeping its regulator (OFCOM) happy so that it doesn't force Openreach to be a separate company.
Forcing BT to give up ownership of Openreach might be difficult. There would be long arguments about the allocation of costs and things like the pension deficit. But even if this happened, BT shareholders would end up with the shares in the new company. This might be a good thing as spin offs from BT and other utilities in the past have proven to be very lucrative.
BT Global Services
This business looks after the IT requirements of mainly big companies. It got itself into a bit of a mess a few years ago with an accounting problem and loss of customers. It seems to be on an even keel again now.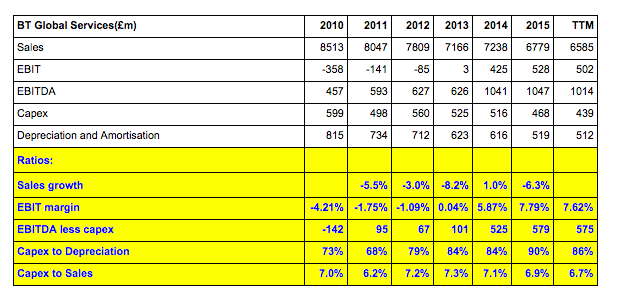 Source: BT annual and interim accounts
BT Wholesale
This business sells telephone and broadband and other services to businesses who want to offer these services to their own customers. This business has been shrinking in recent years as more companies have been investing in their own telecom assets instead of buying them wholesale from BT.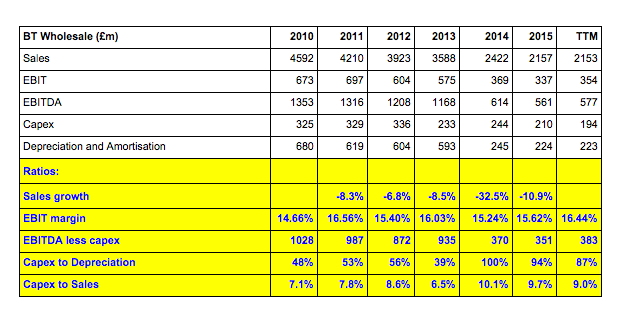 Source: BT annual and interim accounts