A closer look at Next's financial performance
To do some meaningful analysis on retail companies you have to take into account that many of them rent (or lease) rather than own their shops. This means that they are not listed as assets on a company's balance sheet (they are on a property company's who owns them) whilst the agreement to pay rents in the future is a form of hidden debt. To learn more on this topic read my article How to analyse companies with hidden debt.
What this means in practice is that you have to adjust key financial ratios such as return on capital employed (ROCE) for these hidden debts. If you don't include an estimated value of hidden debts, then you might mistakenly think that a company is better or safer than it really is. SharePad can do all these adjustments for you in seconds.
The good news for investors in Next is that even when leases are taken into account this is a company that has scrubbed up really well.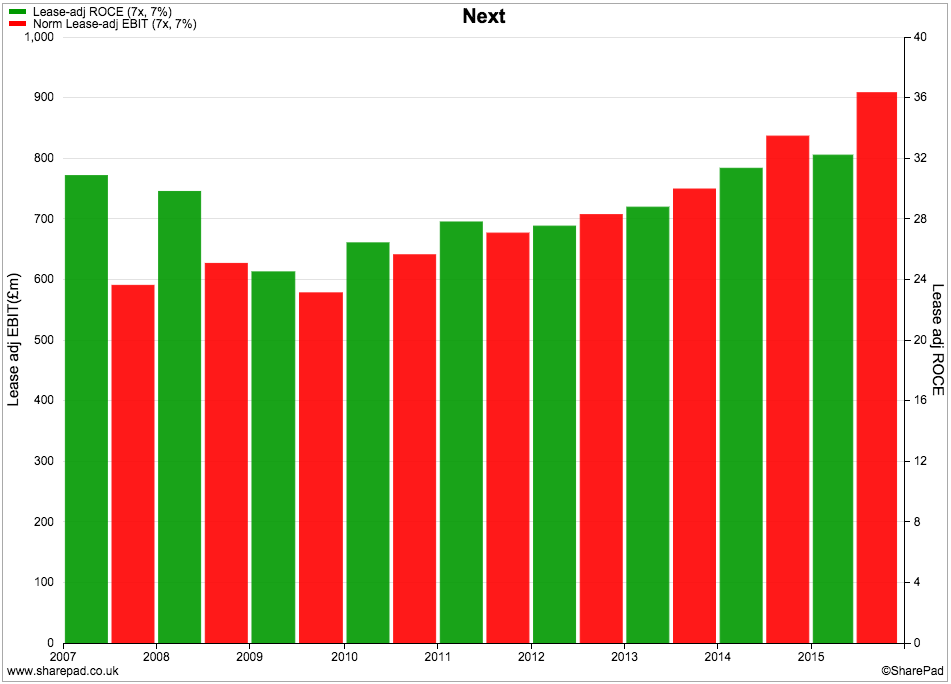 Next has made consistently good returns on investment (ROCE) for years as shown by the green or first bar in the chart above. Both ROCE and profits (the red or second bar) have been on an upwards trend during the last few years and were remarkably resilient during the UK recession of 2008-09.
Lease-adjusted ROCE in the year to January 2015 was an impressive 32%. You won't find many retailers that can do that.
The other classic hallmark of a high quality business is an ability to produce lots of free cash flow. Next passes this test with flying colours with free cash flow per share being consistently close to EPS - a sign of high quality profits.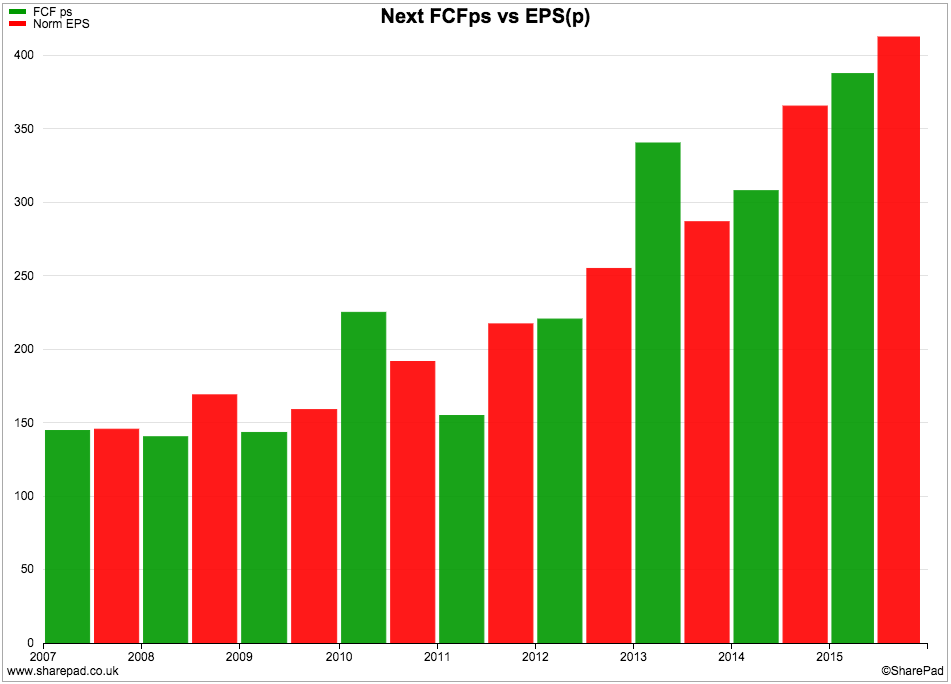 A company's free cash flow is often less than its reported profits because it is investing (in stocks of goods and new shops for example) to grow the business in the future. However, cash flow is the lifeblood of a business and investors should pay very close attention to it. It's also a lot harder to fudge than profits over the long haul.
These days I spend a lot more time looking at a company's free cash flow return on the money it has invested (CROCI) than ROCE. I want to see a consistent ability to generate high cash returns.
I've used SharePad to estimate a lease-adjusted CROCI (using the combined items feature) for Next.
If you take a look at the chart below you can see that Next has been able to produce some good cash returns ranging from a low of around 12% in 2011 to around 22% in 2013 and 2015 - all very reassuring stuff.
The other ratio that you should never forget to look at when analysing a retailer is its fixed charge cover. This tells you how comfortably a company's trading profits (or EBIT) can cover the interest payments on its debt and the rents on its leased assets.
Some retailers can have fixed charge cover ratios of 1.5 or less which could see them get into financial difficulties if profits fall. Equally important is the trend in the ratio. A fixed charge cover ratio that is falling is often an early warning sign of a company that may be overextending itself.
Next has one of the healthiest fixed charge covers out there. The ratio was over 4 times in 2015 showing that the company's finances are in a very healthy state and could cope with a substantial fall in profits. The trend has also been upwards which is a very good sign.