Oil companies - survival of the fittest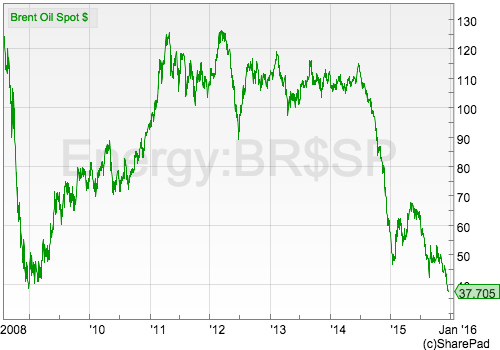 Investors in oil companies have had a year to forget. The oil price has plunged and is now at levels last seen during the financial crisis in 2008. Trying to predict where it will be in a year's time is anyone's guess.
Commodity prices are notoriously volatile and this makes the shares of oil and mining companies a very risky proposition. When prices are going up, then profits go up very quickly. Unfortunately, the reverse is also true as investors this year have learned to their cost. Share prices and dividends tend to follow the same trends.
Oil and mining companies have what is known as high operational gearing. This means that the percentage change in trading profits (EBIT) is often higher - sometimes much higher - than the percentage change in sales. 2015 has been a stark example of this process working out in a very bad way.
If falling prices weren't bad enough, the pain suffered by shareholders in some oil companies has been made even worse by them having lots of debt or financial gearing. This has magnified the falls in trading profits even further. Premier Oil (LSE:PMO) is a good example of this.
Let's take a look at what has been going on.
Premier Oil plc (£m)
2013
2014
2015
Period Ending
31/12/2013
31/12/2014
30/06/2015
Result Type
Q4
Q4
TTM
Turnover
910.249
1046.863
894.208
Norm EBIT
346.089
373.347
212.068
Norm Post-tax
274.531
396.411
167.655
% changes
Turnover
15.01%
-14.58%
EBIT
7.88%
-43.20%
Post-tax
44.40%
-57.71%
Premier has been investing in new oil fields that have yet to sell a barrel of oil and generate any profits or cash flow. The new fields have added a lot of fixed costs (costs that tend to be the same regardless of the level of turnover) to the business which has made it very vulnerable to a downturn in oil prices.
These fixed costs have to be paid before there is any profit. The more fixed costs a business has, the more sensitive its profits are to a change in turnover - it is more operationally geared. Once the fixed costs have been covered though, each additional £1 of sales tends to contribute a bigger amount of profit. This is great if sales are rising, not so good if they are falling as they are now.
Now throw in a hefty interest bill from borrowing lots of money and the profits to shareholders is geared even further. On a trailing twelve month (TTM) basis, Premier's turnover has fallen by just under 15%. EBIT and post tax profits have fallen by 43.2% and 57.7% respectively - ouch! The company's share price has fallen by 74% this year.
Operational gearing when combined with financial gearing can be a lethal mix for investors. It can make you a lot of money when things are going well and wipe you out when things are very bad.
This is why you should study a company's financial history and pay particular attention to the relationship between changes in turnover and profits during good times and bad. It might stop you from making a big mistake. SharePad has financial data on companies going back more than twenty years which is a big help when looking at an issue as important as this.
Plunging share prices may well be stimulating the interest of bargain hunters. However, before you think about whether an oil company's shares might be tempting you first need to work out whether a company can stay in business.
I'm not going to get into a detailed analysis of the oil and gas sector here. What I am going to do is to show you how you can use a few bits of data in SharePad to quickly get a grasp of whether a company stands a good chance of surviving the oil price rout or whether drastic measures are needed to keep it in business.