What do the Z-Score numbers mean?
According to Altman, strong companies should have a Z-Score of 3 or more. A company with a Z-Score of less than 1.8 is seen as having problems and could be heading for bankruptcy. If you come across a company with a Z-Score of less than 3 then it probably makes sense to have a good hard look at its finances to see if there is anything to worry about.
In summary, the rough guide for interpreting a Z- score is:
Above 2.99
The company is considered safe based on the five financial ratios.
1.8 to 2.99
Are grey areas which suggest caution. There is a good chance of the company going bankrupt within the next 2 years.
Below 1.80
The score indicates a high probability of distress or even bankruptcy within the next two years.
Altman later adapted the Z-Score for use with non-manufacturing companies. It is almost the same as the original one but with the last ratio (Sales/Total Assets) removed as non-manufacturers don't tend to have large asset bases. SharePad gives you the option of calculating a Z-Score for non-manufacturers using this modified formula. A constant is applied to make the results comparable with the original Altman formula.
Although ShareScope and SharePad work out Z-Scores for you I am going to show you how the number is calculated to help you understand it better.
The box shows two examples: a strong company (British American Tobacco) and a weak company (McBride).
| (£m) | McBride | BAT |
| --- | --- | --- |
| Current assets (X) | 245.4 | 9,132 |
| Current liabilities (Y) | 229.4 | 8,769 |
| Working capital (X-Y) | 16 | 363 |
| Total assets | 429.7 | 26,167 |
| Retained profit | -88.3 | 1,578 |
| EBIT | -13.9 | 5,265 |
| Market cap. | 187.7 | 64,789 |
| Total liabilities | 361.1 | 20,353 |
| Sales | 744.2 | 13,971 |
| A x 1.2 | 0.04 | 0.02 |
| B x 1.4 | -0.29 | 0.08 |
| C x 3.3 | -0.11 | 0.66 |
| D x 0.6 | 0.31 | 1.91 |
| E x 1.0 | 1.73 | 0.53 |
| Z-Score | 1.69 | 3.21 |
SharePad and ShareScope give you a detailed breakdown of how the Z-Score number is calculated as shown below. This helps you understand what is behind a good or bad score.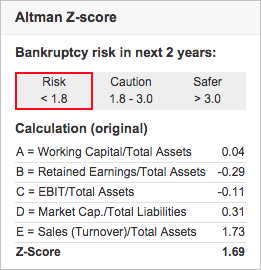 This is the Z-Score for McBride. Its weak Z-Score is explained by its poor profitability. A company needs profits to pay its bills.
The fact that it doesn't have any retained profits (it has made a cumulative loss over its life) is a clear warning sign. The return on assets (EBIT/Total Assets) is also negative because the company made a trading loss in 2014.
Bear in mind that the Z-Score number is based on just one year's financial performance. It is a good idea to look at how the Z-Score has trended over time. You can find this easily in SharePad's financial ratio page.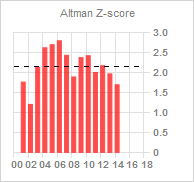 As you can see, McBride has had consistently weak finances over a long period of time according to the Z-Score. Its Z-Score has always been below 3; often below 2. On this basis, it seems as if this company's poor finances are not just a one-off event.
British American Tobacco looks to be in a much better state.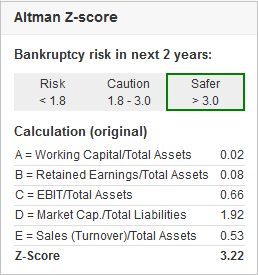 High profitability is a strong point for BAT as is a high valuation compared with its total liabilities. Its historic Z-Score record is better than McBride's but hasn't always been good.