Slashing Investment
There's no doubt that Tesco spent too much money in the past. Now it is slashing its investment spending or capex as it is known.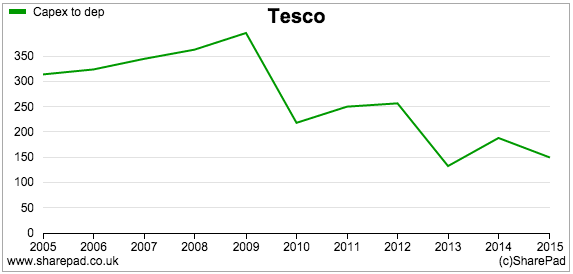 Capex was just over £500m in the first six months of this year compared with over £1.1bn for the same period in 2014. Tesco says that full year capex for 2015/16 will be around £1bn.
This might seem a good thing to do. But could Tesco go from a position of spending too much on its stores to spending too little?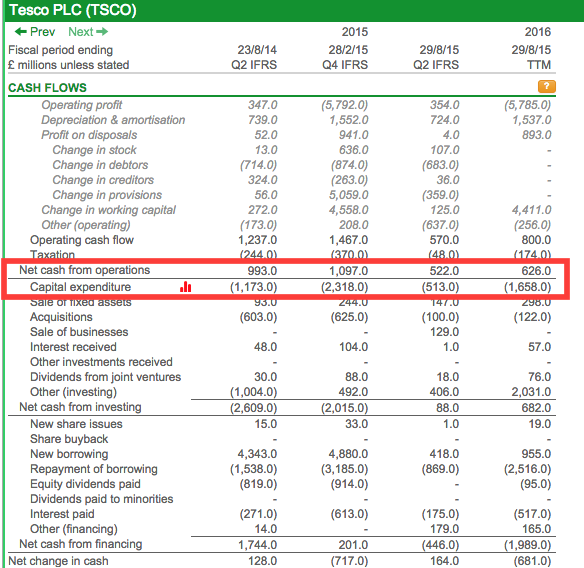 This £1bn needs to be compared with a TTM depreciation and amortisation expense of £1.5bn. I've written a lot about the topic of maintenance or stay in business capex in recent weeks and have argued that for most companies this is likely to be more than the depreciation expense in the accounts.
The chart below compares Tesco's depreciation expense with its ten year average capex spend over the last ten years. For most companies - but not all - this ten year average could be seen as a reasonable proxy for what they need to spend most years to keep its assets in good shape and maintain their ability to produce the same amount of sales. This is not straightforward with Tesco due to its spending splurge but, if anything, there could be grounds for arguing that Tesco's stay in business capex is higher - maybe a lot higher - than its depreciation charge.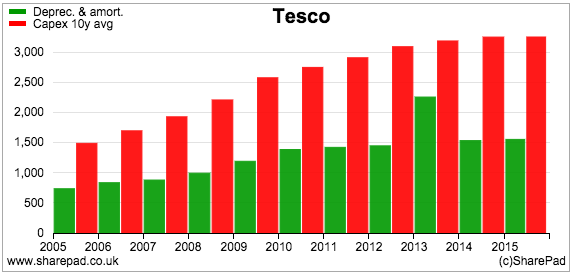 So what is spending less than depreciation on new assets going to do for the look of Tesco's stores and its ability to woo more customers?
One of the most cited criticisms of Tesco's UK supermarkets is that they are a bit scruffy and could do with a bit of money spent on them. This doesn't look like it is on the cards.
So where does this all leave Tesco in its quest to generate free cash flow?
Let's say that capex can be slashed to £1bn and kept there (I think this is unlikely). Given its interest bill and money coming in from joint ventures, growth in free cash flow just to get to a breakeven position is going to have to come from trading cash flow. It might not be able to squeeze its suppliers so this growth is probably going to have to come from extra operating profits.
| Tesco path to breakeven FCF | TTM/Adjusted (£m) |
| --- | --- |
| Net cash from operations | 626 |
| Dividends from JV's | 76 |
| Interest received | 57 |
| Interest paid | -517 |
| Capex | -1000 |
| Free cash flow | -758 |
| Extra operating profit needed | 758 |
The profit increase needed to generate a meaningful free cash inflow so that Tesco can start paying a dividend again is even bigger.