National Grid - poor free cash flow due to large investments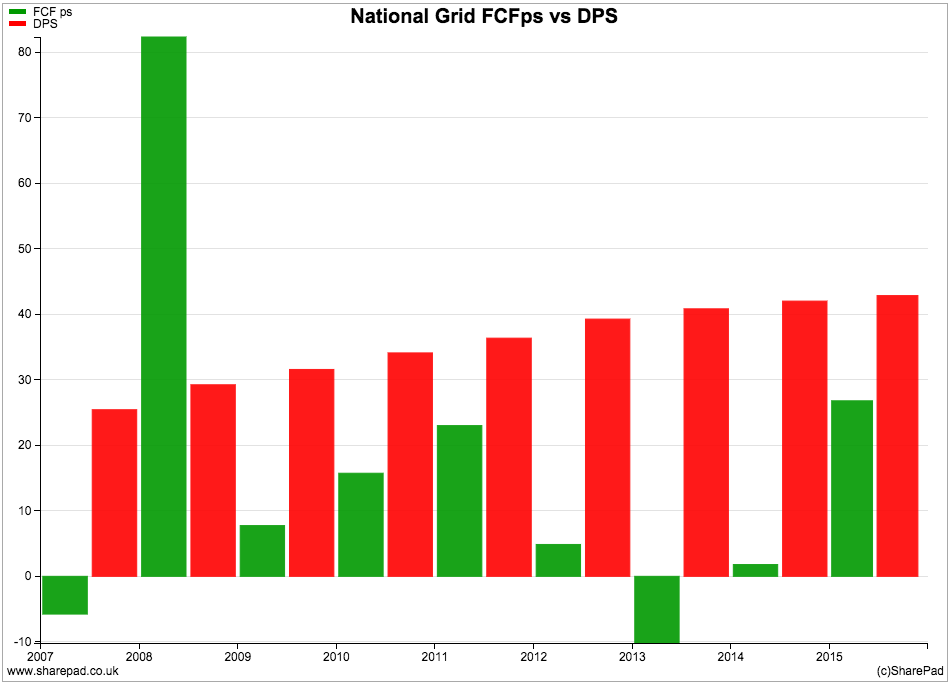 Companies that are spending a lot of money on new assets to grow their business will often have negative free cash flows. This does not mean that they are always bad businesses. In fact, quite the opposite might be the case.
Cash flowing out of the company today which is invested wisely - by this I mean earning a reasonable ROCE - should result in more cash coming into the business in the future. If so, then the company should become more valuable. In this case, negative free cash flow might be seen as a sign of strength rather than a sign of weakness.
The key thing to grasp about free cash flow is the relationship between the amount of money a company needs to spend to stay in business (known as maintenance capex) and how much it is spending to expand its business (growth capex). This is not always easy to work out but often a company that is investing to grow will be producing a reasonable amount of free cash flow after maintaining its assets.
Utilities like National Grid are a special case of this kind of free cash flow analysis. They are regularly investing more money than they need to maintain their existing assets and cash flows which actually hides the fact that they are generating free cash flow (click here to read more about this).
If you were to dismiss these kinds of companies because their free cash flows (after all capex) were negative you might be missing out on some very good investment opportunities. If the growth capex is producing a respectable ROCE then negative free cash flow is not a bad thing. It is when a company over invests (Tesco is a good example) and has negative free cash flows combined with a falling ROCE that you should start worrying. Comparing capex trends with ROCE is a good check to see if money is being invested well.
Conversely, high free cash flows might be a sign of weakness. It might signal that a company has run out of places to invest or it is a business in decline.
As a rough rule of thumb, you can compare a company's capex spending with its depreciation (an estimate of maintenance capex) to try and work out what might be explaining a company's free cash flow performance and what stage of development it is in.
| Type of Company | Amount of Investment | Free cash flow |
| --- | --- | --- |
| Growing/Overinvesting | Capex > Depreciation | Negative |
| Mature/Stable | Capex = Depreciation | Positive |
| Declining/Underinvesting | Capex < Depreciation | Positive |