Background
National Grid shares are very popular with investors. During the last five years the share price has almost doubled whilst the company has been paying out some very chunky dividends. It seems there's a lot to be happy about.
In a world where savings accounts and government bonds pay miniscule rates of interest it's not difficult to see why more investors have been snapping up National Grid shares with a dividend yield of around 5%. On top of this, it would seem that National Grid is a very safe business to invest in.
The company owns and looks after gas and electricity grids in the UK and USA. Because gas and electricity are an essential part of our daily lives, the business of looking after these grids is regulated. In return for keeping them in good condition and connecting more gas and electricity to households and businesses, National Grid is allowed to charge its customers a fair price. This means that it has enough money to spend on the grids and still have enough money left over to pay the interest on any money it has borrowed, the taxman and a dividend to its shareholders.
Unlike a power station or a gas field, National Grid's profits are not very dependent on the market price of electricity or gas (which has been falling). National Grid makes money by spending money on new wires, pylons and pipelines. The amount of money it has been spending on these things has been rising in recent years as worn out assets have been replaced and new sources of electricity (wind farms and solar panels) and gas have been connected to its grids. By paying for these assets with cheap loans, National Grid has been able to make more money and pay bigger dividends to its shareholders (see chart below).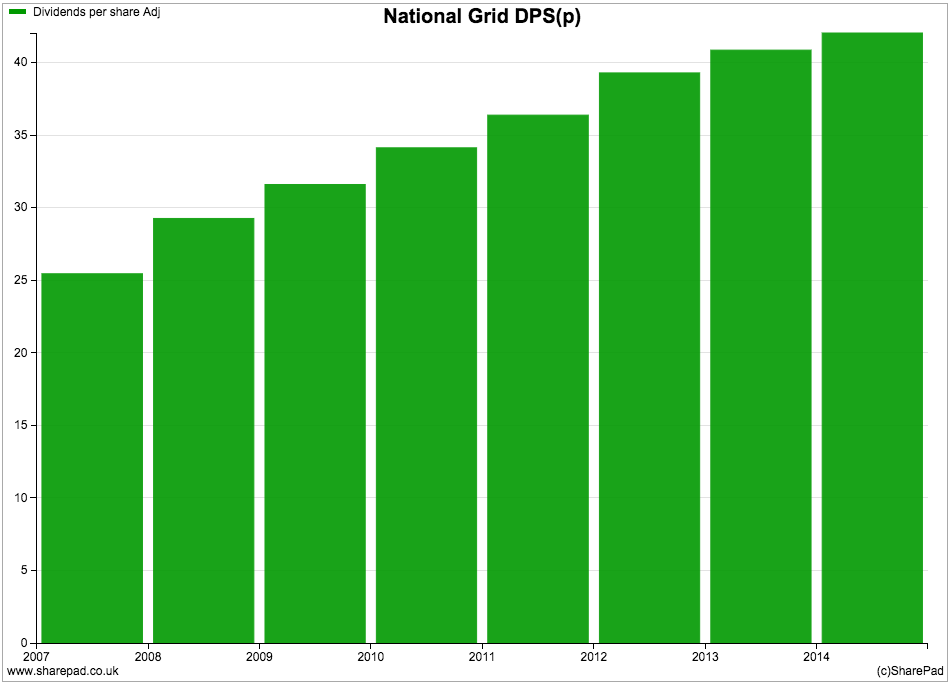 The company is confident it can keep on growing its dividends by at least the rate of inflation (measured by the Retail Price Index) for at least the next five years. This all sounds very promising. However, when you own any share it's always a good idea to look under the bonnet from time to time to see if everything is as good as it seems.
If you are a shareholder in National Grid - or thinking of becoming one - this means checking if there is enough money to pay and grow dividends and whether the share price is cheap, expensive or fairly valued.
Let's have a look.