Water company dividends over the last ten years
At first glance, water companies seem one of the safest homes for your money on the stock exchange. After all, everybody needs and uses water regardless of what's going on with the economy. This means that the profits and cash flows of water companies should be relatively easy to predict. They should be relatively stable and are unlikely to bounce up and down a lot.
And in general they are. However, because water companies are local monopolies and face no competition the amount of money water companies can ultimately make is restricted by a regulator called OFWAT.
Every five years, OFWAT takes a good hard look at how good a job the water companies have been doing (known as a periodic review), how much money they have been spending and how profitable they have been. It then puts together a plan for the next five years.
It tells the water companies how much money they should be spending on maintaining all the pipes, sewers and reservoirs that they own and how much they can spend on expanding their networks. If OFWAT gets its sums right then customers should get a reliable source of clean water without their bills going up too much. In return, the water companies will be able to earn a reasonable profit on their assets. After spending money keeping those assets in good working order, they should have enough money left over to pay the interest on any borrowings, tax and those all important dividends to shareholders.
During the early years after privatisation, water companies were able to pay big dividends that kept increasing every year as they cut more costs than OFWAT expected them too. OFWAT eventually wised up to this and started setting very tough efficiency targets on spending and even cut customer bills. On top of this, as interest rates and the cost of borrowing money has come down in recent years, OFWAT has ruled that water companies don't need to be as profitable as they were in the past - they can get by with a lower return on their assets.
As a result, it has become harder and harder for water companies to keep on increasing their dividends.
If you look at the chart below you can see that the dividends paid by the three remaining water companies have been through a bit of a rocky patch during the last ten years. Both Severn Trent and United Utilities have had to cut their dividends whereas Pennon (which owns South West Water) has been able to keep on increasing its payouts. During the last OFWAT price setting period from 2010-15 all three companies were able to pay a rising annual dividend to their shareholders.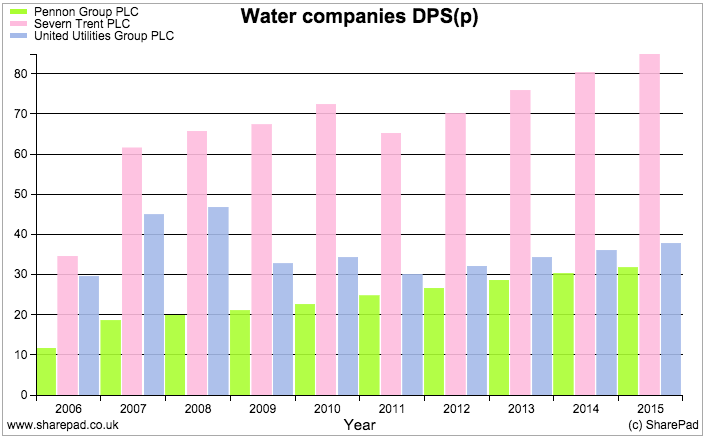 But on a close inspection of their profits and cash flows you could be forgiven for thinking how on earth have they been able to do this?
Below is a data table built in SharePad. Without doing any further research, the numbers in it could easily lead you to worry about the safety of water company dividends.
Why do I say this?
Well for starters, the forecast dividends are barely covered by profits (in this case, earnings per share) as the forecast dividend cover ratios are barely more than 1.0. However, dividends are not paid from profits but from cash flow. The past history of water companies' cash flow makes for very grim reading.
During the last ten years, water companies have spent a lot more money on assets than the depreciation charge in their accounts. This has meant that there hasn't been much in the way of free cash flow produced - certainly nowhere near enough to fund the total dividends paid to shareholders.
So what's been going on? Have the water companies been pulling the wool over investors' eyes and been borrowing money to pay dividends? Or is there a clearer explanation?