Why the shares might be a value trap
When you come across a situation like this you have to ask some really tough questions about a company. There are lots of smart investors out there. Why haven't they snapped up the shares at this price?
The company is losing money, future profits are very uncertain
French Connection's pre-tax losses for the six months to July more than doubled to £7.9m. Using one of the new features in SharePad, I've created a custom financial data table (you can do this in ShareScope too) which shows that the business has been deteriorating for years.

Turnover has been falling and the business hasn't made a profit since 2012. Cash has also been flowing out of the business as evidenced by negative values for free cash flow per share. Net tangible asset value per share has almost halved since 2008 which is not a sign of health.
Will the company become profitable again? Management is trying its best to turn the business around and is closing stores but profits aren't expected to come back any time soon. In SharePad I can see that City stockbroker Numis updated its profit forecasts on 21st September. It is predicting a loss before interest and tax (EBIT) of £4m next year and a loss of £3m the year after. Cantor Fitzgerald is predicting a slight profit in 2016 but hasn't made a forecast for 2017.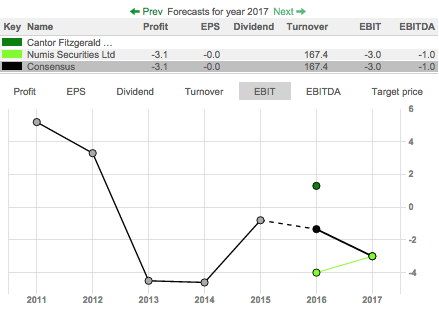 Even though I used to be a City analyst, I tend to pay little attention to their forecasts as I know that lots of them are little more than guesswork. This is especially relevant with a business like French Connection where profits or losses are highly dependent on Christmas sales. I put a lot more emphasis on recent history and the trailing twelve month figures in SharePad. Here, the picture is grim.
However, if the company can make itself consistently profitable again then it is possible that the shares could end up at a lot higher price than they are now.
The company has lots of hidden debt - the true EV is not £8m
I recently wrote an article about analysing companies with hidden debts (click here to read it) such as retailers who rent rather than own their shops. French Connection looks like it has a lot of hidden debt. It has had large minimum future rent commitments on its stores for many years now. These are not disclosed as a liability on its balance sheet.
Last year its annual rent bill was just under £24.2m (shown in the chart below). In its 2015 annual report it showed £145m of outstanding rent commitments. Being very generous, it would seem that French Connection has hidden debt of at least £100m (I estimate £122m discounting the future leases at 5%) and the EV of the business is at least £108m if these are taken into account.