Saturation, maturation and cannibalisation
You only have to look at the fate of Britain's supermarkets to see what happens when they open up too many stores. At the moment, one of the many problems they are facing is that there are too many supermarkets chasing too little custom and profits have fallen as a result. Could the same thing happen to B&M and the other discount retailers?
Quite possibly.
Aldi, Lidl, Poundland and Home Bargains all have ambitious plans to grow their businesses. Home Bargains in particular has a similar strategy to B&M. It wants to eventually have around 800 stores and branch out from its north of England roots into the south. This could push up competition for sites and make it harder for B&M and others to make decent money from them.
There's also the risk that the discount retail market will become oversupplied with all these new stores from different retailers just as has happened with the supermarkets. Another thing to ponder is the response of the supermarkets themselves to the threat of the discounters. Could they adopt a similar concentrated buying strategy and make their prices much more competitive?
Then there's the performance of B&M's stores itself.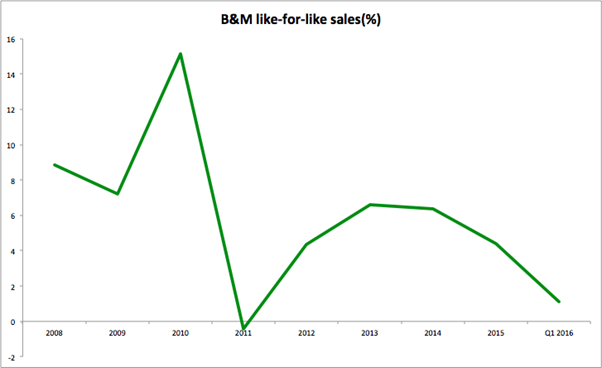 A key measure of a retailer's performance is known as like-for-like-sales (LFL) - the change in sales from stores that have been open at least one year. I got this data from the annual report and flotation prospectus.
Apart from a blip in 2011, B&M has been very impressive on this measure as customers keep coming back to its stores to buy more goods and new ones start visiting.
However, LFL sales need to be interpreted with caution. The reason for this is that new stores take time to mature - to get up to their potential levels of sales and profits - and this can take longer than a year to achieve.
What this means is that when you have been opening lots of new stores as B&M has, there can be a large number of the total store portfolio that are just over a year old where sales are still building up. The sales from these stores are included in the calculation of LFL sales and can give the impression that underlying sales are strong when actually it is the effect of stores maturing. As the store portfolio gets bigger, these maturing newer stores have less of an impact on overall LFL sales which can cause them to grow at a slower rate or even start falling.
As you can see from the chart above B&M's LFL sales have slowed significantly recently. This could be a blip or the start of a worrying trend. This needs to be watched closely.
The other thing to keep an eye on is something known as cannibalisation of sales. This is when a new store opens close to an existing store and starts taking customers and sales away from it which stunts the growth of the business as a whole. This is a major risk for an expanding business like B&M. So far, it seems that this has not been a problem as the company is opening stores in areas like the south of England where it does not have a lot of existing stores.
Given the apparent strength of B&M's business model, if it can overcome these risks then it is entirely possible that it can grow its profits significantly in the years ahead.