Why the PE is so low
One of the great things about SharePad and ShareScope is the ability to go back and study a company's financial history. You can go back twenty years if you want to but I usually find ten years is plenty for most companies.
I then set up a results table in ShareScope (we will be adding this feature to SharePad shortly) so that I can concentrate on some key areas of financial data. When it comes to Trinity Mirror's history the reasons behind its fall in share price and PE ratio are staring you in the face.

Turnover - the lifeblood of any business - and profits have collapsed. If City analysts' forecasts are correct then Trinity Mirror's turnover in 2015 will be half of what it was ten years ago. Profits will have fallen by even more.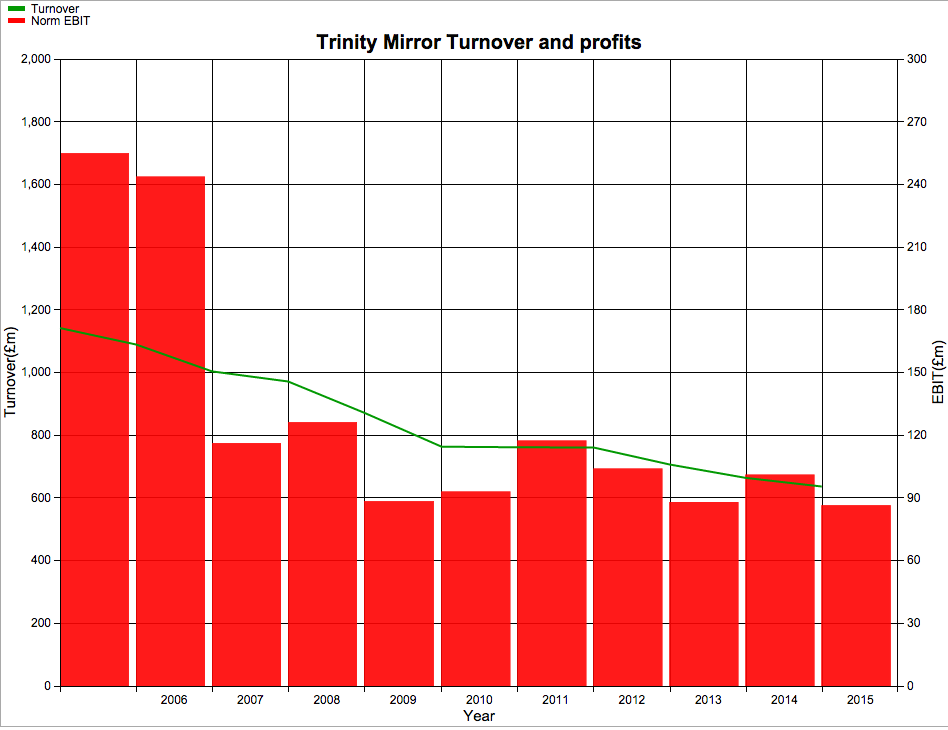 It seems that the newspaper industry is facing a battle to survive. As more of us take to the internet to read the news, less people are buying the Daily Mirror, The Sunday Mirror and the company's regional newspapers. Even though the cover prices have gone up a lot it has not been enough to preserve the levels of income coming into the business.
The real hammer blow has come from the loss of advertising revenue as more eyes are looking at computer screens rather than a newspaper. This trend is showing no signs of slowing down at the moment which has worrying implications for the future profits of the company.
As a result, Trinity Mirror's return on capital employed (ROCE), which was not that impressive anyway, is now in single digits which tells you a lot about the poor state of the business.
Other tell-tale signs of distress are the fact that the dividend was scrapped completely in 2010 and only reinstated last year.
The Altman Z-score is also telling us that this may be a company in trouble. A score below 1.8 is can be seen as a sign of financial problems ahead with Trinity Mirror firmly in the danger zone on this measure.

Last but not least, the company is burdened by the costs of a final salary pension scheme. The liabilities of the scheme (the future pension payments to its past and current workers) are £300m more than its assets. This deficit is almost as big as the company's market capitalisation (the value of all its shares on the stock exchange) and has at times been bigger. If company profits fall sharply in the future and/or the investment markets fall in value then this is the kind of liability that could swallow up the company and lead to lots of sleepless nights for shareholders.