Deteriorating cash flow and finances
Servicing engines and providing spare parts for them should result in lots of spare (or free) cash flow pouring into Rolls-Royce. The trouble for investors is that the company doesn't seem to be very good at consistently generating significant amounts of free cash flow. Free cash flow was just £55m last year and could be negative in 2015. Compare this with the £438m of cash needed to pay the current dividend of 23.1p per share last years and this is a serious issue.

I think that Rolls-Royce's cash flow and cash balances warrant a significant amount of time spent on them if you are thinking about buying (or you already own) shares in the company. At first glance, you will see that the company had over £2.8bn of cash on its balance sheet at the end of 2014. Compare that with just under £3.2bn of borrowings and you could be forgiven for thinking that Rolls-Royce's net borrowings (borrowings less cash) leaves little to worry about.
That may be the case. However, you should always ask yourself how much of its cash balances a company - and its shareholders - can actually get their hands on. Customers may have paid for goods and services in advance and suppliers may be owed cash. This might mean that a lot of a company's cash balance doesn't belong to it as either it is needed to pay bills or hasn't been earned yet.
Always look at a company's gross borrowings (before cash is taken away) and gross gearing (gross borrowings divided by shareholders' equity) to get a more conservative view of its financial position. In 2014, Rolls-Royce's gross gearing was 202% excluding intangible assets. That's quite high and also highlights that the company does not have much tangible equity behind it - net tangible assets per share is only 84.2p (share price is 783p at the time of writing).
However, if you look at a key measure of a company's ability to pay its way - interest cover - you can see that Rolls-Royce has no problem paying the interest on its borrowings. Its interest cover was a very comfortable 17.5 times in 2014.
Also look out for forms of hidden debt such as pension fund shortfalls (or deficits) that could cause a company problems and is typically not included in gearing calculations. Rolls-Royce has a pension fund hole of nearly £3bn that will have to be plugged in the years ahead. Cash that needs to be paid into the pension fund is cash that cannot be paid to shareholders or invested in the business.
One final point on Rolls-Royce's finances is its Altman Z-score of 1.92. This number suggests that the company's financial position should be treated with caution as it might get into difficulties in the future.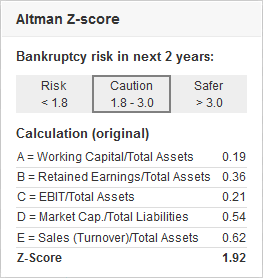 A closer look at Rolls-Royce's Z-score shows you how the number is made up. The main contributor to its relatively weak score is its poor return on total assets (EBIT/Total Assets).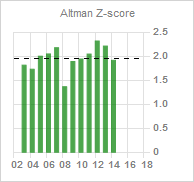 Looking back at Rolls-Royce's Z-score history shows that it has deteriorated in the last couple of years (for more about Z-scores click here).