Using analysts' forecasts in SharePad
SharePad and ShareScope both provide analyst forecasts for shares as shown below. Information on expected profits, target share prices and recommendations are included. This information does have its uses.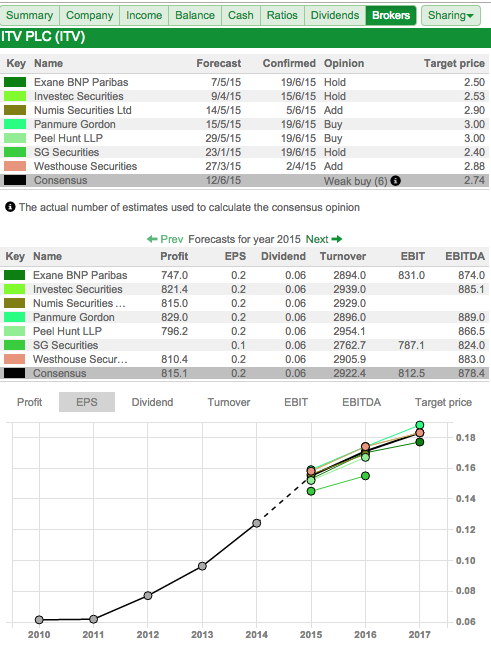 In my opinion, the main value in analysts' forecasts is in looking at what professional investors are expecting the company's profits to be in the future. These expectations are important as most of this information will probably be reflected in the company's share price. One of the most important skills an investor can develop is identifying companies where the profit expectations are wrong - either too high or too low.
If we look at the EPS forecasts for ITV in the chart above you can see that analysts are expecting profits for shareholders to keep on rising at a decent rate. If you want to see these forecasts in more detail you can go to the income statement in SharePad (or Details view in ShareScope).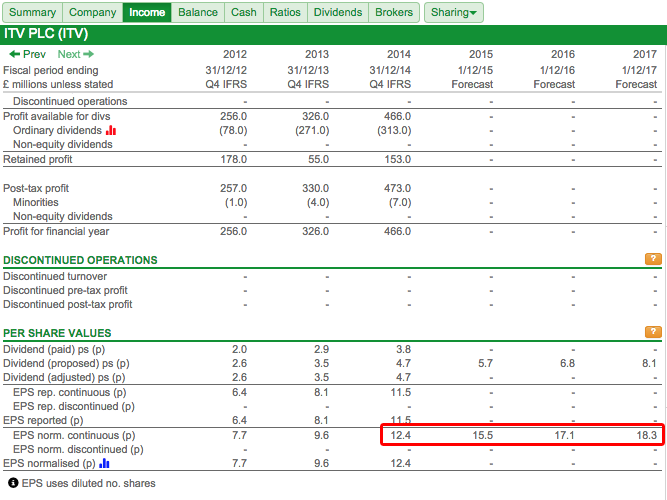 Here you can see that the normalised EPS (the profits per share that exclude one off gains and losses) is expected to increase by nearly 50% from the 12.4p made in 2014 to 18.3p in 2017. That's a big increase and you should try and find out why analysts think this will happen. For example, has the company made a big acquisition of a company that will add a lot of extra profits? Is ITV cutting lots of costs? Is the TV advertising market set for a boom period?
Here history may be very helpful. You can get SharePad to show you a chart of how EPS has turned out in the past.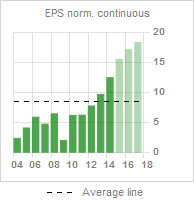 ITV's EPS fell very sharply in 2009 when a weak economy saw advertisers spending less money with them. A recession will undoubtedly happen again at some time in the future but analysts are predicting a very rosy outlook for profits. Will they just keep going up in a straight line?
SharePad also tells me that ITV shares are selling for over 17 times 2015 forecast EPS and a CAPE of 14 times. That might be fair if profits can keep going up but could be expensive if they don't and history repeats itself. So if you thought that a recession was on the horizon, and that the share price still reflected optimistic profit forecasts, then you might get concerned about the valuation of the shares.
Of course, short-term consensus EPS forecasts for a stock may be entirely reasonable.
EPS forecasts are used to calculate PEG ratios which is a valuation measure used by growth investors. PEGs are calculated by dividing the PE ratio for the share by the forecast EPS growth. Buying shares with low PEG ratios (in other words a low PE ratio relative to the expected growth rate in earnings) is a popular investing strategy and was used extensively by famous successful investors such as Peter Lynch and Jim Slater. Jim Slater's son, Mark, is one of the top-performing growth investors in the UK over the last few years. PEG investors are very interested in analysts' forecasts although some will try and forecast the expected growth rate themselves.
However, PEG investors will look at more than just PEG values so skill is required and you'll need to be ready to sell if forecasts and valuations change. To read more on PEG investing, click here.
Analyst recommendations can often be useful a contrary indicator. This means avoiding the shares that are very popular where there are lots of buyers and perhaps buying the ones which are unloved with lots of sellers. You can see these recommendations easily in SharePad.