Trying to understand NAV
In its most basic form NAV is just a number. You need to try and understand what that number is telling you. When you start digging a little deeper you will often find out that there is more to a company's NAV than initially meets the eye.
Here are a few things that you need to consider.
NAV is a snapshot value
NAV is calculated from a company's balance sheet which is taken on the last day of a financial reporting period such as every six months or every year. It is the value on that day only which might be different to the NAV today, especially if the business has seen changing profits or the company has made a big acquisition.
Intangible assets
Some companies can have large intangible assets such as brands, patents and goodwill (the amount above NAV that the company has paid to buy other companies in the past) which can be difficult to value. They might be very valuable but they might not be.
To err on the side of caution some investors like to exclude the value of a company's intangible assets and not pay for them. They look at something called net tangible asset value (NTAV) instead.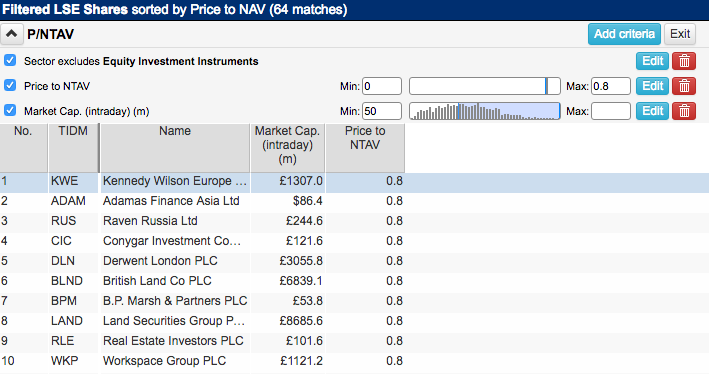 If we run a filter in SharePad to find shares at a 20% discount to NTAV the list of qualifying shares falls from 102 to 64.
Overvalued assets and undervalued liabilities
Another issue to consider is that the asset values on the company's balance sheet might be unrealistic - they might be too high. With the exception of property companies and financial companies who value assets at market values, other companies value them at the lower of cost or market value - but these adjustments may only be made periodically.
Struggling companies might have customers that won't pay them which means that the value of debtors on the balance sheet is too high. Stocks of unsold goods can fall in value as well and will have to be reduced in value.
Fixed assets such as properties and plant and machinery might also be overvalued. One way to find out whether this might be the case it to look at the profits that they produce. A quick rule of thumb I use it to look at the company's trend in return on capital employed (ROCE). If ROCE is less than 7-8% then I might start thinking that the value of a company's assets is overvalued.
What I am effectively saying here is that if a company's assets can't make a satisfactory level of profit - a high enough return - then they are not worth the value they are stated at on the balance sheet. Intuitively this makes sense as the intrinsic value of any asset is related to the amount of profit or cash that it will produce over its life.
Companies regularly review the carrying value of the fixed assets on their balance sheets with something called an impairment test. They will estimate the profits and cash flows that the assets can make in the future and value them. By looking at ROCE yourself you can sometimes spot potential asset write downs (reductions) before the company actually does them.
One thing to watch out for is the potential for undervalued liabilities which can overstate a company's NAV or NTAV. The main liability in this respect is a company's pension fund deficit.
In recent months interest rates on bonds have fallen sharply which will increase the cost of paying final salary pensions in the future. If interest rates don't rise then these pension liabilities will increase at the next balance sheet date and reduce NAV and NTAV.
I tend to think about final salary pension scheme liabilities in overly simplistic terms but I find it helps people understand them quite well. Let's say you have to pay a pension of £10,000 to a retired employee and interest rates are 10%. You might need £100,000 invested in the pension fund to pay that pension (£100,000 x 10% = £10,000).
If interest rates fall to 5% then you need £200,000 to generate an annual income of £10,000 (£20,000 x 5% = £10,000). Final salary pension schemes are more complicated than this in practice but this simple example explains why pension scheme liabilities increase when interest rates fall.
For more on pension deficits click here.
Hidden liabilities
Some liabilities are not disclosed on a company's balance sheet. Companies which rent or lease assets instead of owning them can have big future liabilities which are expensive to cancel or get out of.
These hidden debts would have to be paid if a company was broken up or liquidated and would reduce NAV and NTAV. Bear this in mind if you are thinking of buying a share based on its balance sheet asset value.
You can find out the capitalised value of leases using the Investor Tools button in SharePad.
If a company went out of business and was liquidated then redundancy costs would probably have to be paid as well. This would also reduce NAV and NTAV.