Which shares suit Gordon's Growth formula?
It is important to note that this little formula only works well for relatively mature companies with a constant rate of growth and won't work if the growth rate is more than the required return.
Shares that are well suited to this formula are the big established companies in the following sectors:
Tobacco
Pharmaceuticals & Healthcare
Defence
Utilities
Telecoms
Property
The formula is not suited to fast-growing companies or companies with volatile profits and dividends.
Here's a real world example using the dividend valuation tool in SharePad: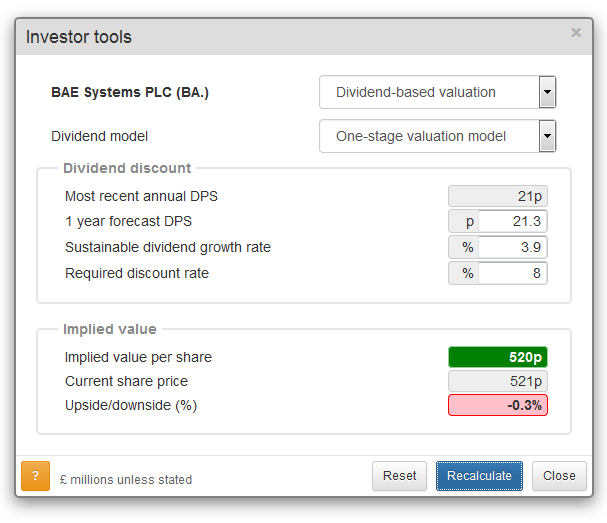 SharePad has taken the consensus forecast dividend per share from City analysts but you can use your own forecast if you want to. I've assumed a constant growth rate of 3.9% - more on this shortly - and an interest rate of 8%. On this basis, BAE Systems shares are fairly priced.
What I did here was to plug in a growth rate to solve for the current share price. This is because you can rearrange Gordon's Growth formula to work out what the constant rate of dividend growth is implied by the current share price.
I'm not going to get into the maths but to work out the implied rate of dividend growth of a mature company you take your required interest rate and take away from that number the forecast dividend yield.
Implied rate of growth = Required interest rate - forecast dividend yield.
At 521p and a forecast dividend per share of 21.3p, BAE has a forecast dividend yield of 4.1%. The implied rate of constant dividend growth is therefore:
8% - 4.1% = 3.9%.
This is exactly the same number used in the SharePad valuation model above and proves that this formula works.
This also explains why shares with big dividend yields tend to have low rates of expected dividend growth or even falling dividend growth rates caused by dividend cuts.