How Lloyds makes money
LBG makes money from four main areas of activity:
Providing services such as loans, current accounts, savings products and mortgages to retail customers via high street banks and internet banking.
Commercial banking services to businesses.
Consumer finance - things such as the provision of credit cards and finance for motor cars.
Insurance - house and life insurance policies, investment and income protection products.
Let's see how the income and the costs from these activities show up in LBG's income statement.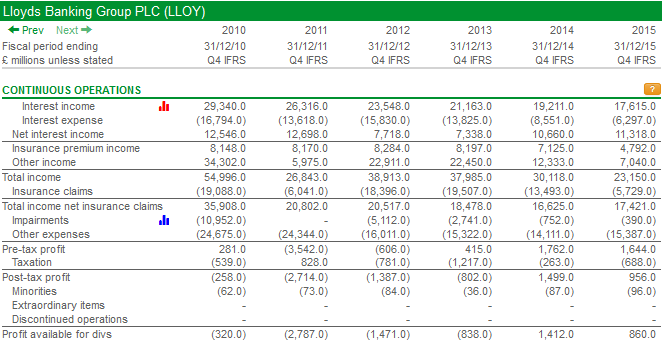 Interest income
LBG makes most of its money from lending money to customers. The money it lends out in loans attracts interest paid by the borrower. This is known as interest income. As you can see, the amount of interest income has been steadily falling since 2010. This can be explained by a decrease in the amount of loans outstanding and a decline in the interest rate that it charges on those loans.
Interest expense
Simple banking involves taking money from savers (or depositors) and lending it out to borrowers. In order to get people to deposit money with them a bank has to offer them an attractive interest rate. Banks also borrow money from the money markets (known as wholesale finance). The interest paid to depositors and wholesale lenders is a cost of doing business and is shown as an expense on the income statement.
LBG's interest expense has fallen significantly in recent years. This is mainly due to the fact that interest rates in general have fallen to record lows. Banks can borrow money for virtually nothing as anyone with a savings account will tell you.
Net interest income
This is the difference between a bank's interest income and interest expense. It is a key measure of a bank's profitability and is very similar to a non-financial company's gross profit. Ideally you want to see this number growing every year. After falling sharply in 2012, LBG's net interest income has seen a healthy increase during the last couple of years.
Insurance premium income
This is income earned from selling insurance policies during the year. This source of income has been declining in recent years.
Other income
This will include income from fees and commissions from banking services as well as trading income from trading financial assets and securities.
Banking costs
Like all companies banks have to incur costs to generate their income. The biggest costs are wages and other staff costs as well as items such as rents, IT costs, advertising and regulatory costs. A large chunk of a these costs are fixed and do not vary with a bank's income. These costs are included in the "other expenses" row in SharePad. In there you will also find one-off costs such as provisions for fines. For example, those to do with the mis-selling of payment protection insurance (PPI) which totalled £4bn in 2015.
Impairments occur when a bank realises that a total amount of a loan or outstanding investment cannot be recovered in full and has to be written down to its recoverable amount. This writing down of value is shown as an expense in the income statement. Following the financial crisis, LBG incurred some big impairment expenses but the value of these has fallen significantly in recent years as bad loans have disappeared from the company's balance sheet.
Insurance companies have to pay out against claims each year. In some years, the value of claims can be bigger than the insurance premium income earned and a loss can be made from insurance activities. LBG has suffered some years of big losses and made a small insurance loss in 2015.
Profits
When all these sources of income and costs are considered together you arrive at a bank's pre-tax profit. For LBG this was just over £1.6bn - a slight decline from the year before. According to LBG's 2015 annual report its underlying pre-tax profit (which excludes one-off costs such as provisions and restructuring costs) was £8.1bn - a big difference.
Which profit figure should you use?
Well it depends if you believe that a lot of LBG's costs are genuine one-offs or not. PPI will not be an issue very soon but restructuring costs and provisions can happen more frequently. We will look at this issue later when looking at LBG's financial returns and valuation.