How to screen for economic moats in SharePad and ShareScope
So how do you go about finding companies that might have economic moats in SharePad and ShareScope? There's no hard and fast rules as to what financial metrics you should use but I've put together a screen in SharePad below to try and help find some possible gems on the London Stock Exchange.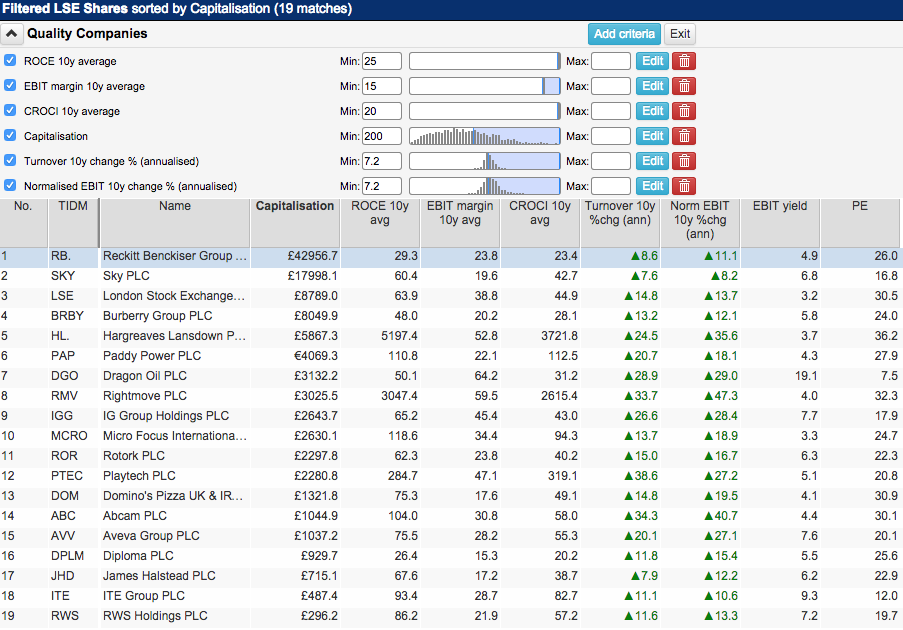 I am trying to find companies that have been able to churn out a consistently impressive financial returns for at least ten years. To do this, I am asking SharePad to calculate a lot of ten year averages for certain financial ratios.
Return on capital employed (ROCE)
A high sustainably high ROCE can be a sign that a company has an economic moat and that competitors haven't been able to enter its markets and eat its lunch. Remember, we are looking for exceptional companies here, so I've set a minimum ten year average ROCE of at least 25%.
EBIT (profit) margin
Whilst a high ROCE is probably your first port of call when looking for an exceptional company, the measure does have a few drawbacks that you need to be aware of. Firstly, ROCE can be artificially high if a company has a lot of old, worn out assets on its balance sheet. When these are replaced with new ones, ROCE can be a lot lower.
Also, some companies rent rather than own assets. Many high street retailers tend to rent their stores and so the value of them is not usually counted when calculating their capital employed which can result in very high ROCE figures.
This means that sustainably high profit margins could be a better benchmark of an exceptional business. I've set a minimum ten year average threshold of 15% here. High profit margins can also make for safer investments as businesses with them can absorb rises in costs much better than those with wafer-thin margins.
Cash return on capital invested (CROCI)
Good businesses turn a high proportion of their profits into free cash flow which can be paid to investors. High free cash flow returns on money invested in a business is a hallmark of quality. I've set a minimum ten year average CROCI of 20%.
Sales and profit growth
I want to see companies that have been able to grow their sales and profits strongly over the last ten years. To double them in that time, they would have grown at an annual average rate of 7.2% (The Rule of 72: divide 72 by the annual growth rate to get the years required for something to double). You also need to do a bit of digging and see how companies have grown. Has growth come from existing operations or has the company been buying up a lot of companies? Buying companies is a less preferable way of growing, but we should be covering ourselves by insisting on a high ROCE and CROCI as well.
Market capitalisation
To try and limit my search for shares that should be easier to buy and sell on the stock exchange, I've set a minimum market value of a company to £200 million.