Using the library
Also on the Apply a filter to the list dialog window is the Library button. Click on this and the Filter library dialog window will open.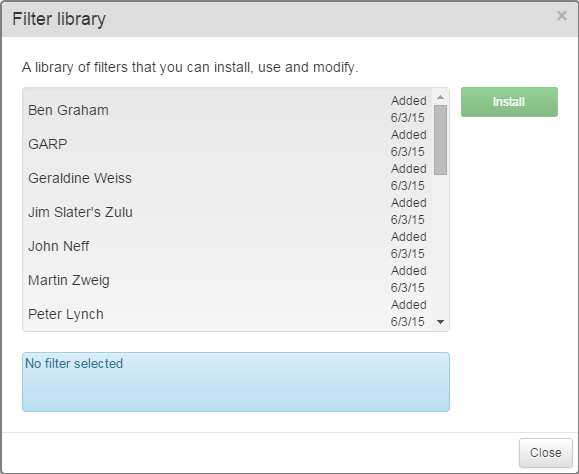 The Filter library contains a series of filters we have created that we hope you will find useful. This includes the list of Guru Filters and others based on both fundamental data and technical analysis.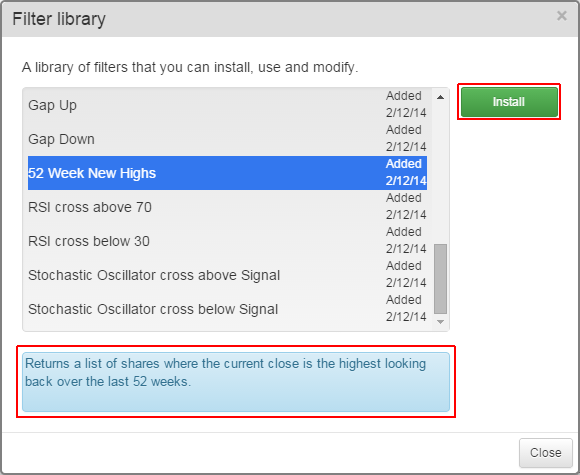 Scroll down the list and select the 52 Week New Highs filter. Note that each of the filters in the library comes with a description. Once you have selected the filter click on the Install button and the click on Close.
You will be returned to the Apply a filter to the list window and the last imported filter will be the currently selected filter in the list. Click on OK.
Here the filter has been applied to the FTSE 350 list. You'll notice there are some differences between this filter and the example created earlier in this tutorial.
Filters with a description show an

button between Add criterion and Exit buttons.

This opens a window that will show you the description of the filter.
You will also note that there are no values to adjust or a range bar on the criterion and the column that has been added to the table when the criterion was created is populated by green ticks.
If you Edit the criterion you will see that it opens a completely different dialog window. This is because it uses the Combine option that can be found at the bottom left the Add criterion dialog window.

Here we have chosen to 252 td high on the left and Last price on the right and selected equals as the operand. Note: "td" means trading days, there are 252 trading days in a calendar year, this equates to 21 trading days in a calendar month.
The criterion is asking the question; is the Last price equal to the 252 td high? If the answer is yes the share receives a tick if the answer is no; it does not.
In such cases the criterion will only show those shares with a yes answer i.e. those that display a tick in the column.
In the following example we have imported and selected the Ben Graham guru filter and applied it to the FTSE All-Share list. You can see a similar situation with the last criterion of this filter; "Industry excludes Utilities"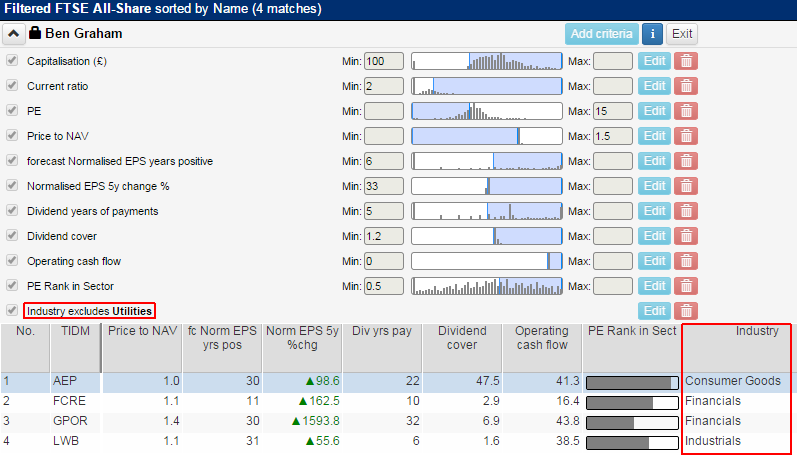 In this case if the share is in the Utilities industry then it receives a No and is excluded from the list. However, you can see that the column that is added is the Industry column so you can see which industry the shares in your list of results are in.