Value filters
When we talk about value as investors we are really interested in shares which are undervalued. But don't confuse cheap with undervalued. As with all things in life, some stocks are cheap for a reason. Some of our simpler value filters identify shares which are cheap when measured by a particular ratio. It is up to you to do more research - or add more criteria - to identify which ones are undervalued.
Discount to cash - Negative Enterprise Value
This filter looks for companies with large net cash piles which are bigger than the current market capitalisation of the company. Enterprise value is market cap plus net debt so a large net cash position can lead to a negative enterprise value.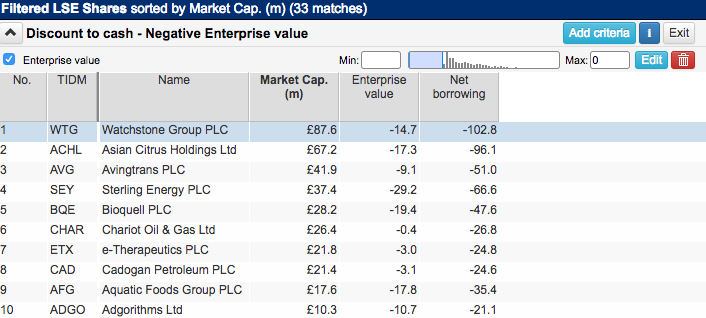 It might be telling you that the company can effectively be bought for free and might signal that its shares are very cheap. Bear in mind though that a company's balance sheet cash and borrowing levels are a snapshot taken at the end of its financial year. They may not be representative of levels throughout the year. Most companies tend to choose a year end when its finances look at their best.
Another thing to be mindful of is that cash might be earmarked for new projects and the balance will decrease in the future. This tends to be true of resources and mining companies.
Discount to Earnings Power Value (EPV)
A company's EPV per share is a value based on the company's current after tax trading profit staying the same forever. Companies whose shares are trading at a discount to EPV might be cheap.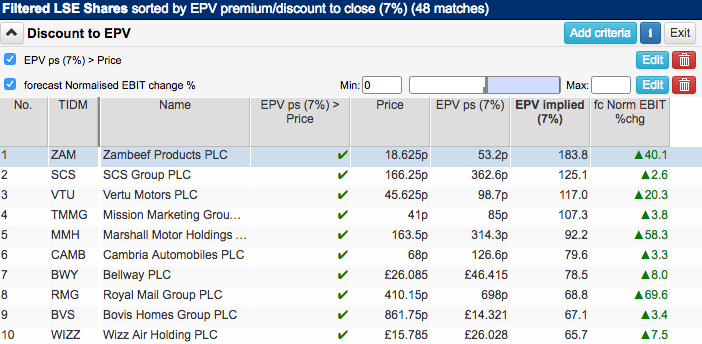 You need to pay particular attention to whether trading profits (EBIT) are sustainable or have reached a cyclical peak. This filter attempts to weed out companies which look cheap because their profits are expected to fall by only selecting those whose profits are expected to keep on growing.
Cheap Piotroski
This filter screens for shares trading below net asset value (NAV) per share. These filters can sometimes reveal cheap shares but often they just show you the shares of companies which are struggling. In other words, the shares are cheap for a reason.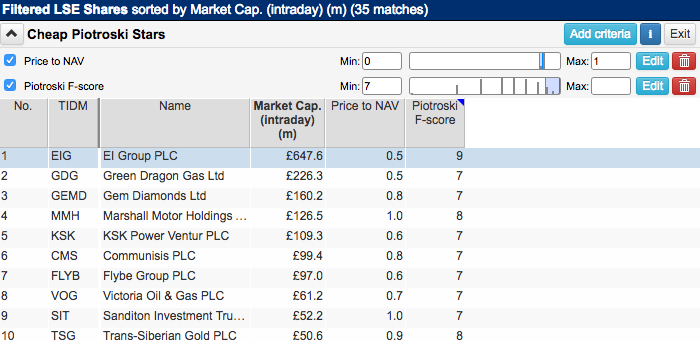 The Piotroski F-Score looks at companies on a number of fundamental quality and safety criteria and gives them a 1 point score if they pass each one. A Piotroski F-Score of more than 7 is seen to signal a company with improving fundamentals. Combining this with a valuation of less than NAV per share might throw up some winning shares.
Cheap ROE
This filter looks for companies with reasonable returns on equity (ROE) and which are trading for less than NAV. The theory here is that companies with a sustainable ROE should see their share shares trade for at least NAV as a 10% return on that NAV (or equity) suggests that the assets are worth what they are stated in the accounts.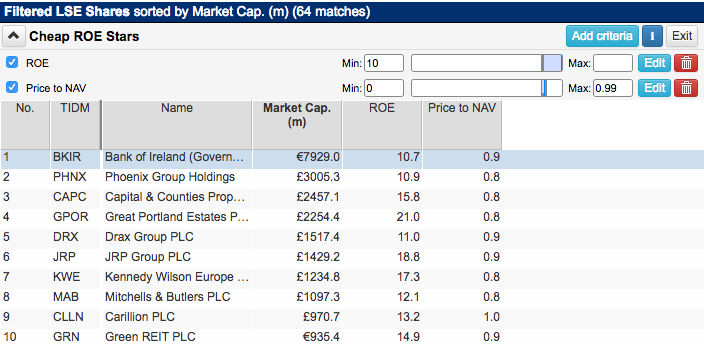 The key word here is "sustainable". If the ROE is not sustainable then the shares may not be cheap.
Discount to Net current asset value (NCAV) - Benjamin Graham net nets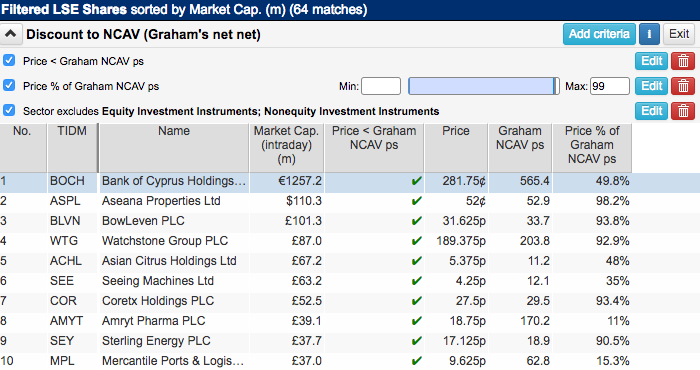 This is a filter for very cheap shares. It is based on a strategy used by the legendary US investor Benjamin Graham. NCAV is defined as a company's current assets less total liabilities. The value of fixed assets such as buildings, plant and machinery is ignored. Graham reckoned if he could buy shares for less than NCAV per share (he usually looked at 67% of NCAV or less) then he was unlikely to lose money and could end up making a lot.