Changing the setting
By default, different lists use a different setting. For example, lists of shares use the Equities - Overview setting.

If you click on this at the bottom of the screen then you can select a different setting with which to view the current list.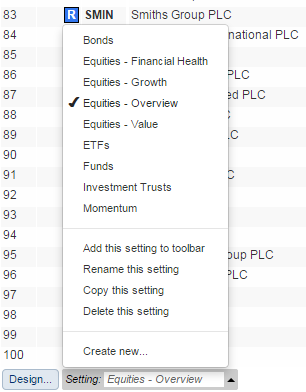 You can see that we have provided SharePad with 9 default table settings; Bonds, Equities - Financial Health, Equities - Growth, Equities - Overview, Equities - Value, ETFs, Funds, Investment Trusts and Momentum.
The Bonds, ETFs, Funds and Investment Trusts are all designed to be used with the appropriate lists.
The Equities settings are designed for use with any one of the shares lists like the FTSE 100 or U.S. 500.


Here you can see we have selected the Equities - Value setting and we now have different set of columns to when we had the Equities - Overview setting selected.