In pursuit of stability: Profit margins
Profit margins can help us decide whether a company is likely to withstand a decline in demand during recession, say.
Profit is the difference between revenue (aka sales) and costs. I'm using lease-adjusted Earnings Before Interest and Tax (EBIT) to measure profit because I'm comparing company performance and I don't want how the companies are financed to distort the picture. We'll look at financing in a moment.
In the short-term, revenue can decrease faster than a firm can cut costs, which means profit will fall. The smaller the margin, the easier it is for profit to turn into loss and threaten the viability of the firm. Consistent profit margins over time may indicate a firm is more stable, it has more consistent revenues, more flexible costs, or both.
So we're looking for high and stable profit margins: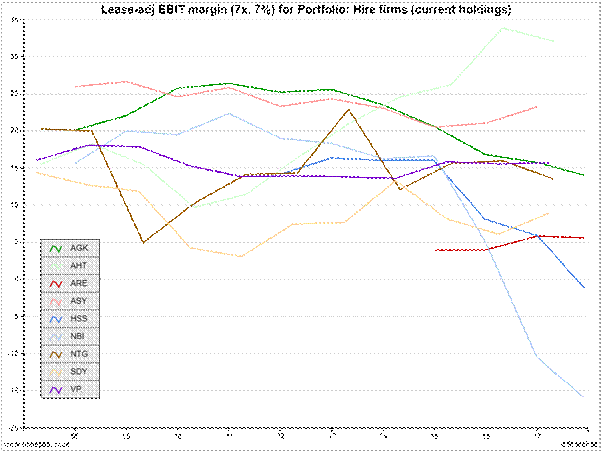 And the award for height goes to? Ashtead (AHT)! You'll have to look very closely at the chart to see its profitability because it's coloured in a very pale green. Currently it's achieving outstanding profit margins of 30% plus.
The award for stability goes to Vp and its 15% profit margins in purple are high enough to be interesting.
Andrews Sykes (ASY) and Aggreko (AGK) get honourable mentions. High profit margins, but not so much in the way of stability.
Northbridge (NBI), which is heavily dependent on the oil and gas industry, and HSS, are loss-making. Speedy (SDY) has a lacklustre and volatile past.
Arena's (ARE) currently no profit monster, and as it's only just listed we know little about its past.