Companies that speak my language
Although I think of myself as a contrarian investor, I don't seek out bad news. My style of contrarianism makes me somewhat indifferent. I don't follow the market, like a trader might, or buck it, like the other kind of contrarian. I prefer to focus on the enduring qualities of businesses that mean they should prosper over the long term, irrespective of recent news and what it means to other traders and investors.
I believe the best long-term investments are firms building and improving unique capabilities. In business school jargon these capabilities are known as competitive advantages. They enable companies to invent special products and services they can earn more money from.
Evidence of competitive advantages can be found in the financial statements. Firms with advantages should be highly profitable. Profit margins, the difference between the value of sales and the cost of production should be large compared to other firms. They should earn high levels of return on capital, which is profit compared to the money invested to earn the profit.
While the numbers can tell us a company may have competitive advantages, they can't tell us what the advantages are, or whether they are likely to last. Sometimes products are fads, and earn outsized profits for a few years, and sometimes advantages are easily copied by competitors.
Advantages that last usually stem from a company's culture. Firms that empower and reward staff so they really know and serve their customers develop reputations, brands, relationships, specialist expertise and many other intangible advantages that encourage customers to return time and time again.
The uniqueness of competitive advantages makes searching for them a daunting prospect, though. My first attempt is to search for companies that talk the business school language, i.e. to search for the phrase "competitive advantage" and others associated with it.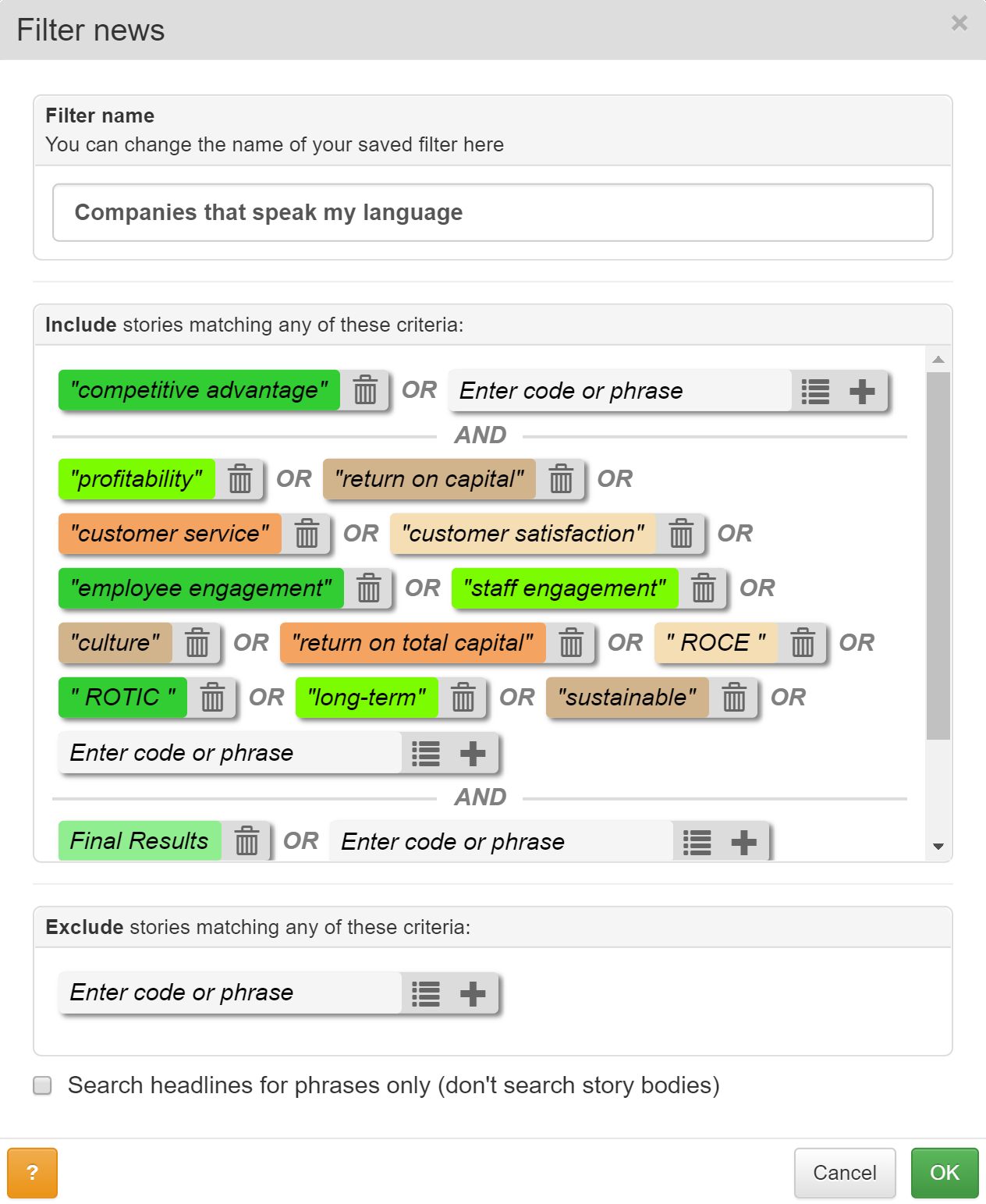 I wouldn't expect this filter to produce a comprehensive list. Companies often concentrate on short-term performance in their reporting, and even if they do articulate underlying business strengths, they may not use the same jargon. I'd also expect the list to contain false positives, after all it's not unheard of for executives to talk the business school talk without walking the walk. Phrases like "long-term" are used in many contexts, some of them irrelevant.
The filter needs some work, but it digs up some interesting prospects: Cohort, Electrocomponents, Oxford Instruments, Scapa and Smiths are all talking my language.