5th May 2020
Twin Petes Investing podcast secures SharePad sponsorship
The popular private investor podcast 'Twin Petes Investing' announced today it has agreed a title sponsorship deal with investment data & analysis software SharePad from ShareScope.
Twin Petes Investing is a collaboration between private investors, bloggers and Twitter personalities Peter Higgins @conkers3 and Peter 'Wheelie' @WheelieDealer. Both are full time investors with several decades of involvement in the markets who find the day to day rigours of the ever-demanding quest to make large and consistent financial returns from the ever-evolving markets fascinating.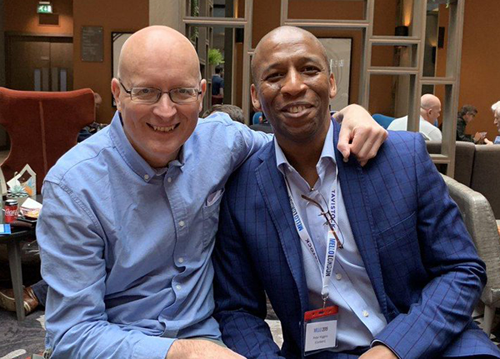 The Petes put out the first of their fortnightly podcasts in November 2018 and 22 episodes and two live presentations later they have built a dedicated following of private investors, fund managers, investment industry figures and high-net worth individuals. Their unique, informal mix of timely market discussion, education content and stock ideas has amassed over 25,000 listens globally to date.
Peter @conkers3 had this to say "ShareScope is a well respected awarding winning investment analysis brand and I am therefore absolutely thrilled that they have recognised the quality and unique offering of the Twin Petes Investing podcasts.
"When I first came up with the concept for Twin Petes I hoped to reach the ears of those interested in investing and inspire them to learn more and become better long-term investors. It is clear from the feedback we have received so far that our listeners like our straight talking, jargon free and unbiased educational approach to sharing investing information.
"This partnership with ShareScope will ensure our podcasts continue to grow and reach an even wider audience."
Peter @wheeliedealer added "I feel truly fortunate to be able to work closely with Peter @conkers3 - who I consider to be one of the best private investors in the UK. I still learn so much from him whilst we do the recordings for Twin Petes. To also now be working with ShareScope, whose software I have used for nearly 2 decades for its ease of access to vital Fundamental Information and Charting Power, is yet more dollops of icing on my generously proportioned cake!"
"To be able to then share all this with my remarkably loyal Twitter followers and website readers is taking the whole Wheelie Dealer thing into new directions that I never even dreamt of back when I started with just a loose idea to help new Investors learn the ropes. I look forward to seeing how all this develops in coming years."
ShareScope CEO & Founder, Martin Stamp was also pleased with the agreement. "We're delighted to be able to support Twin Petes with their fantastic podcasts. One of our core values at ShareScope is enabling investors to have the confidence to pick their own investments instead of relying on tips & recommendations. If you understand why you bought a stock, you'll better understand when to sell it and maximise your profit. We instantly saw the synergies between our values and Twin Petes Podcasts - two real, honest and experience investors talking about their downs as well as ups in the markets to inform and inspire other investors."
You can find the latest Twin Petes Investing podcast on both the Pete's websites at conkers3.com and wheeliedealer2.weebly.com as well as on Soundcloud, Apple Podcasts and Audioboom.