Restaurant Group - A case study in profit warnings
The share price of Restaurant Group (LSE:RTN) has fallen by nearly 60% since the start of 2016. The company is a very typical and interesting example of how profit warnings can develop and how the damage inflicted on a share price can very severe.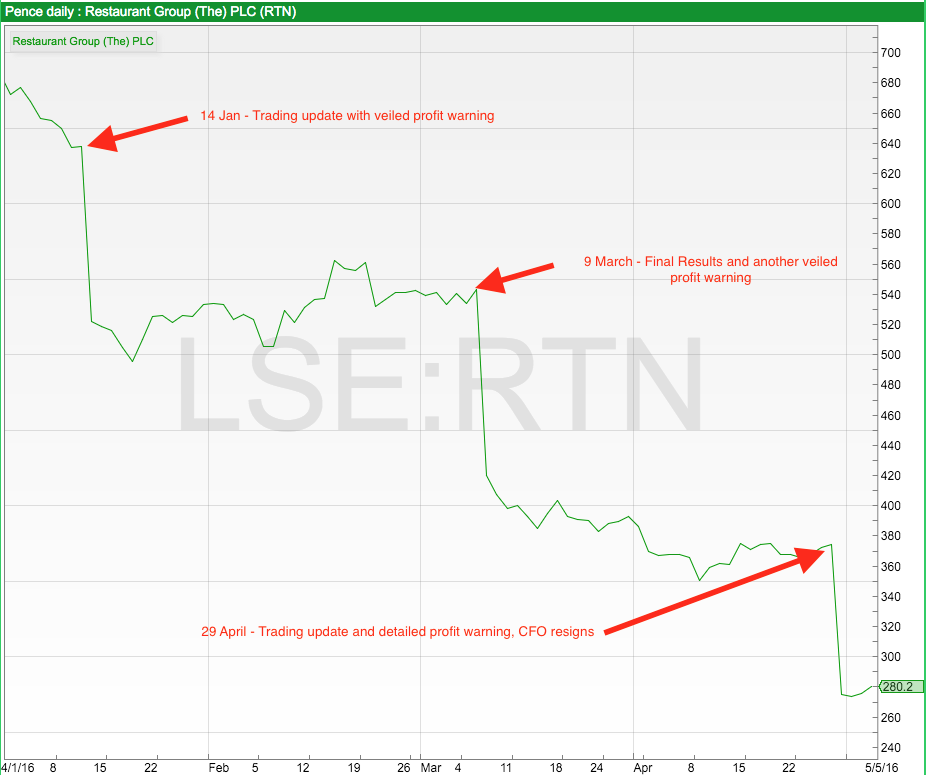 On 14 January 2016, the company released a trading update to investors about the end of its 2015 financial year. The year had gone well with a healthy increase in sales and profits. The outlook for 2016 was much more downbeat:
"It has become apparent from much of the recent data from the retail sector and the wider economy that the trading environment for many consumer facing businesses has been tougher in recent months than it was earlier in 2015. This has caused like-for-like sales growth to trend lower and accordingly we are more cautious than previously on the outlook for 2016. A possible referendum on the UK's continued membership of the European Union, National Living Wage implementation and global uncertainty are all additional issues that we are conscious of going into the new year."
This was not a very helpful statement but the use of certain words (highlighted in black by me) would have left no analyst in any doubt what the company was implying. This is an example of something that is known as a veiled profit warning. It's when companies hint that profits will be lower than most analysts are forecasting but they don't then give any indication of how much lower they actually might be. Analysts and professional investors tend to be very unforgiving in these circumstances and figure that they need to take a knife to their forecasts .The share price fell by over 18% from 638p to 522p
When you come across a statement like this early in a company's financial year you should probably brace yourself for worse to come. This is because once trading has started to turn down and the company cannot (or will not) quantify the likely hit to profits it usually means it will get worse before it gets better. Selling your shares at this point will often protect you from further pain in the future.
On 9th March the company updated investors again:
"After 10 weeks trading in 2016 total sales are up by 6% and like-for-like sales are down by 1.5%. The more challenging trading conditions we saw at the end of last year have continued into the early part of 2016, reflecting a softening in consumer demand and weaker overall consumer confidence. Whilst still early in the year, our assessment is that this more challenging environment and recent trading patterns are likely to persist. Although total sales will continue to increase as our new restaurants open and deliver good returns, in the current environment consistent like-for-like sales increases are likely to be difficult to generate.
However, notwithstanding this backdrop, we are confident that the underlying strengths of our business and brands, combined with the mitigating actions we are taking, will ensure that TRG continues to making profitable progress in 2016 and the years ahead."
This time the company gave a bit more information on the trend in sales. It said that like-for-like sales for 2016 were unlikely to grow but that it still expected profits to be higher than in 2015 (citing "profitable progress" in 2016). The company's normalised earnings per share (EPS) was 33.5p in 2015, so EPS was on track to be higher than this. On the day, the shares fell by 22.6% from 543p to 420p.
On 29th April the company said that trading had deteriorated further:
"The Restaurant Group today provides an update on recent trading and its expectations for the 2016 financial year.
Since we updated on current trading with the preliminary results on 9(th) March, we have seen a further deterioration in trading conditions, with our Leisure business, in particular, continuing to be impacted by the structural and business challenges referred to in the March Preliminary results statement. As a result for the 17 weeks to 24 April, total sales are up 4.7% and like for like sales are down 2.7%.
In the short term, we do not anticipate any improvement to underlying like for like trends and, on this basis, we now expect full year like for like sales to be down between 2.5% and 5.0% which would translate into full year profit before tax in the range of GBP74m to GBP80m."
This is a full blown profit warning where the company actually gives investors a profit forecast for the 2016 year. The share price fell by 36% on the day from 374p to 275p. Since 14th January the share price had fallen by 57% and ultimately led to the company's finance director losing his job.
You can also work out for yourself how quickly sales have deteriorated with a clever little bit of maths. You can do this for any company that regularly discloses LFL sales information. We know that like-for-like sales (LFL) were down by 1.5% after 10 weeks.
Multiply -1.5 by 10 to get -15
After 17 weeks LFL sales were down by 2.7%.
Multiply -2.7 by 17 to get -45.9
To work out the LFL sales trend in the last 7 weeks:
Take away the 10 week figure of -15 from the 17 weeks figure of -45.9 to get a figure of -30.9 and divide by 7 which gives a LFL sales decline of 4.4% for the last 7 weeks.
The company says that it expects LFL sales to be down by between 2.5% and 5% for the whole year. They are currently declining at a rate of 4.4%. Could it be actually worse than 5%? LFL sales would have to fall by 6.1% for the rest of the year as explained below.
-5 x 52 = -260
-2.7 x 17 = -45.9
For the remaining 35 weeks LFL sales would have to fall by 6.1% (214.1/35)
It is possible that LFL sales trend could continue to deteriorate as the current falls have happened very quickly but the company still could have a little bit of a buffer.
So why has the damage to Restaurant Group's share price been so severe? Let's look at some of the lesson for investors here.