Income Statement
You need to go through the income statement line by line and look at the changes compared with the previous year. Having a calculator and a piece of paper close to hand will be useful to scribble down your thoughts.
Let's get started.
First of all, you can see below that the results are split into underlying and non-underlying. Underlying results are those that relate to trading activities and don't include one-off gains and costs. They are sometimes called adjusted instead. We are interested in the underlying results. You can also see that the previous year's results are provided as well for comparison.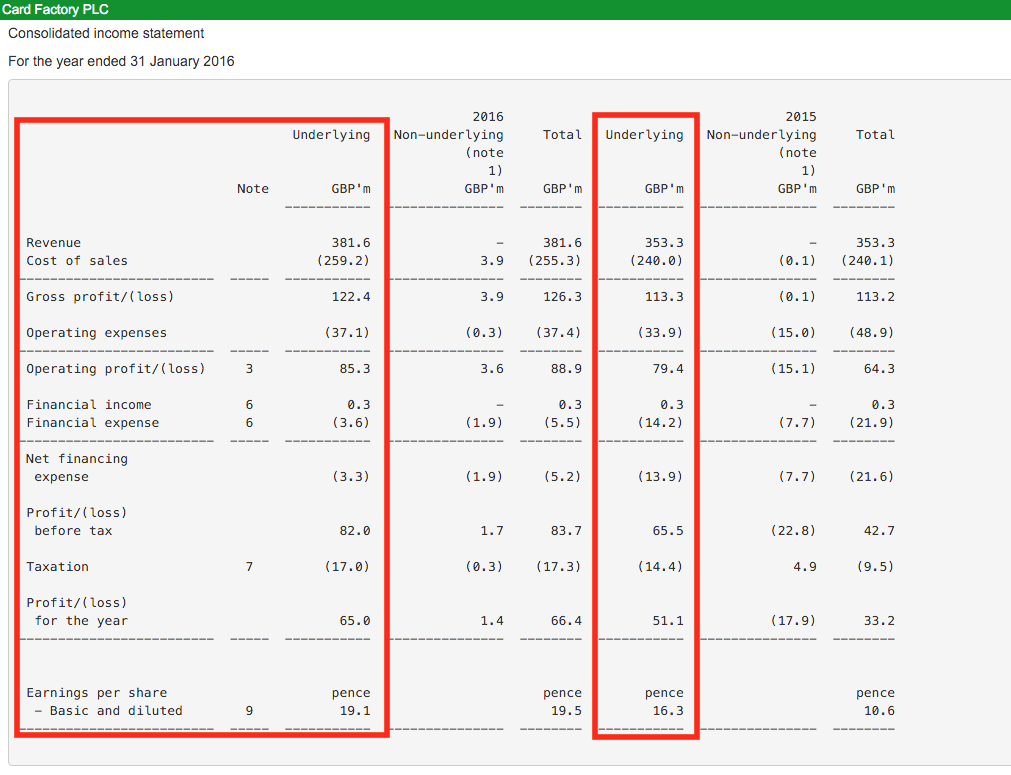 Revenue has increased by £28.3m to £381.6m - an increase of 8%. That's a reasonable rate of growth, but how has it been achieved? Has it come from existing sites, new sites or acquisitions?
Gross profit has increased by £9.1m or 8%. That is the same rate of increase as revenue. This is telling me that gross margins are pretty much unchanged from year to year.
Operating expenses have increased by 9.4% to £37.1m. That is faster than the rate of sales growth which is not ideal. As a result, operating profit has increased by 7.4% - less than sales. Operating margin (EBIT/Revenue) has fallen very slightly but still looks to be quite healthy at 22.35%.
You will notice that next to some of the lines in the income statement there is a reference to a note. These notes give you more information on the number concerned. You should read these as you will usually learn more.
Here is note 3 about operating profit.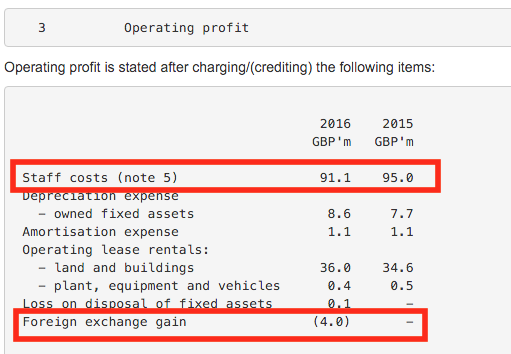 Interestingly staff costs have gone down - are they shedding staff? Note 5 gives us more detail: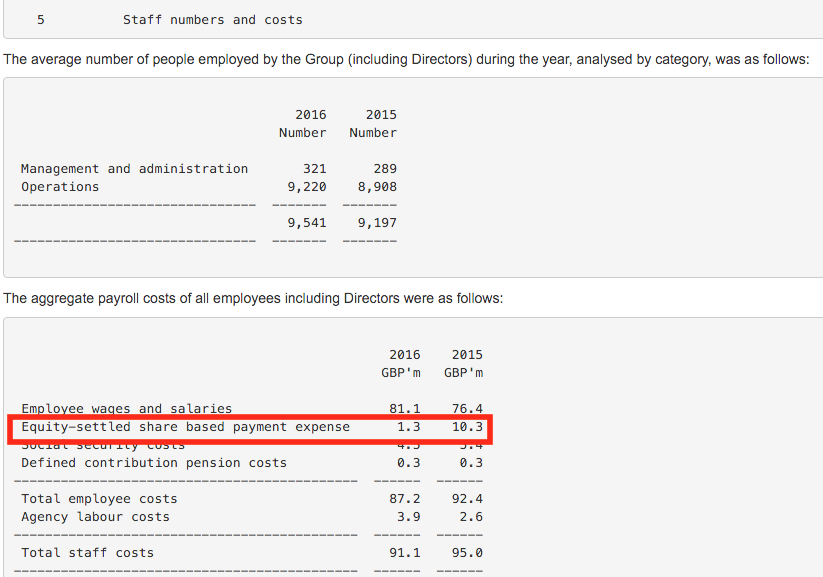 Staff numbers have actually gone up - as might be expected for a growing business - and so has the wage bill. The reduction in staff costs has come from lower share-based payments (remuneration paid in shares rather than cash). This number has fallen by £9m. Has this been included in the company's underlying profit figure? If it has then I would see that as a poor and unsustainable source of profits growth. Hopefully, more will be said on this as I wade through the statement.
Note 3 also highlights a foreign exchange gain which has reduced operating costs and boosted operating profit by £4m. Again, hopefully this is not included in the underlying profit number.
We can also see that the rent bill (operating leases) is up, presumably because the company has more shops open than it did last year. Fixed charge cover is over 3 times though which is very comfortable.
So, what about those staff costs? Thankfully, help is at hand as the company has provided a note on the underlying profit numbers and what has been excluded.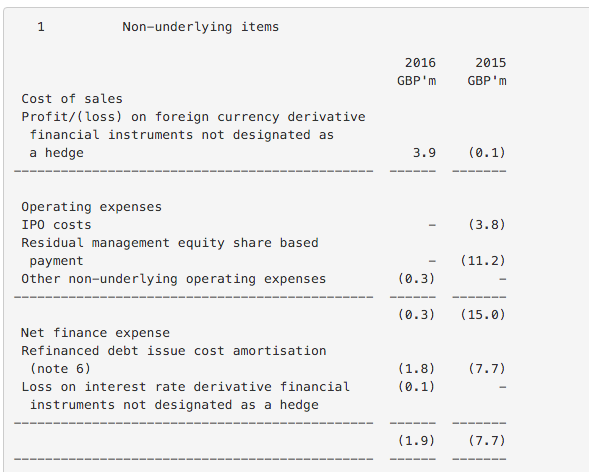 We can see that most of the foreign exchange gain has been excluded. It's also good to see that the share-based payments which saw a big drop in 2016 have been excluded from the underlying profit figure and is explained below:
"On admission to the London Stock Exchange, shares with a fair value of GBP9.8 million were issued at nominal value in relation to residual management equity as detailed in the IPO prospectus. Employer national insurance of GBP1.4 million was incurred on the issue of the shares. These non-recurring share based payments are presented as a non-underlying item in the prior year income statement."
So not only have the share-based payments been treated as non-underlying but they were dealt with in the previous year's accounts.
I'll repeat the income statement here as it is a few pages back now.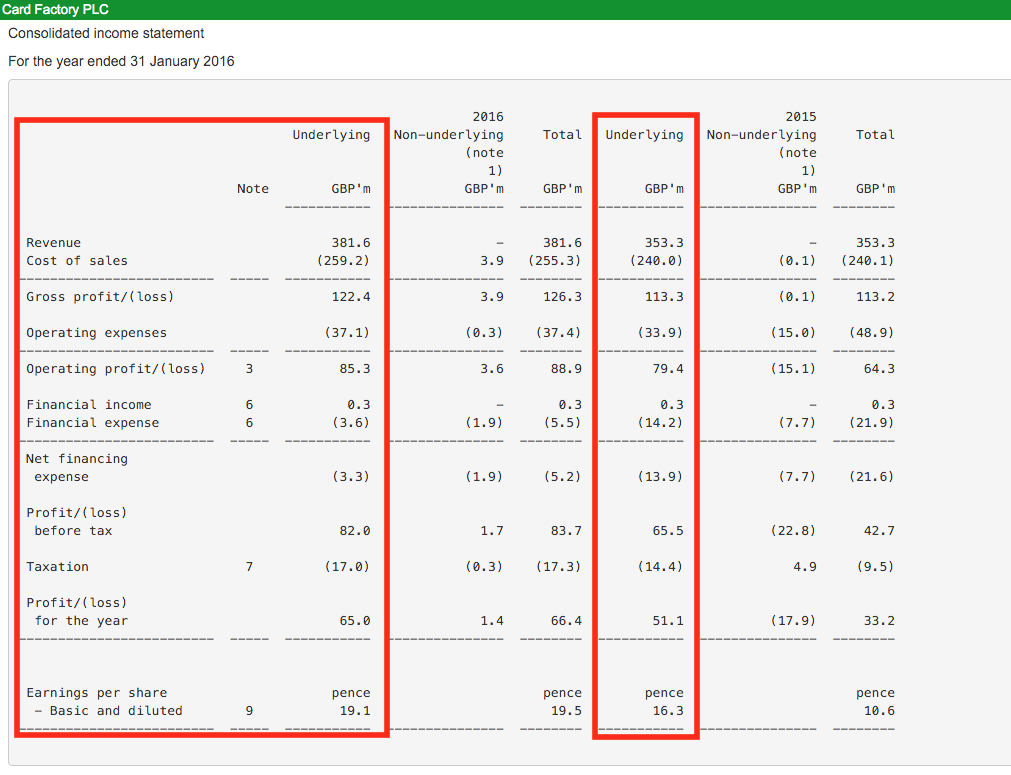 There has been a big fall of £10.6m in the Net financing expense (which is largely the balance of interest paid and received). As a result, pre-tax profit has increased by £16.5m or 25.1%. This is much faster than sales grow but a large chunk of growth has come from falling interest expenses. This is unlikely to be repeated going forward. Note 6 gives more detail.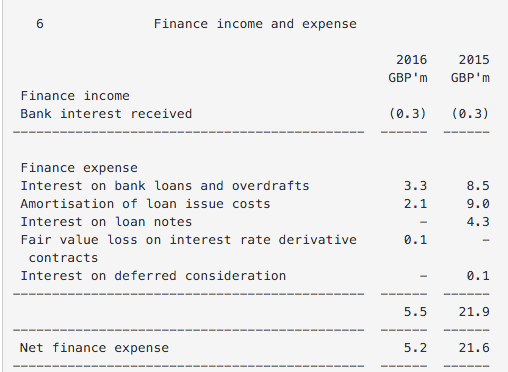 First of all, you may notice that the figures for the net finance expense are different to those stated in the underlying income statement. This is because the amortisation of loan issue costs is treated as a non-underlying, or one-off, item.
We can see in the note above that the loan notes have clearly been paid off and interest on existing borrowings has fallen sharply. This is telling me that company debt is probably down sharply and interest rates on that debt might be lower as well.
With underlying operating profits of £85m there is plenty of headroom to pay the interest bill on outstanding borrowings.
Going back to the income statement, taxation is higher due to higher pre-tax profits. The tax rate (17/82) has fallen to 20.7% from 22% (14.4/65.5). There is nothing too untoward here.

This feeds through to a profit increase for the year of 27.2% which looks very impressive. However, a big part of this has come from lower interest expenses and a lower tax rate.
Earnings per share (EPS) growth is up by only 17.2%. This is telling me that there is a higher number of shares in issue as is shown below. Why has the average number of shares gone up?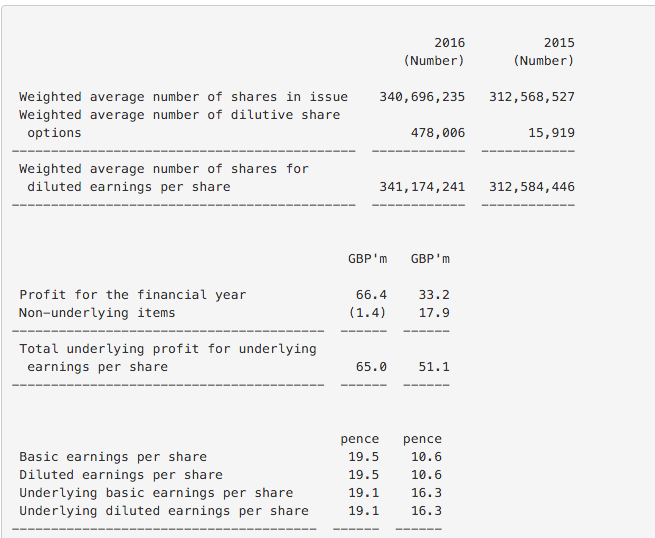 Whilst working my way through the notes, I also came across this note on dividends: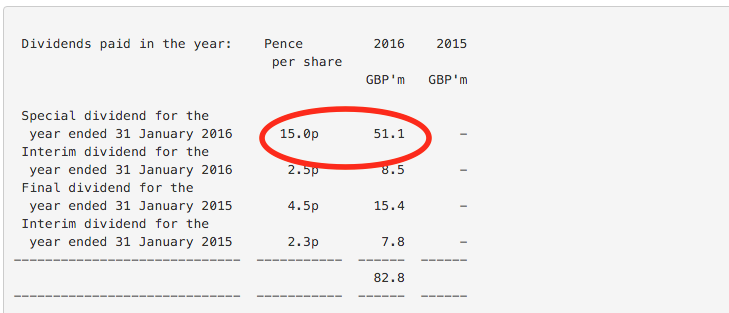 The company didn't pay any dividends in 2015 but has made up for it in 2016. A special dividend of 15p per share costing £51.1m has been paid this year. Special dividends are usually a good sign of a cash-generative company. I like the fact that a special dividend has been paid rather than a share buyback.
It is often true that companies that pay special dividends often do so again in the future. Regular dividends paid out during the year have cost £31.7m. The total dividend payout of £82.8m is more than the company's profits for the year and means that some of it has been paid from previous profits. I expect this to be shown up on the company's balance sheet.
I can also see a comment about the final dividend declared (but not paid) for 2016:
"The Board is recommending a final dividend in respect of the financial year ended 31 January 2016 of 6.0 pence per share (2015: 4.5 pence per share)..."
The final dividend is being increased by 33% and the total dividend is 8.5p compared with 6.8p last year - a rise of 25%. This is good to see and perhaps a sign of confidence. I already know that underlying EPS has increased by 17.2% so dividends are increasing faster than earnings growth.
If I calculate the dividend cover (EPS/DPS) I can see that it is 2.24 times (19.1p/8.5p) compared with 2.4 times (16.3p/6.8p) in 2015. This is a comfortable level of dividend cover and highlights the scope for further growth.