A closer look under the bonnet
SharePad is telling us that Mucklow is in pretty good shape. I've also had a dig into the company's annual reports to look at some of the key specific measures you should be looking at when you are weighing up a property company. These are shown in the table below: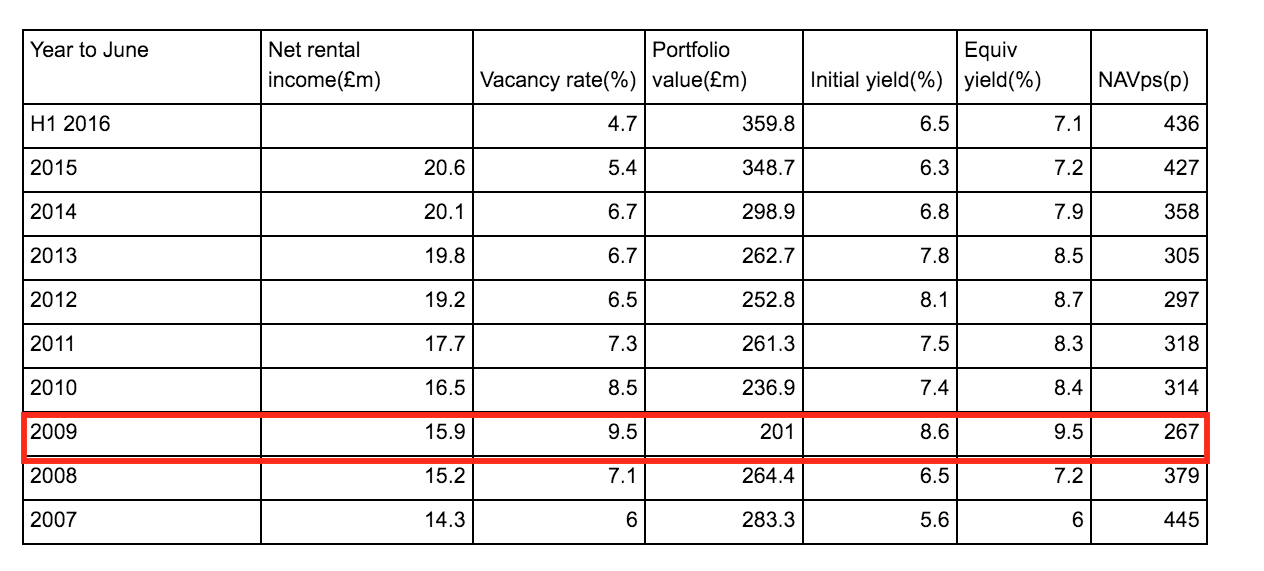 As I mentioned earlier, Mucklow's net rental income (income from tenants less the costs of managing properties) has been very resilient even in the last recession of 2008-09. Other key measures though have been more volatile and investors would do well to recognise this.
I have highlighted the year to June 2009 to show you how bad times were during the last recession so that you can more usefully examine Mucklow's current performance.
Let's look at vacancy rates first. They are currently very low at 4.7% (another way of looking at this is that the properties have a 95.3% occupancy rate) indicating that demand for properties is very high. This is a good sign but may be indicating that there is less scope for further improvement.
The valuation of the property portfolio has also continued to increase. Investment properties are valued by having a yield (interest rate) applied to their current or expected future rental income. The lower the yield, the higher the valuation of the property tends to be.
Say a company has current annual rental income of £10m and market yields for this type of property are 10%, the value of the property would be £100m (£10m divided by 10%). If yields fall to 5% and rental incomes stay the same, the value increases to £200m (£10m divided by 5%).
Now let's look at yields. For REITs, yield shows the current rental income as a percentage of the value of the property portfolio. Thus, yields are usually reflective of the change in property values. As rents are usually tied down for a fixed period, changes in rental income usually lag changes in property values. A higher yield is suggestive of lower or falling property values; a lower yield of rising values.
The Initial yield measures the current annualised rents as a percentage of the portfolio value. In 2009 these yields were a very high 8.6% reflecting the falling value of industrial properties. Since then they have come down to 6.5% as property values have increased but industrial property yields still remain higher than the yields on government bonds, offices and prime shopping centres due to them having a less secure income stream. They were as low as 5.6% during the peak of the last property boom in 2007.
Equivalent yields take into account the future cash flows at current rental values and any uplifts in rents that may occur in the future. This might happen if a tenant starts out with a low rent which then reverts to higher current market rent after a period of time. These future rental cash flows are discounted at an interest rate which gives a value which equals the current market value of the properties concerned. This makes the calculation of the equivalent yield identical to the way gross redemption yields are calculated on bonds.
Mucklow's equivalent yield is currently 7.1%. This is much higher than government bonds and can explain why some investors find industrial properties an attractive home for their money.
Only they can decide whether the interest rate is high enough to compensate them for the possible risks of lower rents if there is an industrial recession in the future.
You will see from the table above that yields are low compared with the ten year history. The rise in property prices in recent years has driven yields down (known in the financial trade as yield compression). Investors have been prepared to accept lower yields on properties as interest rates on alternative investments such as bonds have fallen as well.
However, this trend has been slowing down and initial yields have even increased slightly. This might be a warning sign to investors that people are beginning to become a bit nervous about the future prospects for industrial property due to a slowdown in the economy.
Perhaps future gains in net asset value per share will be harder to come by?