Financial returns
As you can see from the chart below, RB has consistently generated high returns on the money that it invests in its business. This is a sign of a quality business.
Having said that, the trend in returns has been firmly downwards. ROCE (the second or green bars) was over 30% in 2007 and close to that in 2010. It is less than 20% now on a lease adjusted basis. This is still a good number but it is telling us that RB is not as profitable as it used to be.
Free cash flow returns (CROCI) are consistently above 10% which is a good sign. Again, as with ROCE, CROCI is substantially lower than it was at the end of the last decade.
Let's dig a little deeper and see what's been going on.
The two charts below show how RB is achieving its ROCE and CROCI numbers. It looks at the trend in profit and cash flow margins and capital turnover - how much sales the company generates per £1 of money invested. If you multiply a company's profit or cash flow margin by its capital turnover you will get its ROCE or CROCI.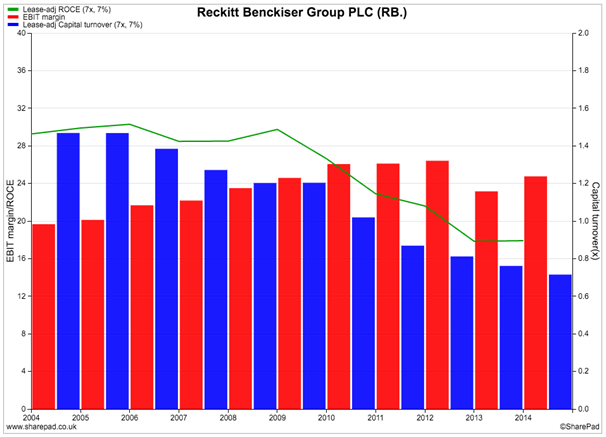 You can see that profit margins (the first or red bars) have held up quite well. Capital turnover though has fallen quite sharply to around half the levels it was a decade ago. The fall in capital turnover since 2010 has been quite dramatic and needs to be investigated further as the ratio is still falling.
One of the best ways to look at the trend in a ratio is to create a custom results table in SharePad as I've done below.

Here I've split out the two components of the capital turnover ratio - turnover and capital employed - as well as showing the ratio itself. Back in 2009 you can see that RB was generating around £1.20 in sales for every £1 invested. In 2015 that number had fallen to 70p.
There was a big rise in average capital employed in 2010 and 2011. You can usually find the reasons for this by studying the cash flow statement (see below). In RB's case there was nearly £3bn spent on acquisitions in 2010/11, a rise in capital expenditure, increases in working capital and higher rental expenses.
This heavy investment has changed the profitability profile of RB. The extra sales from it have been a lot lower than in the past and so ROCE and CROCI are increasingly reliant on the trend in profit and cash flow margins. It may also explain why RB is spending a lot of time and effort trying to improve its margins because increasing capital turnover might be too difficult.
Similar trends can be seen in the breakdown of CROCI. Free cash flow margins have been improving - with the exception of 2015 - to offset a declining capital turnover. CROCI had been improving for a while since 2010 suggesting that RB's cash flow performance had been better than its profits.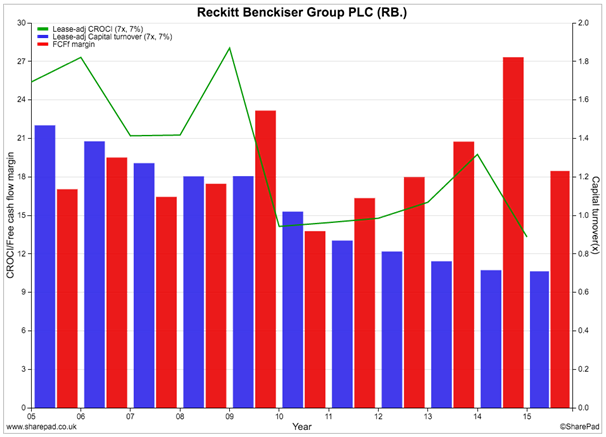 The trend in spending on acquisitions is highlighted in RB's cash flow statement below. You can also see a sharp drop in operating cash flow in 2015 as around £300m was lost from the demerger of the Pharmaceuticals business and there was a £202m outflow from creditors.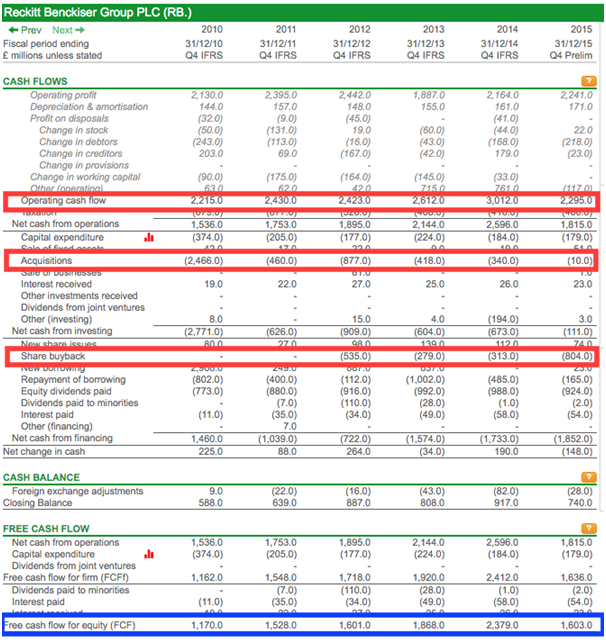 This fed through to the company's free cash flow performance highlighted in blue above. That said, RB is good at producing lots free cash flow.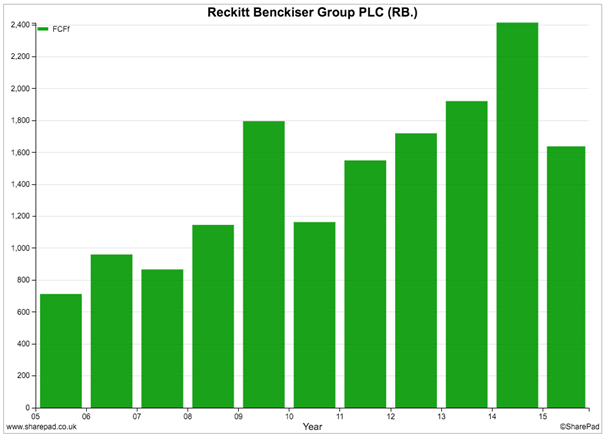 It is also good at turning its profits into cash. You can see that in most years the difference between free cash flow per share (the green bars) and earnings per share (EPS, the red bars) is not that big.
This free cash flow performance has helped RB keep on paying bigger dividends to shareholders in recent years. However, dividend growth was zero in 2015 following the demerger of the Pharmaceuticals business.