Financial Returns
First, let's have a look at what's been happening to the company's profits.
What we can see is quite an interesting picture. From 2004 to 2010 the company struggled to grow its trading profits (EBIT). There was then a period of growth until 2013 and then a slight decline. This is not the kind of profit chart that I would expect given the stellar performance of the company's shares.
What about returns on investment?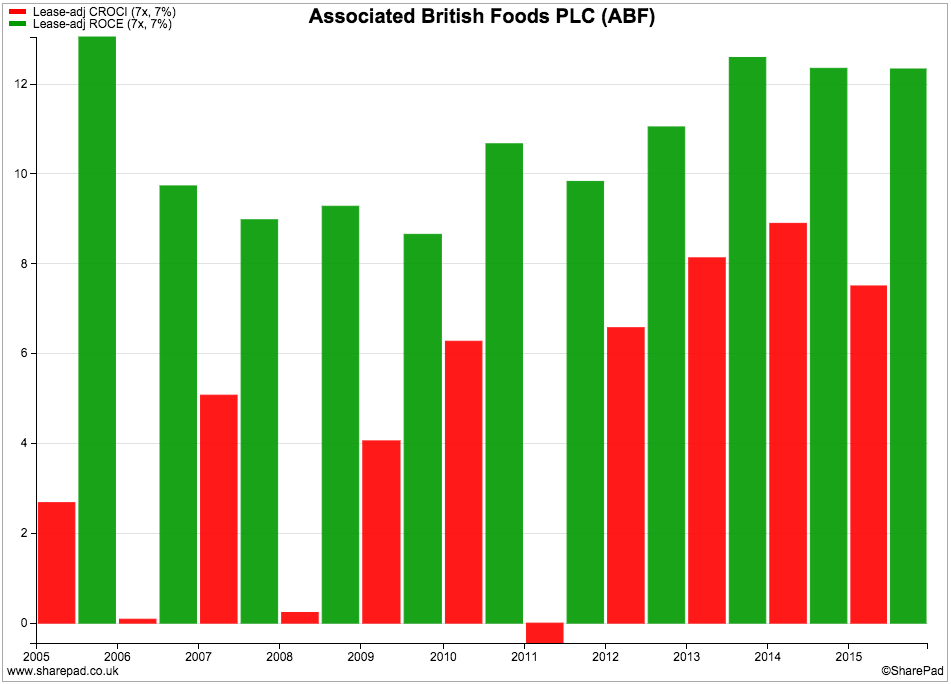 Return on capital employed (ROCE) on a lease-adjusted basis (the green bars) was just over 12% in 2015 - slightly lower than it was ten years ago. ROCE was trending downwards between 2005 and 2010 and has moved up again. Like the trend in EBIT it has declined slightly during the last couple of years.
12% is a respectable figure for ROCE but one that would suggest a solid rather than an outstanding company. Very good companies consistently generate ROCE of 15-20% or more.
CROCI (Cash return on capital invested) tells us the returns in terms of cash (rather than paper profit) - displayed here as red bars. Cash returns have been quite lumpy in the past and sometimes negative when spending on investment has been high. It did start to improve in 2012 but tailed off again in 2015. A consistent CROCI of more than 10% is my benchmark criteria for a good returns. AB Foods falls short here.
It is possible to drill down further and look at how a company's ROCE or CROCI is achieved. That's because of the following relationship:
ROCE (or CROCI) = profit (or cash flow) margins x capital turnover
A company's financial returns can rise and fall depending on its profit margins or its capital turnover.
Capital turnover is sales as a proportion of its capital employed. It's easier to think of it as the value of sales generated per £1 of capital (or assets) employed.
Let's look at ROCE first.
As we saw earlier, AB Food's ROCE hasn't really changed much for the last ten years after falling and then going up again. Profit margins are actually still lower than ten years ago falling - from over 10% to just over 8%. Capital turnover has improved from around £1.20 per £1 of capital employed to just under £1.40.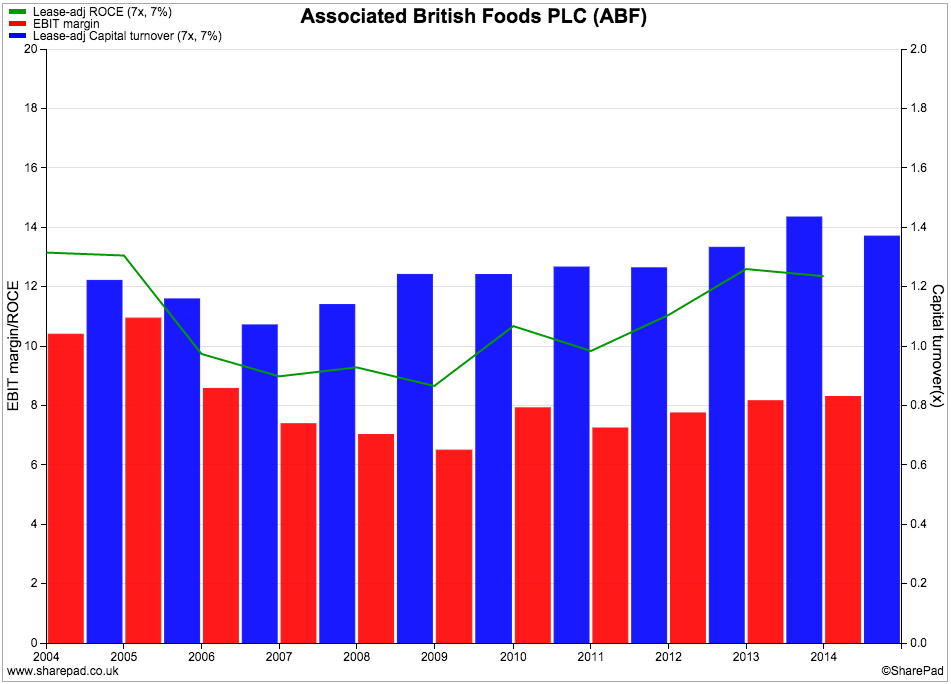 ABF's CROCI has improved as free cash flow margins and capital turnover have both increased.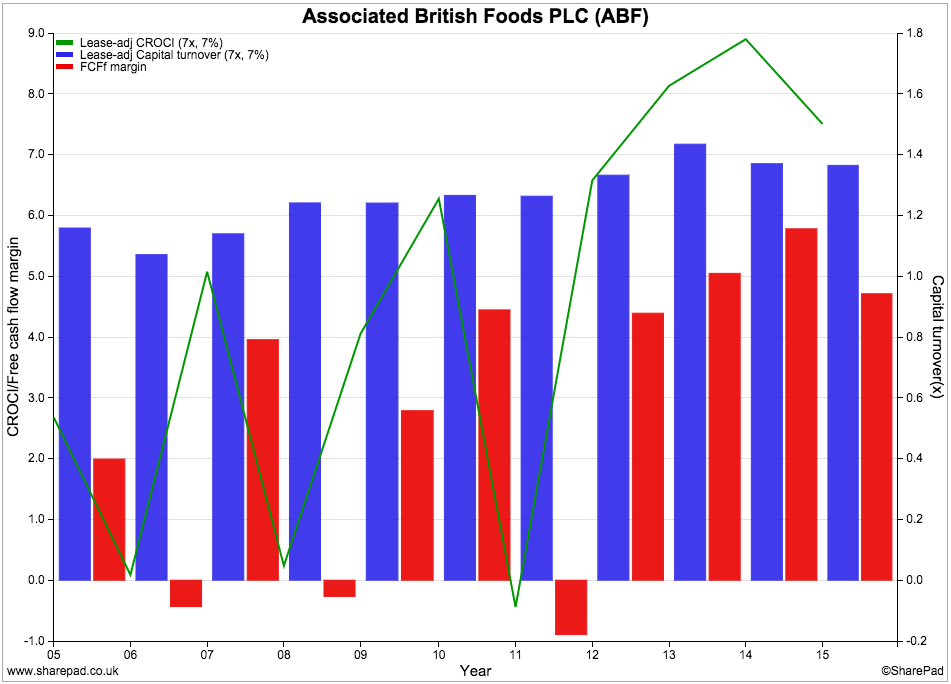 If ABF can improve its profit margins then both ROCE and CROCI have scope to increase. More on how this might happen in a short while.
If you want to get a good idea of what's going on with most companies, it pays to study their cash flow statement.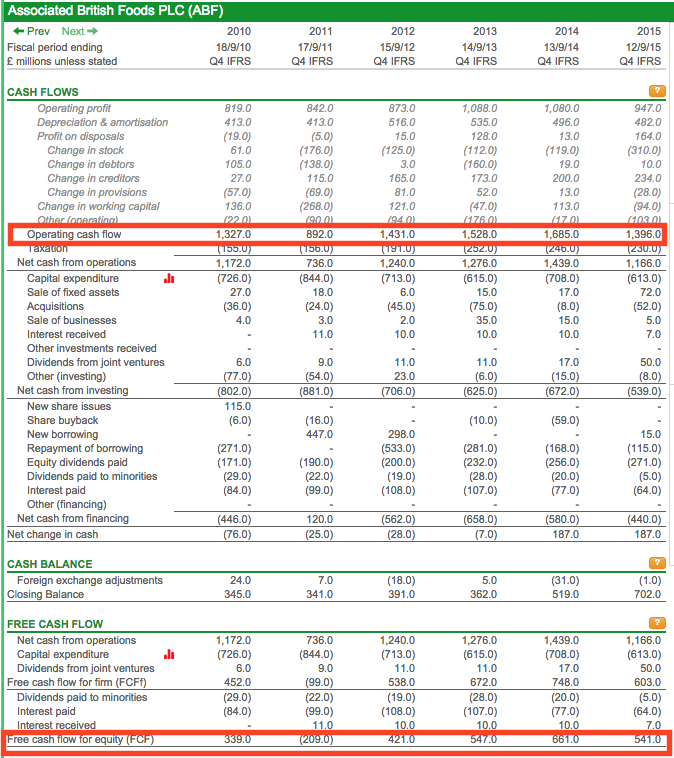 Here we can see that, as with profits, ABF's cash flow performance has stagnated in recent years. Look at the first section I have highlighted in red. Operating cash flow - the cash flowing into the company from selling stuff - was growing nicely between 2011 and 2014 but saw a sharp fall in 2015.
In the second highlighted section you can see that free cash flow performance has been slightly better. Capital expenditure (spending on new assets) has fallen quite sharply from nearly £850m in 2011 to just over £600m in 2015. This didn't stop free cash flow falling in 2015 but as you can see from the chart below, ABF is a much better free cash flow performer than it was five years ago.

If there's one theme that seems to be developing here it is that ABF's cash flow performance is much improved on a number of fronts. In the chart below you can see that during the last four years it has been much better at converting its earnings per share (red bars) into free cash flow per share (green bars).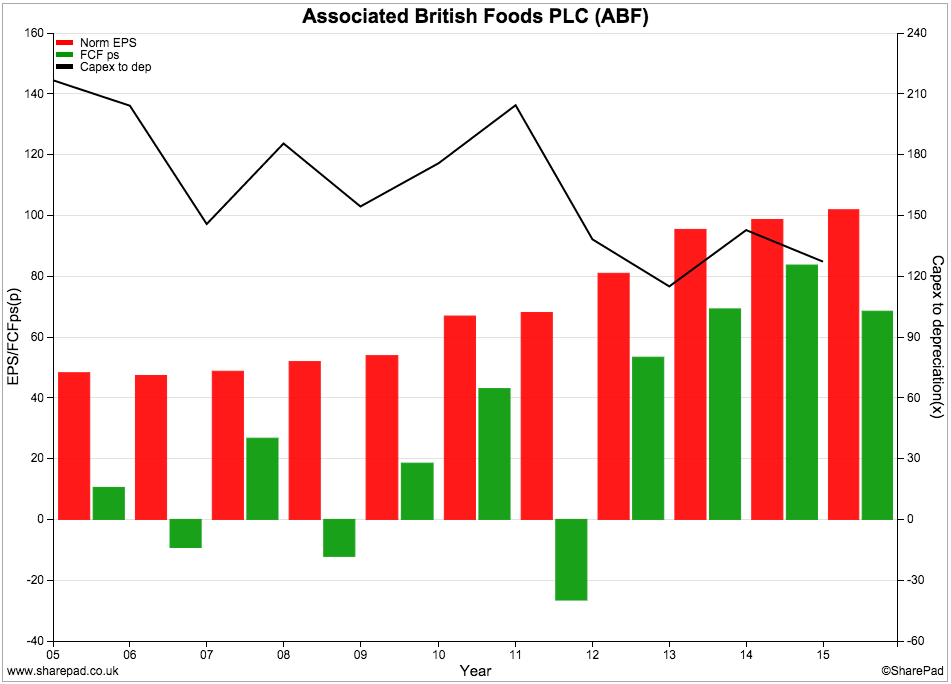 The black line also highlights the sharp fall in capital expenditure as the main driver of improved free cash flow. Not so long ago, ABF was spending more than twice its depreciation charge on new assets compared with around 120% in 2015. We'll see why when we look at the company's individual businesses shortly.
ABF's cash flow has allowed it to pay a rising dividend to its shareholders. That said, dividend growth was only 3% last year. Sometimes a low rate of dividend growth can be a warning that the outlook for a company's future profits growth is not too rosy. I'm not sure that's the case with ABF though.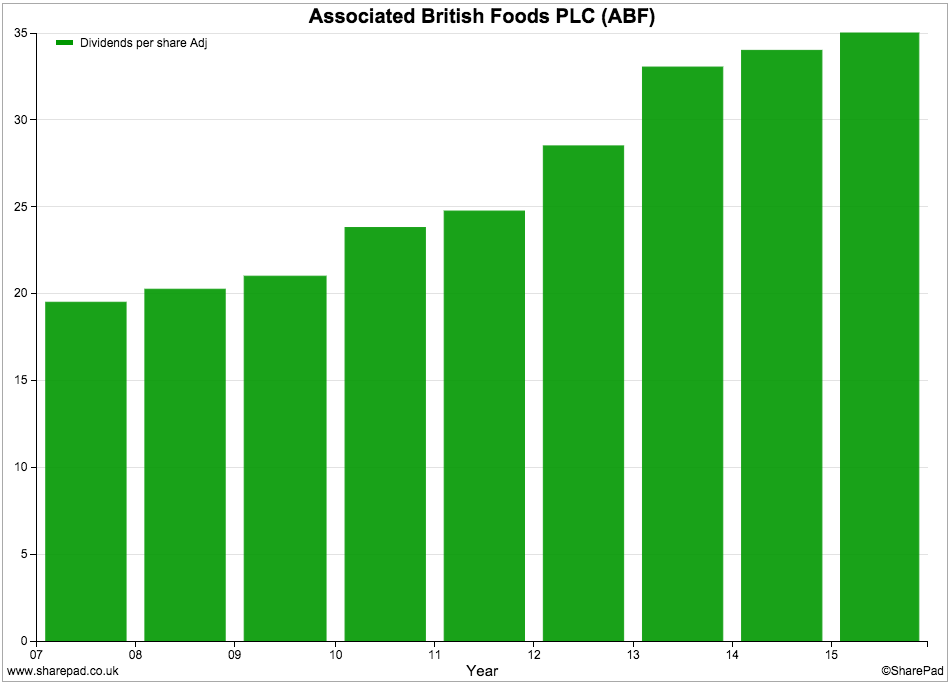 If you look at the chart below, you can see that the company's free cash flow per share (red bars) has been significantly more than its dividend per share in recent years. ABF could probably pay a much bigger dividend if it wanted to but has chosen to use its cash flow elsewhere.