Financial returns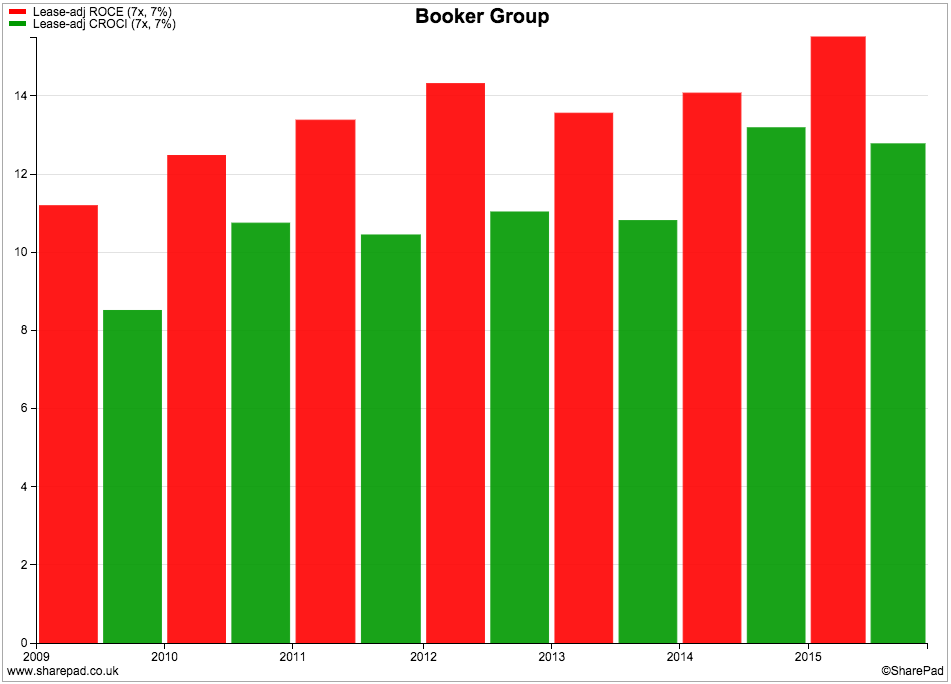 Booker rents a lot of its cash and carry warehouses and therefore has a reasonable amount of hidden, off-balance sheet debt. I always think that it's a good idea to calculate return on capital employed (ROCE) and cash returns on capital (CROCI) by adjusting the amount of money invested for these hidden debts. It means that you get a truer impression of how good a business really is.
If you excluded them you might see very impressive ROCE and CROCI numbers and think a business is very good when in reality it might not be. Booker investors don't need to worry on this score. It looks to be a very healthy business.
You can see from the chart above that Booker's ROCE and CROCI have been very stable during the last six years which is a good sign. A lease-adjusted ROCE of 15.5% and CROCI of 12.8% are the hallmarks of a pretty good business - provided they can be sustained of course.
To get a better understanding of how a company makes its returns on money invested you can break down the ROCE and CROCI calculations a bit more. That's because ROCE and CROCI are made up of two different calculations.
ROCE/CROCI = Capital Turnover x Profit or cash flow margin
Capital turnover looks at the value of sales a company generates for each £1 of money invested (Sales divided by capital employed). It is an under-used ratio which can be very helpful in understanding how a company generates a return on investment. A declining capital turnover can be the first sign of trouble ahead.
Companies can increase their returns by selling more or by boosting profit margins or both at the same time.
Booker has a high level of capital turnover. It sells more than £4 for each £1 of capital invested. This ratio has fallen slightly in recent years but has not fallen off a cliff and therefore doesn't look like something to worry about.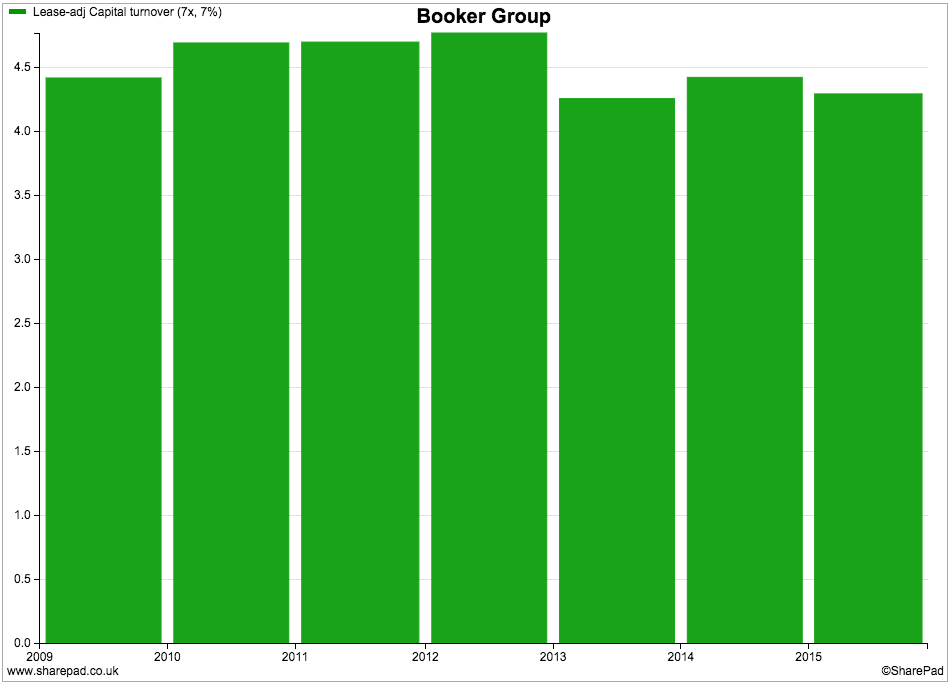 If we look at the other side of the returns equation we can see that although capital turnover has come down slightly, profit and cash flow margins have increased and this has driven the improvement in ROCE and CROCI in the last couple of years.
However, it is important to note that Booker is a very low margin business. Low margin businesses are inherently more risky propositions for investors. That's because they are less able to withstand a downturn in profitability caused by increased competition, cost increases or a severe recession.
What we have learned here is that capital turnover is the key driver of Booker's ROCE and CROCI and this needs to stay high. Cash and carry is a competitive business, whilst falling food prices mean that it might be quite difficult for Booker to keep on increasing its profit margins.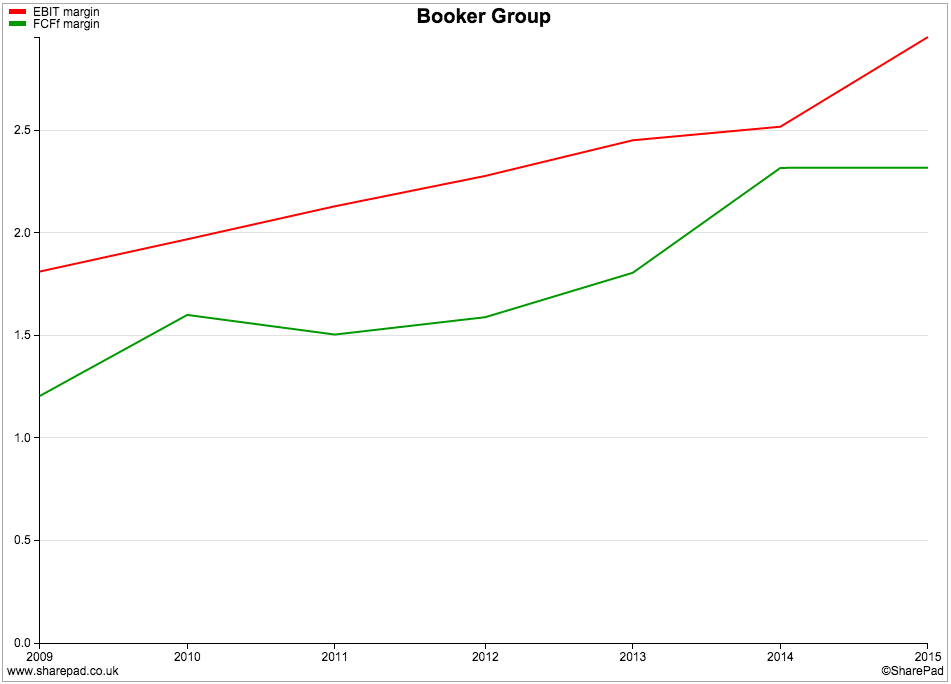 If we look at Booker's cash flow statement in more detail then you can see that there has been a big improvement in cash flow during the last couple of years.
Operating cash flow has gone from just under £100m in the year to March 2013 to £176m in the year to September 2015. Most of this improvement can be explained by Booker buying Makro in 2013. This business was loss-making when Booker got its hands on it and has now not only been turned around to be profitable but also to throw off lots of cash flow as well.
The management at Booker have a very strong focus on cash generation and have done a very good job at producing more of it.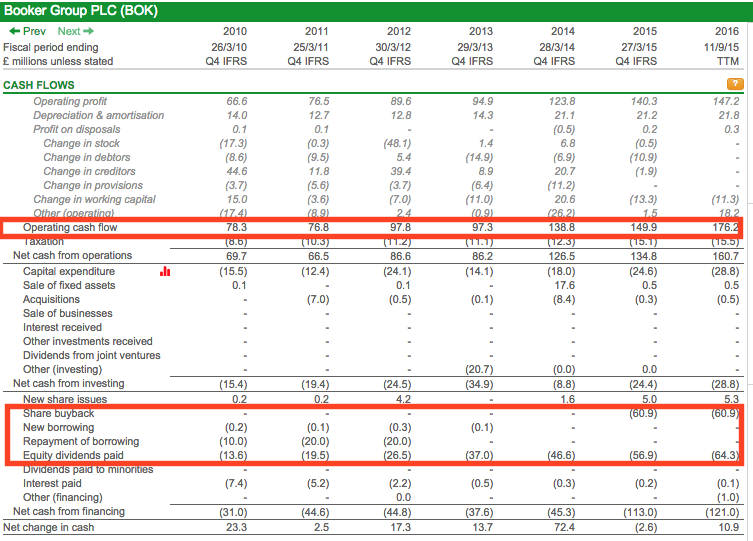 Free cash flow has gone through the roof since the acquisition of Makro. This has led to higher dividends and two one-off returns of cash with another promised in 2016.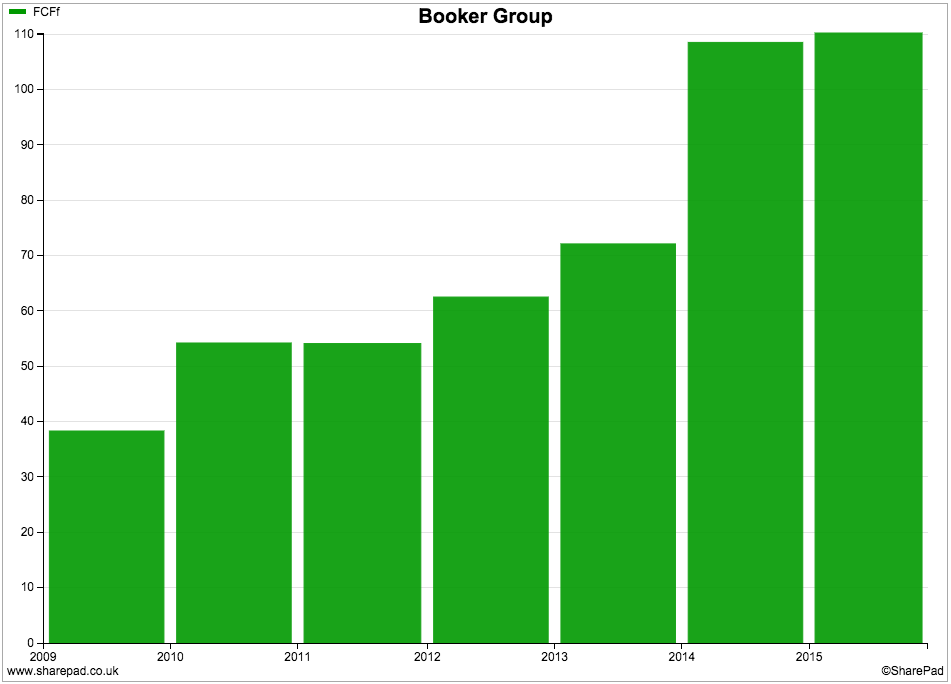 Booker's profit quality is very good . It doesn't seem to have been skimping on investment as the amount spent on new assets (capex) has been roughly in line with the depreciation charge. Consequently, most of its earnings per share (EPS) have been turned into free cash flow per share - always a good sign for investors.