Finding reliable dividend payers
In Chapter 14 of The Intelligent Investor, Benjamin Graham wrote about how a defensive investor - someone who wanted to make satisfactory returns from owning shares without taking big risks - could go about picking shares for their portfolio. His advice essentially boiled down to buying bigger, established companies which had a long history of profits and dividend payments.
On top of these criteria, the companies should not have too much debt and the price of their shares should not be too high in relation to their profits and assets. In other words they should not be trading on high PE ratios (no more than 15 times their three year average EPS) or high price to net asset values (A P/NAV of less than 1.5).
Whilst containing a lot of sound advice some of Ben Graham's methods have become a bit too restrictive in today's markets. His focus on asset values was more useful in a day when stock market indices were dominated by big industrial companies. Things have changed a bit since then.
I used SharePad to find me a list of shares using Graham's defensive investment criteria and it only found me one share in the FTSE 350 which qualified on all seven tests. So I've decided to adapt it slightly for today's dividend paying shares.
Here are the criteria for the SharePad filter:
A focus on bigger, more established companies. Shares will be picked from the FTSE 350 index.
Dividend payments for at least twenty consecutive years. In other words companies that have paid a dividend through good times and bad. This is a good indicator of a resilient business.
No losses - positive earnings per share - for at least twenty years. Again a test of resilience.
A current dividend yield of at least 3%. I want shares that are reasonably valued.
Forecast dividend cover of at least 1.2 times. I don't want to eliminate high yielding utility shares which tend to have lower rates of dividend cover, but want to get rid of current high yielders with unsustainable dividends.
Interest cover of at least three times. I want companies that don't have too much debt. Utility companies can usually have lower rates of interest cover as their profits tend to be more stable.
The current dividend per share must be higher than the dividend per share five years ago. In other words there has been some dividend growth because the company's performance has been reasonable.
Forecast dividend per share is expected to be higher or the same as the current dividend per share. No dividend cuts are expected.
SharePad has produced a list of 33 shares as shown in the table below.
No screen or filter is bulletproof and should be used as a way of selecting shares to research further. Hopefully what this filter will have achieved is to get rid of shares that are too small, too risky and too expensive but find those that have been reliable dividend payers in the past and might be so in the future.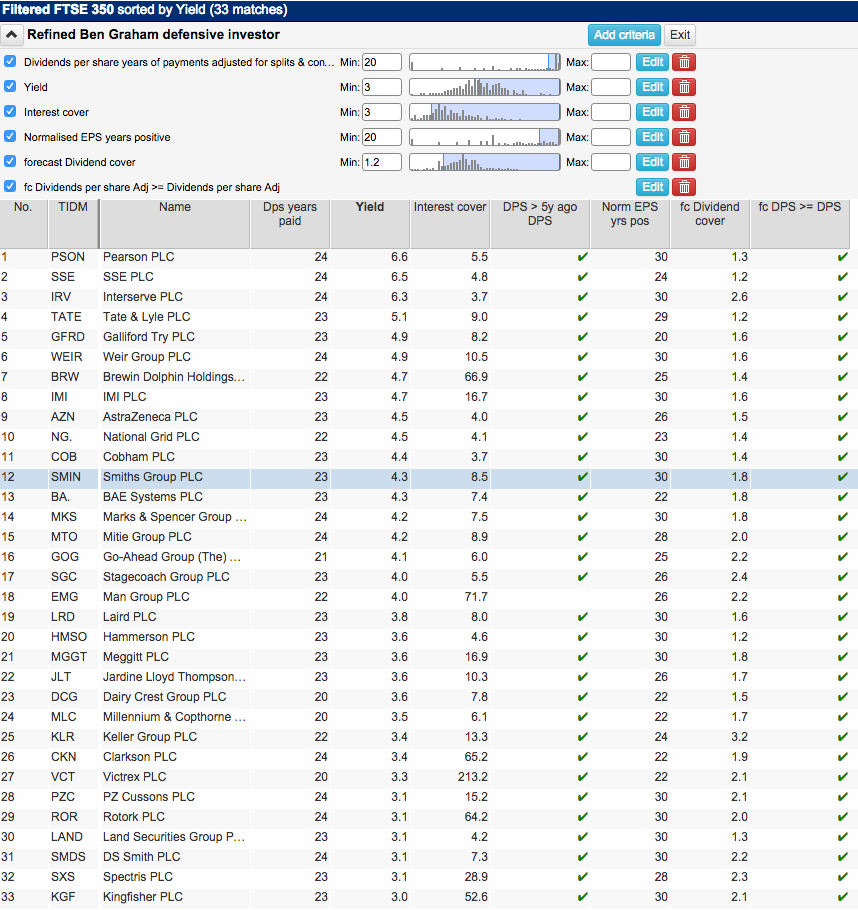 33 shares should give the private investor a fighting chance of building a diversified portfolio of at least ten shares. As an example, I've put together a list of ten shares in the table below.
The dividend histories of these shares and the recent company announcements on dividend policies have been taken from SharePad and are shown in an appendix at the end of this article.

Now, let's see how the power of compound interest can work on a portfolio like this.
I've assumed that the current dividends per share are maintained in the future - there is no growth or cuts. I've also assumed that the share price stays the same. This won't happen but I've done this to keep things simple.
The table below shows what happens to the annual income and value produced by a £100,000 portfolio equally invested in the ten shares above with their current dividends reinvested annually at their current share prices.
The effect of dividend reinvestment and compounding has been understated as I've assumed only one dividend is paid per year. In the real world dividends will be paid and reinvested twice or sometimes four times a year. This will boost the power of compounding.
| Year | Income (£) | Portfolio Value (£) |
| --- | --- | --- |
| 1 | 4,534.37 | 104,530 |
| 2 | 4,750.40 | 109,281 |
| 3 | 4,977.26 | 114,258 |
| 4 | 5,215.53 | 119,474 |
| 5 | 5,465.81 | 124,939 |
| 6 | 5,728.73 | 130,668 |
| 7 | 6,004.97 | 136,673 |
| 8 | 6,295.23 | 142,968 |
| 9 | 6,600.26 | 149,569 |
| 10 | 6,920.86 | 156,489 |
| 20 | 11,191.62 | 247,415.83 |
As you can see, the portfolio produces an initial annual income of just over 4.5% (£4,534.37 divided by the initial investment of £100,000). Just as an aside, that's about the same as a 55 year old man would get today from handing £100,000 over to an insurance company and buying a fixed annuity for the rest of his life.
But look at how the value of the portfolio and the income it produces steadily builds over the next ten years. Remember this all comes from reinvested dividends. No extra money is added to the portfolio.
After ten years, the income has increased to £6,920 and the value of the portfolio has increased to £156,489. This is only a compounded average annual return of 4.58% but the power of time and compound interest has boosted the annual income from a £100,000 investment by over 50%. If you are a 45 year old looking to retire in ten years' time that doesn't look too bad, especially if interest rates stay at their current low levels.
Yet things could get even better. What if share prices fall but dividends paid don't? You should be jumping up and down and cheering. That's because your dividends will buy you even more shares and boost the power of compound interest even more. Instead of getting depressed when the stock market falls you should be happy because there's a good chance you are going to be better off in the future.
And that's what investing should be all about.